Alexander Montoya has led teams in various regions over the course of his twenty-five-year career, many of them in Latin America. Recently named president of Liberty Mutual Insurance's Specialty Markets division for the US, Latin American, and Bermuda markets, he says that despite the differences in his roles over the years, he sees more similarities.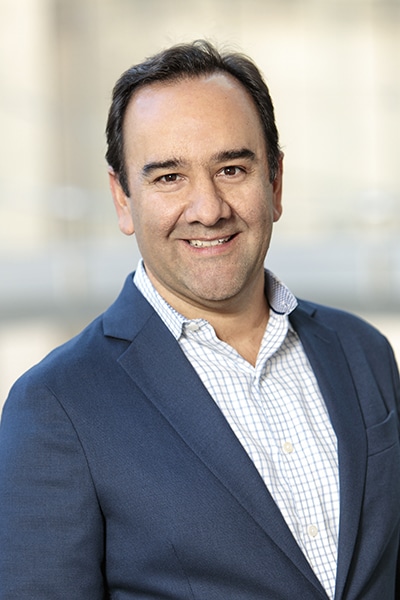 "Every time I've taken on new roles and responsibilities, I always ask myself the same question: 'How will this be different?'" Montoya says. "But people everywhere are looking for the same things. They want to be proud of where they work. They want to be proud of how their company contributes to society and to the communities that can improve because of their work. It's always the same answer. We're humans and we want the same things."
Building Culture Inside and Out
Montoya places a premium on an organization's ability to build a culture of empowerment, motivation, and continuous improvement. At Liberty Mutual, his leadership is focused on those same principles. "We all want to feel that we are led by people that share the same vision and are willing to tirelessly pursue it," Montoya says. "And when things go wrong, that person needs to stand up to defend the team."
Recently, Montoya's Latin American team was able to complete a five-year growth plan in just four years, surpassing both expected growth and profitability in the process. "We had a very special moment here today because we had the opportunity to tell those employees that the corporation is recognizing their efforts and rewarding their hard work," Montoya explains. "Every time we're able to deliver on the promise that we've made to our employees that if they work hard, they'll be rewarded, it makes all the difficult parts of my job worth it."
Montoya hopes to continue building culture in ways that are directly applicable to business lines at Liberty. "Our goal is to reduce the amount of friction in our customers' transactions," the president says. "The less touch points, the better and easier our clients can get a quote or renew their policies—and the better their experiences will be. These efforts have been the same from the US to Latin America to Bermuda."
"We all want to feel that we are led by people that share the same vision and are willing to tirelessly pursue it."
Ice Breakers and MVPs
A proud Colombian, Montoya says his heritage has provided him a cultural skill set that has extended far beyond his home country's borders. "Colombians are warm people, and I think that has been helpful because I can portray a bit of that warmth from my culture during any meeting I'm in," he says. "If you learn to negotiate with the right tone so it's not intrusive to someone who wasn't raised in the same way, I think it goes a long way to breaking the ice and developing relationships."
Montoya also says that Latin Americans are inherently equipped to operate off of a minimum viable product (MVP) model. "This isn't because this model has been meticulously applied for decades; it's because we just don't have the same access to resources," Montoya explains. "Improving your MVP and repeating is just the way it is done. You will see Latinx excelling in this area as it's applied to more global business because it's the way we've always done it—because we've had to."
The Pursuit of Liberty
Building anything, from process to culture, requires significant buy-in from all parties, and Montoya says that his time at Liberty has proven beyond a shadow of a doubt that he has the backing of a massive, worldwide organization in making things better for his employees and his customers.
"To have someone like me in the position that I have today just demonstrates the open and inclusive environment here," Montoya says. "I'm able to build with empowerment and don't have to wade through bureaucracy in order to implement ideas like flex time, work-from-home, and continuous improvement."
Montoya says that his ability to have an impact on long-term planning and ideation is particularly inspiring. "To be able to issue an opinion and shape the way that we think about initiatives, I feel like a very lucky person," Montoya says. "Our organization is massive, and by influencing the direction of the company, we're able to make a difference in the world."
Presidents Assemble
Alexander Montoya is a proud member of the Young Presidents Organization, whose global membership base of twenty-eight thousand is made up of corporate presidents, chairpersons, and CEOs who attained their positions before the age of forty-five. "This is a place where you can meet with other leaders and discuss situations in your life, your family, your work, and your community," he says. "These are people who spend a lot of time thinking about how they can more positively impact the places they live."
Montoya says what he's learned at the YPO has translated directly to his work at Liberty Mutual. "We have a purpose here: embrace today and confidently pursue tomorrow," Montoya explains. "I'm able to relate ideas like continuous learning and culture-building to my team."
Related Links
How Susan Baida is impacting the largest employer with the longest reach