With a confident, "I've-got-this" attitude, Alejandro Ingelmo closed his books at Parsons The New School for Design and invested his savings (just one year's worth of tuition) in a self-titled, high-end shoe line. The former Donna Karan intern instantaneously caught celebrity attention. His Italian-made women's shoes claimed Madonna as their first A-list patron. A year later, 2007 saw the launch of his collection for men, an assortment based on what he wanted for his own wardrobe. "You know I couldn't wear the heels, so I had to make my own shoes," he jokes.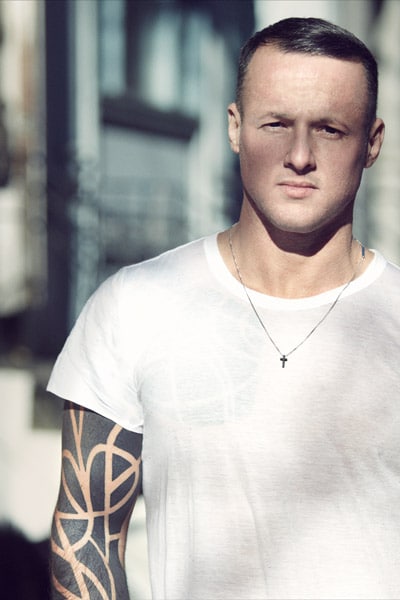 Ingelmo's artistry for shoe craftsmanship and business acumen are rooted in his ancestry.  He comes from a long line—four generations deep—of footwear designers. In the late 1800s, his great grandfather Donato Ingelmo was the town's cobbler in Salamanca, Spain. Later in the early 1900s, when war broke out creating dangerous living conditions, his grandfather Cristobal Ingelmo relocated to Cuba, where he established his company, Ingelmo Shoes. When Fidel Castro came into office in 1959, Ingelmo Shoes, along with most other businesses, was discontinued. Ingelmo's family then moved to Coral Gables, Florida, where Alejandro was born and raised by hard-working parents who continued to work in shoe distribution.
The bold designer sits down with HE to talk family tradition, tattoos, and fashion faux pas.
What is it like to carry on your family's trade? Is there a level of expectation?

Shoe designing is in our blood. If you were to say my last name to somebody who's Cuban and from my grandfather's or great grandfather's era, they often have amazing stories. One guy told me that he had a pair of my grandfather's shoes and saved them for his wedding. I've heard stories of people who would save all their money to buy those shoes. When you hear that growing up, it means something and sinks in somehow. That kind of emotion is really cool, and if I'm able to evoke that in a product I design, that's true satisfaction.
What's your day-to-day uniform?

I'm pretty basic and simple. Right now I'm just wearing black jeans, a gray T-shirt, and a leather jacket.
How many tattoos do you have and where are they?

Oh, it's a lot of them, and they're all really big pieces—on my chest, arm, and my whole back. There's one that says "el corazón con que vivo" by the famous Cuban poet José Marti. One depicts the Virgin Mary and the praying hands on the other side. I designed the pieces on my front, which are more abstract.
What do you do for fun outside of work or to relieve stress?

I do a lot of CrossFit. In the winter I snowboard in Switzerland, visit my family in Miami, and just eat good Cuban food.
Who is the woman you design for?

I definitely think that she's a woman who's strong-minded and modern. There are women who buy the Christian Louboutins for the red sole, but I try to create something new every single season. I know there are women out there who understand quality, but it takes a very specific woman to not just follow trends, but to truly understand the beauty of design.
What are your fashion pet peeves?

A woman who can't walk in high heels and unmanicured toenails.
Who is your muse?

I don't really have a muse. I mean, I think it's really hard to just pinpoint one person to be everything. It's not so much a person; it's more of a vibe. I'm inspired by architecture, technology, matters of the world, and the way things are made. I take in all those visuals and create.
What are your plans for the next five to ten years?

I want to expand retail to Madison Avenue in New York City, Los Angeles, and Miami. Internationally I'd like to be in markets such as South America and Asia. I'd even love to design children's shoes someday. I further want to break into small leather goods like wallets, evening clutches,and belts.
Tom Ford recently said that it's okay to wear sneakers with a formal suit. Do you agree?

Of course! I've been saying that all the time I've been designing sneakers. I'm glad to hear that he's caught on after a couple of years.
What's the best fashion advice you've received?

Always make sure you have the right accessory. That's an important part in making an outfit. You don't need five items, just two good pieces.
What's your advice for getting out of a fashion rut?

Definitely see something new. Get out, travel, and have new experiences to get inspired.
Which trends are you excited about for the spring 2015 season?

The trends are a little bit softer this season: a lot of whites, a little bit sexier with a little more femininity. We really worked on that this season, so it's nice to see similar concepts on other runways.