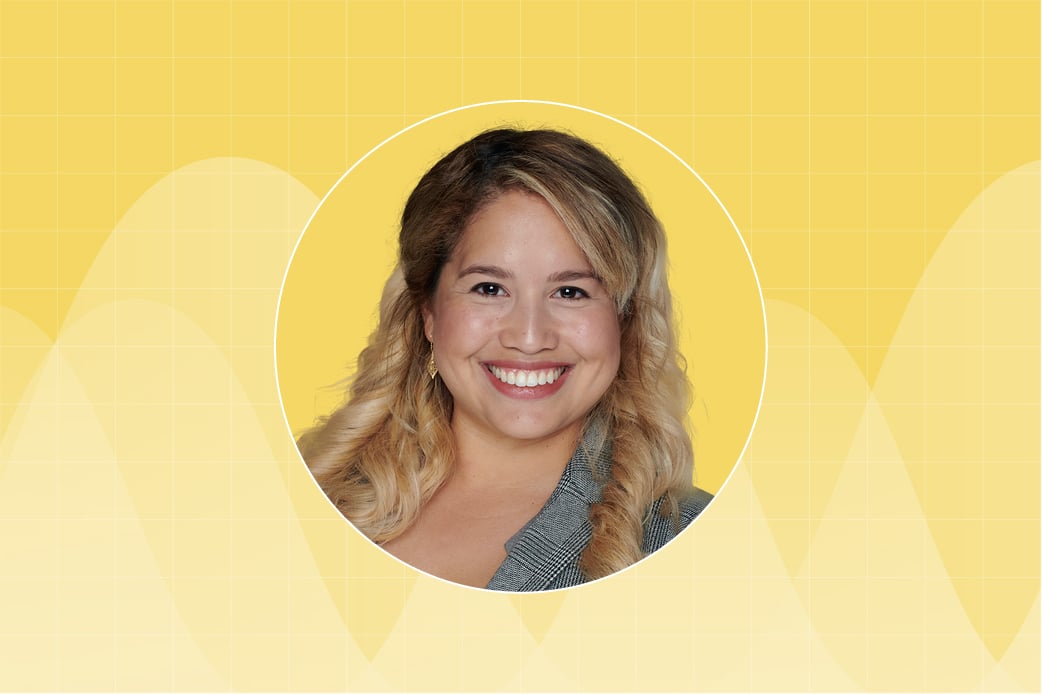 Vicki Mak-Romo, strategic initiatives analyst for global public policy at General Motors, initially pursued work in the energy policy space because she wanted to better understand the concept of the "resource curse," which refers to countries that are rich in natural resources but consistently underperform economically. Mak-Romo looked to Latin American countries that had been unable to convert their abundance of exportable resources into domestic economic progress.
"I wanted to know why so many people chose to come to the United States when so many of these places have so much to offer," Mak-Romo says. "That was the question that got me interested in the space, but it was the one economics course I had to take as a requirement for my international studies master's at Syracuse University where I fell in love." Mak-Romo's newfound love of economics helped forge a clear path for her career.

She'd eventually double-major in it, maxing out her class loads with as many different economics classes as she could juggle. Her complementary passion for energy and economics would eventuate her working on behalf of the Federal Energy Regulatory Commission (FERC), the US Department of State's Bureau of Energy Resources, the Food and Agriculture Organization of the United Nations in Rome, and, most recently, General Motors. On top of all that, Mak-Romo earned a second postgraduate degree—a master's in energy economics from Rice University, which she obtained after her stint in Rome.
Neither of Mak-Romo's parents finished high school. Her mother emigrated from Colombia in her pre-teens, and her father arrived from Mexico when he was a teenager. But the virtues, love, and encouragement they instilled in their daughter—encouragement which still brings Mak-Romo to tears—inspired her to pursue her passion at the highest of levels.
"I'll never forget who I am, where I came from, and how my parents have always told me that I could be whatever I wanted to be," the executive explains. "They always made sure that my voice was heard in our house, and I think they knew that as a Latina, making my voice heard might be more of a challenge in the working world."
That challenge, Mak-Romo admits, is compounded by her passions. Both the economics space and the energy field have proven incredibly resistant to diversification and representation, and in more ways than one. The energy and economics expert has found herself the sole person of color in the room, let alone the sole Latina, too many times to count, and it's only amplified her desire to be heard.
"When you have fields that have been so dominated by white males for so long, there's not going to be a lot of pushback against those voices," Mak-Romo says. "My international experience has taught me that diverse voices with different experiences help create policy that is beneficial to all of us. So I need to make sure that I am being heard."
General Motors has a vision of a world with zero crashes, zero emissions, and zero congestion. Mak-Romo joined the company after amassing extensive governmental experience, and now finds herself at the center of that mission. Electric vehicles are key to achieving that vision, she explains, and are why the company is investing more than $35 billion in electric and autonomous vehicles through 2025.

She is tasked with working on policy that impacts electric vehicles, the supply chain for critical minerals and materials used to power those vehicles, and with working toward a more energy-efficient world.
Thanks to President Joe Biden's alternative energy-friendly administration, Mak-Romo and her team are working to ensure that the $3.1 billion the US Department of Energy made available for domestic battery manufacturing and supply chains is applied efficiently and with the vision of a more electric future in mind.

The unprecedented size of this funding requires her team to partner with teams on the business side to ensure these funds go towards the growing needs society has in battery manufacturing, processing, and recycling.
"Both my experience with FERC and the energy policy work I did with the Department of State have served me well so far," Mak-Romo says. "It helps inform our whole team on what policies are effective, what policies we need, and how to best collaborate with government to make it happen."
For those who may see her path as alluring, Mak-Romo says a career in economics can be as diverse as the people who fall under the distinction of "Latino."
"If you work in the field domestically, you're helping influence everything around us," Mak-Romo says. "If you're working internationally, you can help impact the places that so many of us come from in Latin America and everywhere else. I grew up sitting in a corner reading a book while my parents cleaned the homes of strangers. It's noble work, but that doesn't have to be the path for all of us. As a Latina, you do not have to fade into the background, I promise."