Even after all these years, Veronica Quintana's heart still breaks a little bit every time it rains. She thinks of the migrant farm workers out there picking strawberries in Southern California—people like her father out in the fields, rain or shine, working to earn a living for their families.
Quintana and her older brothers spent enough time out in those fields for her to know it wasn't the life she wanted, but it doesn't mean she doesn't still feel a visceral connection to those helping bring fresh food to the world. While her parents only had the chance for a second-grade education, Quintana was the first in her family to graduate from college.
Now a director at CBIZ, Quintana has spent more than twenty-five years providing bookkeeping and tax services to her clients, while also serving as their strategic partner. Quintana's clients include small, family-owned restaurants and serial entrepreneurs in real estate, construction, and manufacturing.
During that time, Quintana has evolved from the admitted "shyest person in the room" to one of Pacific Coast Business Times's "2023 Top Women in Business" (she was also named Editor's Choice for the Professional Services category). The director, who once spent the better part of a networking event in the bathroom to avoid having to talk with people, is now a Toastmasters alum, the board chair of the Oxnard, California-chapter of the Boys and Girls Club, the treasurer of the Ventura County Community Foundation, and acted as president of the BNI Los Empresarios networking organization in 2022.
The director is also an avid mentor for up-and-comers, a role she particularly relishes because she struggled to find her own professional mentors for so long.
"In the early stages of my career, I didn't really have anyone outside of my family to guide me through new experiences like college, post-graduation, and beginning my career," Quintana reflects. "Whenever I speak with a young professional, I tell them to start attending networking events immediately and not to wait a decade like I did. It's not as intimidating when you're early in your career because everyone is starting from scratch. You can connect and relate much easier because you're all in the same situation."
When Quintana says she started late, she means it. She was great at her job, but she didn't see her role as one requiring her to seek out new clients and build relationships. "Honestly, I chose the CPA role because I thought it would prevent me from having to go out, shake hands and meet lots of new people," the director says, laughing.
But a colleague and friend saw things differently. Sure, there were already rainmakers bringing in clients, but who would be the future of the business? Quintana's bilingual skills and strong business acumen would make her an ideal future business creator, but she just had to get over her nerves.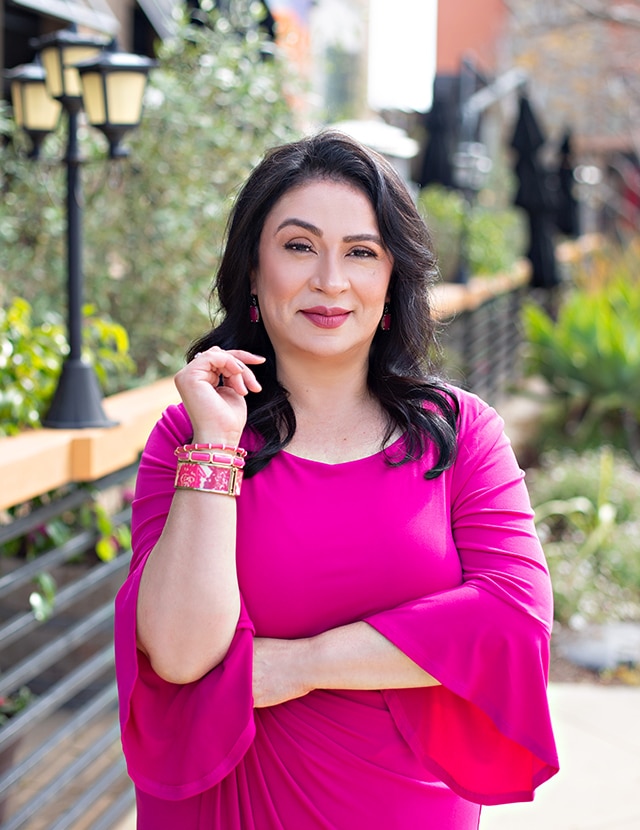 Quintana spent nearly three years attending Toastmasters classes every other week. After the networking event where Quintana elected to hide out, a business development manager within CBIZ took her under his wing, standing next to her for the entirety of a mixer and introducing her to everyone he could. "I felt part of the conversation and that experience was like a full 180-degree turn for me," the director remembers.
That evolution was noticed. Quintana was tapped to launch CBIZ's Latino-owned business team. The director firmly believes that the business unit can bring a level of service that clients simply aren't used to.
"This is an opportunity to tell our clients that we see you, we care about you, and we support you," she says. "Over time, I've encountered a large number of clients whose first language isn't English. This is a chance to communicate clearly with Latinos who may not be used to working with CPAs and don't know what they've been missing. There's a different level of service and knowledge that we can provide."
The chance to help an underdog is always Quintana's motivation. Her fandom for the long-battling Los Angeles Clippers can attest that she's always on the lookout for a potential success story that just needs some support. That's why she has so many informal mentees, why her volunteer work is devoted to those who need it most, and why it meant so much for her family to be able to attend her latest awards ceremony in person.
"I owe my success to my family, whether they know it or not," the director says. "I appreciate that they're proud of me, and I'm so proud of them. We've all worked so hard to get where we are, and I think we're all very appreciative for being able to go through life together."
Quintana's story isn't just one of an underdog making good. Her transformation a decade into her career is a reminder that an underdog can not only learn new tricks but also pass them along to help others.