Dr. Verena Meraldi has always been fascinated by nature and wildlife. Born in Mexico City, the Mexican Swiss scientist's curiosity regarding the natural world motivated her decision to dedicate her life to biology. While studying biology at the Universidad Nacional Autónoma de México (the largest university in Latin America) she "discovered the amazing world of molecular biology."
She then left Mexico for Switzerland and continued her education at the University of Lausanne where she earned a PhD in immunology in 2002. In 2007, Meraldi started working for the sustainable expedition cruise line Hurtigruten, a 130-year-old Norwegian company, as a lecturer, then as an explorer consultant in 2017, and as of 2018, the cruise industry's first chief scientist. Hurtigruten Expeditions was the first to introduce hybrid battery-operated ships and the entire fleet has been single-use plastic-free for five years.
Hurtigruten is a leader in the cruising industry when it comes to environmental and social sustainability so it's no surprise it was the first in the industry to create a chief scientist role. "We wanted to increase awareness amongst our guests by exposing them to the scientific world and knew we needed a dedicated person to develop the science and education program. I was very fortunate to be involved from the very beginning, even in the creation of the job description for my position," Meraldi says.
As Hurtigruten's chief scientist, she's been developing the expedition cruise company's science and education program including engaging with guests through citizen science activities—her proudest contribution.
"Working toward having guests involved in scientific research has been a highlight for me. To awaken the curious child in every guest by exposing them to new and unexpected things, make them hungry for knowledge and a better understanding of the places they visit with us, to hear them say they want to learn about the techniques the guest scientists use to collect data and know why it is important, is extremely rewarding," Meraldi says.
According to Meraldi, data collected by citizen scientists can help scientists reach conclusions. "Citizen science is a powerful way to collect, analyze, and report crowdsourced data," she says. "This data can help protect endangered species, safeguard water sources, prevent disease, or accelerate medical research. It's a collaboration between scientists and curious or concerned people to make a difference."
She continues, "Hurtigruten is a leader of responsible tourism and brings travelers to various parts of the world in the most sustainable way to increase awareness of unique and critical environments while also allowing scientists to conduct their research free-of-charge and do scientific dissemination while guests onboard learn from the research."
Part of Meraldi's role is identifying researchers running projects that fit Hurtigruten's itineraries and would benefit from using the company's vessels to collect data and samples, particularly in remote areas.
"By developing long-term collaborations and scheduling guest scientists on our expedition ships, we support the collection of important data while adding value to our guests' experience through exposure to research projects and the researchers," she explains. "We're working on finding better solutions to minimize impact on wildlife which will contribute to creating new guidelines and regulations to protect wildlife in remote and fragile environments."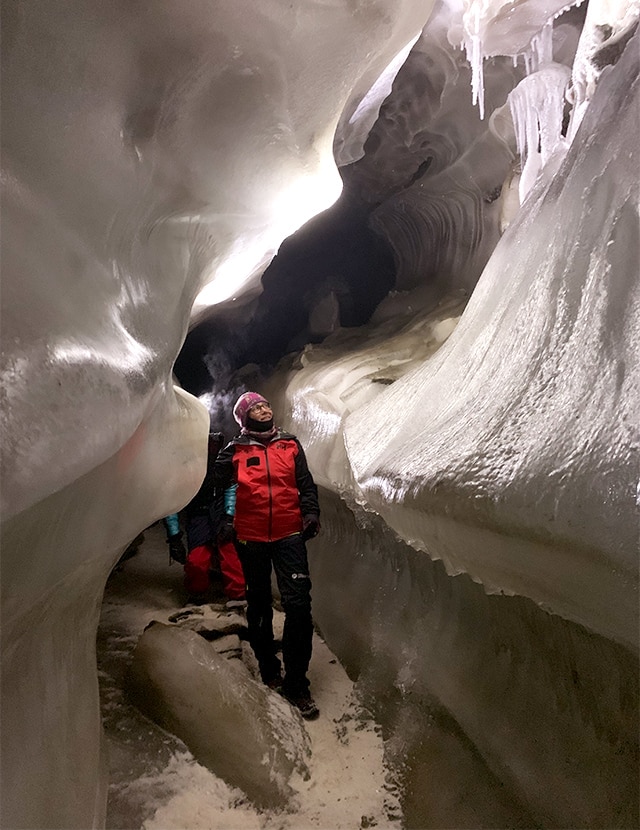 The scientist has since spent the last two decades navigating a purposeful but challenging field that is most often white and male-dominated. Fortunately for her, cultural background and ethnicity have not been a barrier. "I've always felt I've been given opportunities based on merit and work," she says. In fact, she shared that the last fifteen years of her career have been the most rewarding.
"Having worked as a lecturer onboard the ships at the beginning provided the necessary background to understand the potential as well as the need to design and develop our science and education program in such a way that it fits the operations and offers a rich, meaningful experience to our guests," Meraldi says. "I'm passionate about creating ambassadors who will champion the protection of the places they visit while traveling, providing them with tools to make a difference in their everyday life."
Meraldi is proud to have led the way and to see other cruise companies working towards supporting science by contributing to citizen science projects and equipping their ships to support research.
"It shows the success we're making that others are copying us. We believe that supporting science, involving guests, and facilitating a mindset change is not something that should be with only one operator, but an industry effort," she says.
She's holding the cruise industry accountable for negative environmental impact and demanding actionable change, including at Hurtigruten which is transparent in its sustainability efforts and has public environmental, social, and governance reports on operations and business.
Looking towards the future of sustainable cruising, Meraldi hopes that every voyage, regardless of the operator, adds value to the destination through research, and that guests leave as advocates for the environment.