Deckers Outdoor Corporation is home to footwear staples such as UGG, Hoka One One, Teva, Sanuk, and Koolaburra. More than three thousand Deckers employees are located across the world, but its brand headquarters is nestled away in Goleta, California, which has a population of a little more than thirty thousand. That small-town feel may be part of the magic in Deckers' DNA that has consistently kept the company at the forefront of both environmental, social, and corporate governance (ESG) and equity, inclusion, and diversity efforts. Deckers' purpose, explains Senior Vice President, General Counsel, and Corporate Sustainability and Compliance Officer Tom Garcia, is to positively impact the world by uniting purposeful brands with a diverse group of people driven to succeed and create change.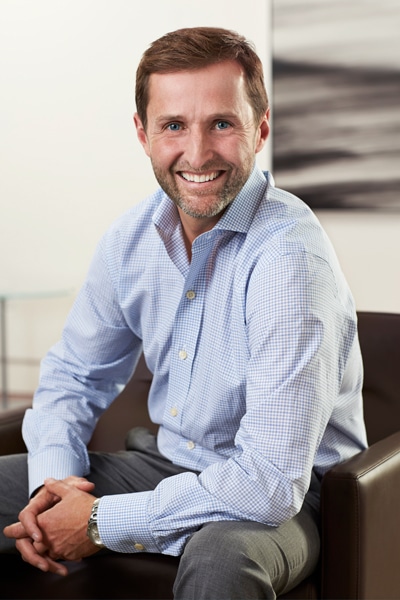 "People gravitate toward Deckers because we really value friends, family, and doing the best thing for the community," Garcia says. "There's this powerful feeling of teamwork within the organization that is, in part, a reflection of our home office. We've found a way to really foster that community feeling and live out our values."
Garcia has been at Deckers for nearly twelve years. During that time, the Deckers culture has of course evolved and changed. But as Garcia sees it, it's simply been a case of making a good thing even better. "I'll always remember one of the first times I walked in the door. I saw our COO at the time strolling around in flip-flops," Garcia recalls. "That focus on just being who you are at work—it's so powerful, and we're continuing to look for ways to enhance that for our people. It's an ongoing journey."
That community-minded aspect is perhaps best illustrated by Garcia himself. The GC consistently downplays his own involvement in a culture that he is obviously immensely proud of. "As I reflect on the challenges of 2020 and our collective success over the past few years in general, this has been a full team effort," Garcia says. "This isn't one person. It is all our people coming together and building our culture along the way."
Doing Well By Doing Good
An integral part of the culture at Deckers, Garcia says, is the company's volunteering and giving program. "We do a great deal of volunteering in our global communities and continue to grow our global giving program. I'm really proud of the work that the team has done, and it just keeps getting better," Garcia says. "Even during COVID-19, Deckers continued to foster that desire to do good in our communities by compensating employees for their volunteer hours.
"We were planning on a designated day of giving this year," he adds, "and that turned into a week that we called 'The Art of Kindness.'" Employee engagement during that week was incredible, Garcia says, and the volunteer hours completed were tremendous. But even more than that, he stresses, it was a positive light in an otherwise challenging year for many Deckers employees.
"Our organization is obviously focused on performing well," the SVP says, "but when you're able to do good in the world, that feeling is so important. It truly makes us all proud to work for an organization that encourages doing good even during these times."
In response to larger conversations raised by the Black Lives Matter movement of 2020, Deckers quickly expanded and prioritized its diversity and inclusion efforts. Garcia notes, "We've built out a team and leveraged the cross-functional passion of the organization to drive our global strategy to support these efforts. In addition, Deckers donated $500,000 in support of organizations seeking to bring focus to minority voices." Of course, those monies represent only a fraction of the company's overall giving program, which grows as a percentage of Deckers' revenue every year. "It's something we're very proud of," Garcia says.
Deckers' board of directors is a reflection of the company's values. One-third of its members are women, and more than one-third identify as a minority. "The good that we do is a reflection of our board of directors," Garcia offers. "I've had the opportunity to work closely with them for many years now, and they're a very big part of this entrenched 'do well by doing good' mentality we have here." 
The Right Thing to Do
That same mentality applies to Deckers' ESG efforts. "Essentially, we live by the values underpinning the B Corporation movement, without the technical designation," Garcia notes. "We just believe in doing the right thing. Our CEO Dave Powers has been hugely instrumental in enhancing that culture that we're seeing blossom now."
According to the Garcia, one of the biggest areas Deckers can make an impact in is materials. Deckers strives to incorporate 50 percent more certified-responsible and sustainable materials in its products, including recycled, renewable, regenerated, and natural materials. "Most people think sustainably has to be expensive, but often it's about looking at what you have and seeing if you can identify an opportunity to streamline. This often saves money and environmental resources," Garcia notes.
If you're using leather from a certified leather working group, he explains, it will naturally be a product that has been tanned in a more sustainable way because those groups have better water treatment facilities and capabilities. If you're using repurposed wool instead of virgin wool, that will save on energy, water, and CO2 emissions. "We want to use preferred materials in all our products," the SVP emphasizes.
Deckers' Teva brand has moved 100 percent of its iconic straps to recycled polyester. "A tremendous effort by the Teva and materials teams," Garcia admits. "But it has made a huge impact." Another area of improvement is packaging: Deckers has saved more than 2.3 million trees to date by cutting down on the materials used in shoeboxes.
There are also solar panels in Deckers' US facilities; a distribution center that is nearly a zero-waste facility; and ongoing efforts to monitor waste generation, waste diversion, and energy and water use among the majority of the company's supply chain partners. "We're not really out there beating our chest about how sustainable we are," Garcia says. "We recognize that sustainability is a journey, and we want to remain humble with our efforts and continue to get a little better every day. I believe that the Deckers that lies ahead is even better than today's Deckers—and we'll get there together."