Teresa Palacios Smith couldn't understand why her father's hands were shaking. Her Colombian-immigrant parents had accomplished their dream: to one day own their own home. They had finally found the Florida home that could be theirs, and as the only native English speaker in her family, the young Palacios Smith even served as translator in the transaction with the real estate agent. Palacios Smith's father's hands trembled as he attempted to unlock the front door; he even dropped the keys before successfully navigating them into the lock.
When they entered the small ranch home, Palacios Smith's mother entered the modest kitchen and immediately burst into tears. Her father—who worked for Delta airlines as a baggage handler, was on the airplane cleaning crew, and also moonlighted as a waiter—wiped his own tears away from his face as his small daughters ran through what seemed like a palace. Palacios Smith would only understand the tears later. "It was pride," Palacios Smith says. "It was really the first significant impact for me when I think about what I do today. I now have the privilege of creating opportunities for so many families to own their own homes."
Now the chief diversity, equity, and inclusion officer at HomeServices of America, Palacios Smith has the chance to operate in an organization whose literal mission is "to be a superior provider of home ownership services in every market that [they] serve," and to do so while continuing to advance opportunities, both inside HomeServices and beyond, for women and people of color.
From Outsider to Belonging
There's far more to Palacios Smith's trajectory that makes her a unique and rare fit for her position. The executive, who is responsible for making all HomeServices employees feel like they belong, never truly had that opportunity until much later in life. To her family back in Colombia, she was a gringa. To those in the US, she was always an outsider no matter where she lived, whether that was New York City, Florida, Mississippi, or Georgia, where she now resides with her family.
In Florida, Palacios Smith was often mistaken for a Cuban and faced bullying, discrimination, and flat-out racism. In Mississippi, she was still an outsider but, oddly enough, found the community much more welcoming. "People would confuse us as Mexicans, but I still remember that experience fondly and experienced a lot of amazing people and culture." But to the Southerners, she was still a strange Yankee from NYC. To her family back in New York, Palacios Smith's speech now had a new Southern twang.
"I've never really belonged in any group," Palacios Smith says. "So for me, my role is critical because I want everyone to feel like they belong, and that they belong at this company. I'm grateful for my experiences because it led me to where I am today. I'm a gringa Latina with a Yankee-rebel attitude."
Driving From the Inside
Palacios Smith's work outside of her day job is essential to understanding how she came to HomeServices. Early on, she joined the Georgia Hispanic Chamber of Commerce; she would eventually become chair of the organization, but a new organization called the National Association of Hispanic Real Estate Professionals (NAHREP) soon came on the scene and changed her life. Working with Latinos and entrepreneurs for the Chamber of Commerce was rewarding, Palacios Smith explains, but it was missing a critical piece: real estate.
"NAHREP combined business entrepreneurs, wealth creation, and homeownership," she says. "It was everything I wanted to do in life: to help increase sustainable Hispanic homeownership."
Palacios Smith would eventually cofound and become president of the Atlanta chapter of NAHREP, then the national president in 2015, making her the first Latina from the South to occupy the position. The high-profile role eventually connected her with Gino Blefari, who at the time was CEO of HSF Affiliates and is currently the CEO of HomeServices of America. "He told me that he couldn't believe I wasn't in a national role, and he wanted me to do what NAHREP was doing but from within a company position," Palacios Smith recalls.
Because diversity and inclusion efforts typically reside within a company's human resources department, the idea of taking on a national diversity and inclusion role was a bit overwhelming for Palacios Smith, since she had no previous HR experience. "But what I did have was the experience that a REALTOR has," Palacios Smith says. "That everyday experience of working with leadership, our network agents, and our clients. I also understood what it was to be an employee and to work with our own people as well as with Latinos and immigrants that were buying homes and relocating here."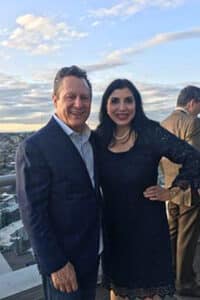 In 2017, with Blefari's influence and support, and in the newly created role, Palacios Smith joined the franchise division (composed of Berkshire Hathaway HomeServices and Real Living Real Estate) of the HomeServices organization as vice president of diversity and inclusion. Together with the executive leadership team, she began building the diversity, equity, and inclusion program.
In 2020, Blefari, now CEO of HomeServices, promoted Palacios Smith to chief diversity, equity, and inclusion officer, in which role she oversees and aligns all D&I efforts across the HomeServices enterprise. HomeServices, Palacios Smith explains, is the nation's largest residential real estate company based on closed transactions, and the country's premier provider of homeownership services including real estate, mortgage, franchise, settlement, insurance and relocation companies, and more.
Along with a bimonthly Women Who Lead Facebook series (which highlights outstanding women in the industry), a slate of training programs for leadership and HomeServices employees and agents, and a new mentorship program focused on driving diversity in leadership roles, Palacios Smith's latest victory is the 2021 Belonging Summit, which took place just days before she spoke with Hispanic Executive.
The Summit, which was a gathering of diversity, equity, and inclusion professionals from across the thirty-plus HomeServices companies, featured prestigious keynote speakers such as author and former NFL All-Pro, Johnnie Johnson; Charlie Oppler, president of the National Association of REALTORs; Rebecca Steele, president and CEO at NFCC; Darla Zink, diversity, equity, and inclusion director at Berkshire Hathaway Energy; and Gino Blefari, CEO of HomeServices, as well as president/CEO of AREAA, NAHREP, NAREB, the LBGTQ+ Real Estate Alliance, VAREP, and more. "We had speakers who came to provide solutions," Palacios Smith says. "I can't stand just talking about issues; I want solutions."
Palacios Smith has a favorite saying, one that "is perfect because of the company that I'm with and the honor that I have working for an organization that helps build wealth for everyone. It goes, 'Not all investors will put their money in CDs, but anybody in investing today should invest in the CD that provides the greatest return, and that is cultural diversity.'"
---