Teresa Barreira is a senior marketing executive who's spent the last twenty-five years leading global marketing and communications strategies for some of the world's biggest companies. She's revitalized and breathed life into beloved and struggling brands. Barreira says her success comes from understanding community and authenticity. Although she's been trained at top universities and worked in powerful board rooms, her most important lessons came from a rural village in Portugal.
Barreira was born in the small town of Soajo in the northern part of the country, where most people lived off the land and shared what they produced. Sunday lunches and town square events gave her a deep appreciation of community and heritage that she carries into her personal and professional life. "The greatest gift of growing up there was a sense of belonging and of being a part of something bigger than yourself," she says. "And I've tried to bring a piece of that to every team I've been a part of."
Growing up on the Iberian Peninsula taught Barreira other skills she's brought into her marketing career. While other children played after school, she worked at her family's businesses. By age ten, she was negotiating prices, building relationships, interacting with customers, and operating her parents' grocery store on her own. Today, Barreira is known for her ability to foresee clients' needs and constantly innovate. She remains unfazed in uncertain situations and can pivot to make fast decisions. She traces those abilities straight back to her years in the markets and cafes of Portugal.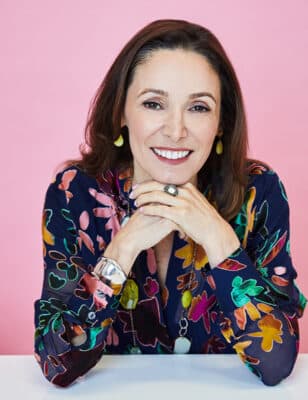 While her home country is rich in tradition, it once lacked robust career options for young women. The ambitious Barreira came to the United States, completed an undergraduate program, took the GMAT, and enrolled in business school, where she discovered a love for marketing. That passion, combined with her skill and tenacity, took her through the ranks at companies like Lotus, IBM, Accenture, and Deloitte. Along the way, she led teams, managed global regions, attracted major clients, and developed a reputation for her ability to create unique customer experiences that drive growth.
In 2018, Barreira joined digital consultancy Publicis Sapient for the chance to leverage her broad expertise and make a dramatic impact. The business was founded in 1990 as a technology company known as Sapient and grew through a series of about twenty acquisitions. Although the growth increased its strengths in consulting, design, engineering, and other services, the company had lost a bit of its brand identity. Barreira knew she could rebuild that and revitalize a purpose-driven brand.
Publicis Sapient's stated purpose is to "help people thrive in the brave pursuit of next." Barreira started making changes at the company by uniting disparate brands under that single purpose. But doing so took more than a simple pep talk or rebrand. "This wasn't about slapping on a new logo, it was about getting everyone to work towards a global and unifying strategy," she explains. Barreira was working behind the scenes to create synergy and reposition Publicis Sapient as a digital business transformation partner.
Barreira knew she had to help the company redefine what marketing looks like in a digital age, which starts with putting the right team in place. She reorganized some veteran employees whose legacy knowledge and skills were critical to the company's future and added a team of leaders of diverse genders, ethnicities, and professional backgrounds. Her marketing leadership team is 80 percent female and 50 percent nonwhite; neither of her first two hires had previously worked in marketing or even inside a corporation.
Next, she focused on building the right operating model to support the strategy. Recalling what she once learned about the value of community in Portugal, she introduced an agile "pod model" in which employees from specialized disciplines form pods as other specialists flow in and out as needed. "Everyone has something important to offer the whole in this collaboration space that fosters ideation and innovation," she says.
A commitment to data-driven strategies and a culture that favors speed over perfection anchors everything Barreira and her team set out to accomplish—and they are seeing big results in attracting major clients in every industry from retail to consumer goods to financial services to government to healthcare. They grew their marketing-influenced pipeline by 124 percent year-over-year from 2020 to 2021.
When a global quick-service restaurant chain wanted to find a new way to leverage its customer data, its leaders engaged Publicis Sapient to create a Google Cloud Platform solution. The system uses machine learning and applies algorithms to data sets to better understand and predict customer behavior and preferences. The engineering team at Publicis Sapient moved quickly to deploy the program and showed that convincing loyalty program members to make just one more purchase per year could bring in up to $35 million in additional revenue.
The engineering team generated similar results for Walmart Canada by introducing new technologies to enable frictionless checkout. One Publicis Sapient solution known as Fast Lane lets customers scan items throughout the store and bypass long checkout lines.
As Barreira and her team build brand awareness globally for Publicis Sapient and attract new clients, she's also focused on helping the next generation. "I'm the CMO of a multibillion-dollar global company, but I haven't forgotten where I came from," she says, adding that she's passionate about making sure others have access to professional opportunities. Last year, she helped Publicis Sapient start an internship that exposes first-generation college students to careers in marketing. The internship program represents another way Barreira can give back and make an impact on the community.