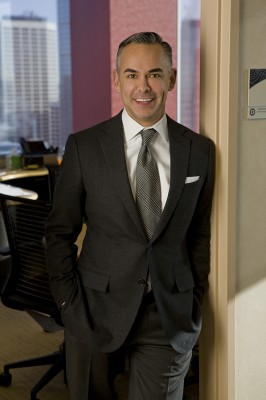 How has the consumer changed in the years since the financial crisis? How has your marketing philosophy shifted?
Our guest research indicates they are continuing to shop with discipline, focusing on lists and budgets and occasionally splurging on more discretionary items. We believe we have entered the "age of impatience" and brands are fighting for relevance like never before. As marketers, we must be clearer than ever that we are here to create loyal guests and drive profitable growth.
At Target, this means three things: Our primary role is to drive traffic to our stores, to our site, to our app, or wherever it makes sense given the objective. We must deepen engagement, turning customers into loyal guests. [And, finally,] we must continually strengthen the love for our brand by consistently doing the unexpected.
What trends in retail are impacting the work you do now?
The retail industry is changing rapidly, and Target is focused on continually innovating to serve our digitally-connected guests. It's important to truly understand the unique characteristics, behaviors, and mind-sets of our guests as we seek to deliver on our brand promise and provide an exceptional, differentiated guest experience regardless of where or when guests engage with Target.
How is social media and mobile technology changing the way you connect to consumers?
Technology is transforming everything about retail industry, including changing how our guests shop, as well as their needs and expectations. Multichannel is core to everything we do; mobile and Target.com are central to all of our plans. No matter how, where, or when guests want to shop, we are dedicated to meeting their needs.
For example, Target recently introduced an innovative mobile savings program called Cartwheel. This app puts the control in our guests' hands—it's a completely personal approach to coupon clipping that lets guests save money on the items they choose. Cartwheel also offers the ability to share savings and Target finds with friends via Facebook, and we are thrilled with the unprecedented results of this mobile savings program since its inception in summer 2013.
Spot On
Rick Gomez shares some key TV ads that reflect the spirited life and diverse backgrounds, lifestyles, and interests of its guests
On March 3, 2013 we launched "The Adventure Begins Here" campaign. Set to the lullaby "Clap Your Hands" with both English and Spanish lyrics, the ad features real families, providing an authentic depiction of the emotions parents feel when they successfully wrap their first diaper or make it through bath time unscathed.
On May 26, 2013, Target launched our newest TV spot, Summer Up, featuring the song "Ula Ula" by Argentinian duo Illya Kuryaki and the Valderramas featuring Raquel Sofia, helping moms make every summer moment even more bold and unforgettable.
Centered on the traditions that families and friends share during the holidays, the Spanish-language spot "Magia" (Spanish for "Magic") takes a new twist on making the dinner table personalized for each guest. The spot showcases inspiring ideas for a perfect night of entertaining and gives a nod to a Latin inspired dish, "Lechón Asado".
The "Foto Familiar" (Spanish for "Family Photo") TV spot highlights the tradition of the family photo with Target style. The spots encourage our guests to celebrate their own #AsiFestejoYo (#MyKindOfHoliday).
How is Target responding to the increasing buying power of the Hispanic market?
At Target, we pride ourselves on constantly evolving and learning as our guests' needs evolve, whether that's through offering an exceptional brand experience, engaging and supporting local communities, or providing a relevant in-store and online experience. Over the past several years we have added more merchandise that our Hispanic guests are looking for, and have evolved our marketing to ensure we are relevant.
In the style category, for example, we strive to ensure Latinas are thinking of Target as her fashion destination. Last year we launched a Pinterest board with Univision personality and Latin style expert Rodner Figueroa. His board featured curated looks for summer that you can only find at Target.
In Entertainment, Target is pleased to partner with Latin music producer and 19-time Grammy-award winner Emilio Estefan. Our partnership with Estefan underscores our commitment to offering guests unique content with the biggest names in the Latin music industry.
Every six weeks, Emilio curates a special section, titled "Emilio Estefan's Picks," which is prominently featured in the entertainment department in about 150 stores and includes Emilio's favorite music, movies, and books sold at Target, all hand-picked by this legendary producer. In April 2013, we expanded this partnership with the launch of premium Sound Machine by Monster headphones, available at select Target stores and on Target.com.
As our nation's population continues to change, Target will continue to position our brand and merchandise in a way that is relevant to the new mainstream.
What campaigns have allowed you to successfully approach the Hispanic market? How does such an approach vary from the general market?
We are committed to serving the diverse needs of the Hispanic communities across the country and proudly celebrating the spirited life and diverse culture of our guests. One way we do this is by ensuring that our broadcast ads, in-store marketing, and print ads capture our guests' diverse backgrounds, lifestyles, and interests. Last year we launched a Pinterest board with Univision personality and Latin style expert Rodner Figueroa. His board curated looks for summer that you can only find at Target. Also, we launched Target.com/farmacia, a Spanish-language website that includes information about our pharmacy products and services.
What is your team doing to meet the needs of Hispanic guests?
In addition to the examples I mentioned above, Target has sponsored events that celebrate the Hispanic culture, including the Festival People en Español (two years), Latin Billboard Music Awards (six years), the National Council of La Raza's ALMA Awards (four years), and the TV show, Mira Quien Baila (three years).
How does the ability to gather so much information about your customer impact the initiatives you are putting into place?
The cultural influences of our guests, team members, and local communities inspire and inform Target's business choices every day. Target evaluates our guests' interests and needs to arrive at an experience that is relevant and engaging. Hispanic guests, just like any other guest segment, have unique preferences that we consider in our marketing and merchandising efforts. To ensure we are tailoring the Target experience to the new mainstream, we focus on celebrating our guests' interests (for Hispanics, this includes style, beauty and entertainment, for example) in our partnerships, marketing and merchandising efforts. We also expanded merchandise assortment and product displays that include national and unique items that our guests love, which includes stocking our shelves to reflect the community. For example, this means that our LA stores may carry different brands and products than our Miami stores.
In addition, focus on a relevant in-store experience that may differ store-to-store based on the community it serves, including store team members who speak Spanish, as well as bilingual signing, and engaging the right partners and influencers who bring incredible expertise and push us to constantly think differently.
What is a nonprofessional cause that you are passionate about?
I believe each of us has an obligation to give back to our communities.  I have had the fortunate opportunity to serve on the board of AIDS United, the largest AIDS/HIV grant making organization in the US. During that time I have helped the organization develop its brand name, logo and marketing materials.  I found it to be incredibly rewarding to leverage my professional skills in a service capacity.  I have also run 5 marathons raising money for various AIDS/HIV organizations.