Marketing for movies is a balancing act between laws, artistic expression, research, and publicity. Jim Rodriguez must strike that balance every day at Sony Pictures, the Columbia Tri-Star Motion Picture unit operated by the Japanese electronics giant Sony Corporation.  "As a studio, we get it," says Rodriguez, senior vice president of marketing production. "We have an obligation to the public to make advertising suitable for all audiences. At the same time, we have a responsibility to our filmmakers to tell the story and make it appealing. That can be a fine line to walk sometimes, but it's a responsibility we take seriously, and we always find a way."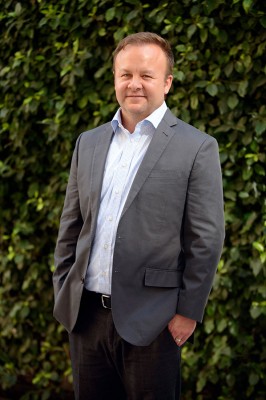 Rodriguez spends most of his days producing the final TV commercials for all of Sony's films, which entails mixing the audio and color correction on the picture. He also works closely with the Motion Picture Association of America (MPAA), which approves film advertising produced for US media, and the broadcast standards & practices (S&P) divisions for American television networks.
The review process between the MPAA, S&P, and the studio can be time-consuming. But the process has become streamlined, thanks in good part to an innovation Rodriguez brought to life in the mid-2000s. "I worked with an outside software company to come up with a program to send our commercials to the networks in New York and to the MPAA in Los Angeles to eliminate the needs to constantly duplicate the tape and have it delivered across town," he says. The program, Media Vu, fell under Sony's ownership and has since been sold. "Now every studio is using it to submit their ads."
TV commercials are a piece of a larger campaign that includes theatrical trailers, online presence, engaging games, giveaways, and publicity tours where the cast appears on talk shows and at events. Rodriguez had been with Sony's legal team since 1996 working on marketing material. Given his bird's-eye view into regulations, he was selected to manage the TV finishing/production group along with a colleague. Now he leads the unit. Rodriguez has a team of four and partnerships with multiple outside agencies, cranking out spots for 20 films per year.
There's actually a science to film commercials: create, research, edit, and produce. "In the beginning of your campaign, you need to tell your story. You might not use your 'A jokes' for the trailer," he says, "but you want to entice your audience just enough. Once it looks like it's tracking, and people are interested in seeing the movie, you can reveal more story and/or jokes."
With each demographic targeted, the spot varies slightly. "Typically, I think Hispanics relate more to a family-oriented message," says Rodriguez, who manages Sony's Hispanic commercials for networks like Univision and Telemundo.
Rodriguez works with an agency to fine-tune for culture. "Sometimes it requires adding new scenes or narration. Especially if we have someone of Hispanic descent in the movie, we'll add more of his or her image or lines to the commercial." He recalls a line from Once Upon a Time, which tested the highest among Latinos: "Everything I do is for my love for … my family."
The phrase hit home for Rodriguez, too. His father came to the United States from Mexico as a teen, undocumented. He worked his way up from a cargo job at Mexicana Airlines to a prestigious sales management position. Rodriguez credits his dad for his sense of integrity. "I often think about how great I have it and how lucky I am," he says. "I think of his work ethic and apply it to this job."