Tanya Reu-Narvaez has been part of Realogy for nearly twenty years. In that time, she has seen—and helped—the company drive substantial change.
Now the chief people officer, Reu-Narvaez is helping bring a feeling of mentorship, belonging, and positivity to everyone at Realogy. The CPO sat down with Hispanic Executive to answer some questions about her journey, the importance of inclusion and belonging, and HR's expanding role at the leadership level.
What experiences do you feel have helped influence your own journey?
Since the beginning, Realogy has walked the talk when it comes to diversity. We have changed the trajectory of this industry, not just by having female executives at the helm of the world's largest real estate company but by serving as an example of what can be done on an ongoing basis to ensure that diversity is not just an add-on but a true pillar of the business and the organization's foundation.
Take, for example, Realogy's Real Career Connections program, which empowers diverse employees to grow their careers. Realogy has matched thirty-one high-performing employees with mentors to broaden cross-business unit networks and explore career development over a five-month period, and this is just the beginning.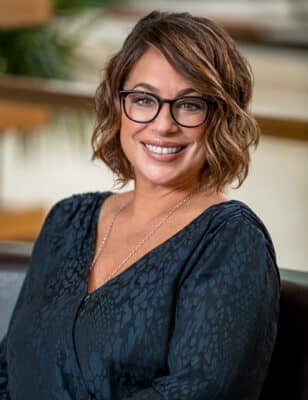 Understanding the importance of mentorship has been a critical component of my journey and continues to be what fuels me. I have taken great pride and fulfillment in supporting, developing, and mentoring future leaders in our field, as I believe strongly that it is an integral part of cultivating their strengths, helping them define the trajectory of their career development, and encouraging them to be bold in their decision making, however unpopular or unconventional the idea or vision.
What has embracing your true, authentic self looked like for you over the course of your career?
I grew up with tremendous responsibilities at a very young age, and that sense of being accountable and being resilient has shaped my "authentic self." I have always been hardworking and determined, coming from a long line of strong Latina role models who helped shape me and taught me the importance of drive.
It wasn't until I stepped into the corporate world that I was able to see how I could make an impact through my own personal journey and experiences. As I was beginning my career, and even as I rose through the ranks and began to acquire more seniority, I was accustomed to being the only woman in the room—and certainly the only Hispanic (and oftentimes, the only non-white person in the room).
More and more, I realized that I needed to pave the way for myself and others like me with similar backgrounds and aspirations. It became a matter of not just forging a new path but also creating a lasting impact that would potentially shape the future for myself, my peers, and successors.
What do efforts to foster inclusivity and belonging look like for you in your role?
When I stepped into the role as Realogy's chief people officer in January 2021, one of the things I was most excited about was elevating the company's focus and commitment to diversity, equity, and inclusion. DE&I will always be a large area of focus because it's a business strategy that enables Realogy to strengthen our teams, foster innovation, and fuel our growth.
Our company will always be at its best when it's leveraging diverse perspectives, leveling the playing field for all employees, and when everyone is empowered to bring their whole selves to work. We do this in part by partnering with various industry associations, and through the work of our employees and affiliates, and leverage the culture builders in our company to carve a sense of community and belonging through our employee resource groups. We are also dedicated to fostering inclusivity and understanding through formal trainings that focus on topics such as unconscious bias.
Could you talk about some of the work you're involved in through NAHREP and the Starfish Foundation?
As the largest residential real estate company in the US, Realogy is a champion of progress in the industry, and truly believes it's our role as the leader in residential real estate to inspire our peers and pave the way for equality, opportunity, and fairness for homeowners everywhere.
We are building a fair future for all, in lockstep with our affiliated agents and brokers, through partnership and involvement in real estate associations that promote diversity and inclusion—including our rich and deep partnership with NAHREP (the National Association of Hispanic Real Estate Professionals).
One of the proudest moments of my career was being awarded NAHREP's inaugural Ernest J. Reyes Founders Award for my work in educating and empowering practitioners that serve the Latino community.
Latinos are the only demographic in the US to increase their rate of homeownership for each of the past six years, a statistic that NAHREP tracks closely and that is made possible in part by the great work they are doing to educate and empower homeownership. But no one organization can do it alone, and that's why our relationship is so critically important. Together, we can change the face of homeownership for generations to come. I also take great pride in providing others, specifically Latinas, with opportunities and the ability to succeed. Through my work with the Starfish Foundation, which was cofounded by Soledad O'Brien, I have mentored a Latina since she arrived in the US from Mexico at just eight years old. She had been physically abused and didn't think she had much chance in life to succeed, but instead she defied all the odds and eventually went on to become the first member of her family to graduate from college.