"It's not a fashion show, it's a movement," explains Arabel Alva Rosales, cofounder and co-executive producer of Latino Fashion Week, the only fashion week in the United States created to support the talent of local, national, and international Latino designers and models. "Our mission is to elevate [the] perception of [the] Latino community, and do it through fashion, art, and sharing creativity."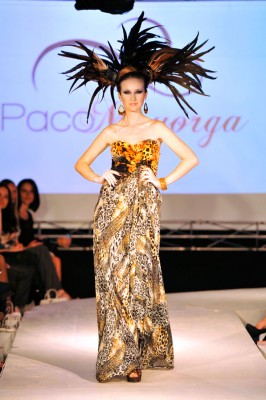 Originally launched and hosted in Chicago in 2006, Latino Fashion Week—with the marketing slogan "by Latinos, for everyone"—has since been hosted in a few cities throughout the United States, returning to the Windy City in 2011 to celebrate its fifth anniversary with the theme "Art in fashion." The week featured runway shows, celebrity appearances, VIP parties, and a three-day fashion lounge and expo, with a media red-carpet reception showcasing Chicago's top local Latino designers such as Jacqueline Amezcua, Goca, Karol Barrero, Que Shebley, and Zoë Damacela. Celebrities including Hollywood fashion photographer Christian Rios and actor Nico Tortorella also made appearances, and models including Nicole Suarez, Nuestra Belleza Latina finalist, Christian Carabias, model, and telenovela actor, and the nuvoTV's Model Latinas, graced the runway.
Although it has grown to attract international designers and big-box corporate sponsors including McDonalds, Macy's, Fiat, Arbonne, American Airlines, and Walgreens, Latino Fashion Week didn't start off as such a big event. "Initially it started kind of small with just a few local designers, and now it's grown into something much bigger than us," Rosales says. "It really helps develop business for designers and models, photographers, makeup artists, and hairstylists."
Rosales, whose father was a tailor from Mexico who moved to the United States to launch a men's- clothing manufacturing business, has seen firsthand the difficulties involved with running a business in the industry. "I know how tough it is for these designers [after working with my dad]," she says.
Still, challenges only seem to motivate Rosales, a self-made business mogul who worked as a senior policy advisor to then-governor Jim Edgar of Illinois right out of school and 12 years ago founded AAR & Associates Ltd., an IT firm. Most impressively, even while producing and planning Latino Fashion Week, running her firm, and being mother to a teenage daughter, Rosales still finds time to do more for her community. She does volunteer work for Chicago Public Schools and serves as secretary of the Illiniois Hispanic Chamber of Commerce (IHCC) and the Women's Business Development Center (WBDC). "I think it's important to give back to the community and to help," she says.
The WBDC Childcare Expo, one project Rosales is especially passionate about, was inspired by the birth of her own child. "It came about when both I and another woman at the center were both pregnant at the same time about 14 years ago," Rosales explains. "We were looking at childcare, like many other women who have dual roles as mom and businesswoman, and we found that a lot of the childcare providers were dropping out after six months because they couldn't sustain their businesses. They weren't running their businesses [effectively]. So we, the WBDC, came up with the idea to have childcare providers learn more about childcare and give them tools to grow their business. We've gotten all kinds of awards and helped them grow childcare businesses in a huge way. Some started small and now have many different centers."
In addition to staying active in the community and speaking out about issues affecting women and the Latino community, Rosales thinks it's important to mentor young people. She says it's important to "pass on" the guidance and inspiration she received from her own mentors, including her father and former-governor Edgar. She makes an effort to hire interns at her IT firm as well as for Latino Fashion Week, and teaches aspiring business owners and designers to marry their creativity and business skills. "I talk about business being my life canvas," she says. "There's a lot of creativity involved in Latino Fashion Week, but the bottom line is, it's still a business."
Rosales also teaches her protégés to believe in their ideas and what they are creating, even when they have doubts. "We still say a number of prayers before we start Latino Fashion Week," Rosales admits. "A lot of people don't RSVP and we have to go on strong faith that what we're doing is something important. We're bringing in designers that are amazing."
Planning to expand the event over the next few years—possibly launching a multicity tour in 2012— Rosales also looks forward to further leveraging online social media and web marketing as a way to attract new designers and sponsors. And while she has no plans to stop juggling her IT firm, community councils, or being a mom, Latino Fashion Week will always have a special place in her heart. As she says, "I call it my love project!"