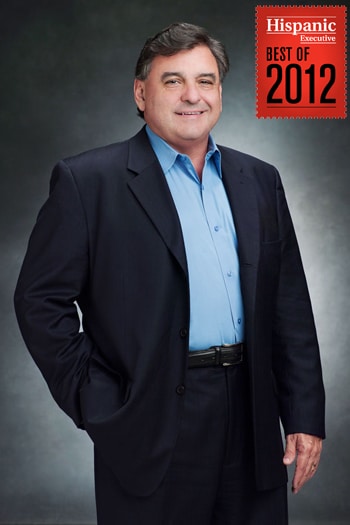 Becoming a lawyer  wasn't a lifelong dream for Nestor Barrero. As a kid growing up in Southern California, he wasn't familiar with the law, except to know that he shouldn't break it. Instead, Barrero set his sights on becoming a high school or college guidance counselor. After graduating from the University of California, Los Angeles (UCLA) with a degree in psychology, Barrero landed a job as a caseworker with a nonprofit social-service agency, where he counseled and worked with young people, just like he had planned. But, even the best-laid plans can occasionally hit an unexpected bump in the road.
As it turned out, Barrero and social work weren't really cut out for each other. Good thing, too, or he might never have gone to law school. He went to work for an insurance company as a claims representative, handling liability and workers' compensation cases. It was there that Barrero's interest in the law was piqued. "After meeting many lawyers in my work there, I realized that I was as smart and capable as any of them," Barrero recalls. "So I decided to apply to law school."
Born in Bogota, Colombia, Barrero was two years old when his parents moved to the United States. His father, Ricardo, spoke no English, but persevered through night school and went to work as an accounting clerk at ARCO, where he stayed for 30 years. Indeed, Barrero credits his father with inspiring him to reach higher and achieve more. "He always encouraged me to keep learning," says Barrero, who grew up speaking both Spanish and English.
As a young lawyer, he racked up experience at a Los Angeles law firm—in  maritime-law, personal-injury, and product-liability cases. But it was after tackling some cases involving employment law that Barrero had his "a-ha" moment. "Employment law was a great fit for my personality and background in psychology," Barrero says. "Everyone can relate to being an employee or a manager of people, and the patterns and issues make it a dynamic and rapidly changing specialty."
So he became an expert, in both employment law and litigation, and moved to another large firm, Sheppard Mullin, where he found mentors who encouraged him to strengthen and refine his knowledge. He spent more than five years working in the corporate-law environment before transitioning to in-house counsel positions. It wasn't that he didn't enjoy the fast-paced, go-go world of corporate law; he just couldn't see himself spending his entire career as an employment litigator. "My personality was more collaborative," Barrero explains. "An in-house environment offered the chance to get to know a business very well and become a partner to management at all stages of a particular matter."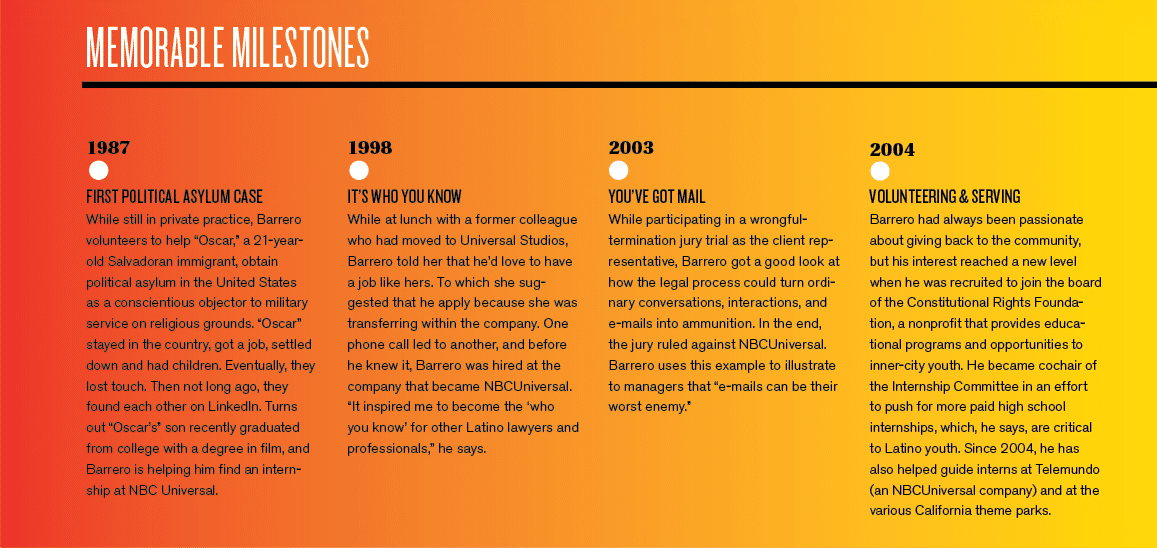 So that's exactly what he did. After leaving corporate law, he became senior counsel at Union Bank of California, the state's third-largest financial institution, and in 1998, stepped into the world of movies and theme parks as vice president-employment law at Universal Studios, now NBCUniversal.
But there is nothing make-believe about what Barrero does. As one of a team of five lawyers, he advises management across the various divisions of NBCUniversal on matters of employment law and issues. Much of his day-to-day routine involves training managers on how to avoid sticky employment law situations and strategizing responses to employee-related legal issues—even though "normal" legal rules are challenging to apply to such particular work environments as a theme park, a film production or a television show. "Many issues arise simply from a lack of information," he says. "I enjoy knowing that my advice and training can often lead to a better outcome not only for the business, but also for the individual employee."
Working in a unique industry, Barrero is all the more rare for being one of the few Latinos in a senior position in the entertainment field. In 2007, he was recognized by the Imagen Foundation as one of the most influential Latinos in that business, although he claims that being influential is often a question of age, experience, and having a good network. What he would like to see are more Latinos in every facet of the entertainment world, from acting to directing to corporate. To that end, he mentors Hispanic students considering careers in law or entertainment, and serves on various boards, including the Constitutional Rights Foundation, the UCLA Academic Advancement Program, Los Angeles Universal Preschool, and the Bilingual Foundation of the Arts. In 2011, Barrero was appointed a part-time adjunct professor at Pasadena City College.
"Being Hispanic has always been a bonus that I try to pitch as a reason to hire me or include me on a committee," says Barrero, who, with his Ecuadorean-born wife, has raised his two daughters to be bilingual. "It goes beyond being able to speak to executives at Telemundo; I try to leverage my heritage as an advocate, a sounding board, and as a company representative and mentor for others."
Get to know all of Hispanic Executive's "Best Of 2012" Recipients here.