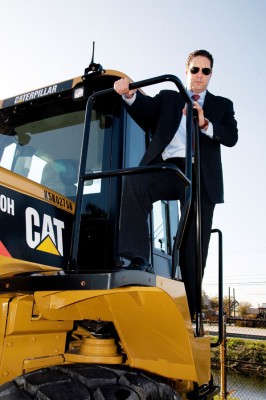 As the 39-year-old corporate counsel for Caterpillar Inc., the number-one maker of earthmoving machinery and agriculture equipment in the world, Guillermo Levy has come a long way from his humble roots as a teenage immigrant from Colombia. Now based in Geneva, Switzerland, Levy is once again a stranger in a new land. His current task entails providing legal support to Caterpillar's regional-marketing team in connection with distribution matters throughout Europe, Africa, and the Middle East—a challenge he embraces with characteristic gusto. Levy credits part of his achievements to his multicultural background—relying on the lessons he learned as a Colombian immigrant to help him thrive in his latest professional adventure.
Why did you decide to go the in-house counsel route?
I wanted more variety in my day-to-day job and a career that was more closely aligned with the business. Another factor was that my wife and I decided to start a family and she is also an attorney. We made a conscious decision to find career paths that were both professionally fulfilling and that allowed better work-life balance than traditional big-firm environments.
In April 2011 you moved to Geneva. How is the work you're doing now different than the work you were handling for Caterpillar's Latin America and Caribbean business? 
In my current role, I provide legal support to our regional marketing team in connection with all dealer and product-distribution matters throughout Europe, Africa, and the Middle East (EAME). I am also responsible for antitrust/competition matters in this region. In my previous role as counsel for Latin America and the Caribbean in Miami, I was exposed to a variety of commercial, litigation, and compliance matters. However, my main responsibility was providing legal support for complex-commercial transactions in the large power generation field, including equipment sales and engineering, procurement, and construction (EPC) projects.
My focus here in Geneva is mostly on the distribution side of the business, which is a critical part of the Caterpillar business model. Within the distribution context, the issues in EAME are similar to those in Latin America. Professionally, however, this part of the world is new to me so there's definitely a steep learning curve when trying to get up to speed culturally and geopolitically.
What experiences prepared you for this role and the unique responsibilities that accompany it? 
I arrived in the United States as a teenager from Colombia and I did not speak or understand any English, much less the complexities of being an American teenager. My mother's faith and optimism and the work ethic my father instilled in me helped me succeed. Eventually, I graduated high school with honors. I have found myself once again in a country where I do not speak the language and in an office where I am a stranger. I know that the lessons I learned as an immigrant will help me succeed professionally.
Do you think Latinos have inherent qualities they can leverage to succeed in the global arena? 
I think immigrants have a desire to improve their lives and those of their children. It is this inherent drive that compels them to leave their home country, whether for economic, political, or social reasons. My grandfather moved his wife and three kids out of Germany in 1939, destined for Colombia. He didn't know the language, the culture, or what he was going to do once they arrived. Roughly 50 years later, my father made the same choice; he moved his wife and his three youngest kids to the United States. While the conditions were different, the expectations were the same: A better future for his family. This drive to find a better future in a new environment is a defining characteristic that can help Latinos succeed in the global arena.
How has your Latino background helped shape your career, especially as it pertains to working internationally? 
The better part of my career has been devoted to international work, whether in Latin America, Europe, Africa, or the Middle East. Without a doubt, I can say that I would not be as good at my job if it was not for my international background. In international business, it helps to be both multilingual and multicultural. Not only do I bring a Colombian background to the table, but my father's German heritage also provides me with an understanding of European views. My story is not unique. Many Latinos share a multicultural background because of the history of Latin America, and even if they do not come to the business world with that background, they live in an environment where multiculturalism thrives. This makes Latinos especially poised to succeed in an international work environment.