While staying true to its roots, the nation's oldest Hispanic chamber of commerce is modernizing its approach. What is now the San Antonio Hispanic Chamber of Commerce was founded in 1929 as the Mexican Chamber of Commerce. The chamber has a long history of advocacy and reform. In 1949, the Chamber won approval for the Buena Vista Street overpass to solve a major traffic problem for the community. In the 1990s, it was instrumental in promoting NAFTA; George H. W. Bush signed the free trade bill in San Antonio. The Chamber has helped strengthen Texas's procurement laws and has worked tirelessly to support the area's Hispanic businesses.
But now, demographics are shifting. From 2000 to 2012, the US Hispanic population saw a 50 percent increase. San Antonio is one of two metro areas in the US (along with Miami) where Hispanics already represent a majority of the city's population.
As Hispanics become more visible on both national and local stages, issues that impact the group come into focus: health care, immigration reform, education, equality, and trade. And the San Antonio Hispanic Chamber of Commerce is responding.
Ramiro Cavazos is the chamber's president and CEO. Like the group he leads, Cavazos has strong ties to the region. In fact, his family has been in South Texas for close to 300 years. Born in McAllen and raised in Weslaco in the Rio Grande Valley, Cavazos studied government at the University of Texas at Austin and earned a master's degree in public administration from St. Mary's University. His professional background is varied, spanning politics, academia, and corporate America. After earning his master's degree, Cavazos worked for US Senator Lloyd Bensten and ran Judge Nelson Wolff's successful campaign for mayor of San Antonio. He has worked for Levi Strauss, led economic development for the University of Texas Health Science Center at San Antonio, and advised major companies like AT&T. As the City's director of economic development, he helped lure Toyota to the region.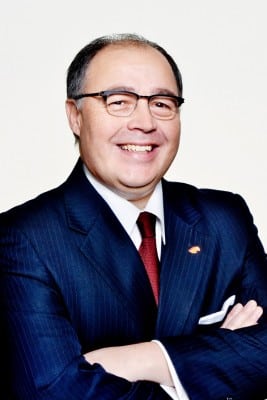 Cavazos comes from a low-income area and a family of ranchers, farmers, and civic leaders. In short, Cavazos knows the issues facing Hispanics at all professional levels, in and around San Antonio.
As CEO of the San Antonio Hispanic Chamber of  Commerce, he's helping turn a once-small chamber into a vibrant and growing collection of more than 1,100 members. "Two of every three new businesses formed here are minority-owned," he says. "The demographics aren't just changing—they've changed, and we have to make sure that the chamber is giving this new demographic what it needs."
The chamber that once supported NAFTA has turned its attention to pressing issues like Deferred Action for Childhood Arrivals (DACA) and the Dream Act—both of which it has supported publicly. Cavazos and his colleagues travel to Washington, DC several times a year and join with groups like the US Hispanic Chamber of Commerce, the US Chamber of Commerce, and local organizations that advocate for these issues and block "mean-spirited and regressive bills" in state and federal venues.
For Cavazos, immigration is more than a social issue—it's an economic issue. "Immigrants have helped make America the strongest economy in the world by bringing innovation. We need immigration to keep our businesses open and manufacturing stable," he says.
Major companies like Google, Dell, and Yahoo! were founded by immigrants. The Chamber argues that immigration reform is necessary not only to recharge high-profile jobs, but also to fill positions in growth industries like manufacturing and hospitality. Ninety percent of people working in America's restaurant kitchens are foreign-born. "Laws with a pathway to citizenship should be logical, fundamental, and practical," Cavazos says.
Having an intimate knowledge of area Latinos has catalyzed some changes, like reducing chamber prices for regular events and annual membership. "We want as many people as possible to network, gain information, gather resources, and thrive," Cavazos says. Since 80 percent of chamber members are small-business owners, the group holds large business-to-business procurement meetings, scores public agencies on their vendor policies, and collaborates with local organizations that teach marketing and business skills.
In 2014, the chamber took its first trade mission to Cuba under a license from the Department of Commerce, before president Obama ordered the restoration of full diplomatic relations with the communist nation in December. San Antonio is closer to Havana than it is to Chicago, New York, and other major cities. "Texas is a natural marketplace for Cuba and vice versa," Cavazos says.
On the local side, civil service and tourism still drive the historic city of San Antonio, but the last two decades have seen the growth of other industries like health care, aerospace, IT, energy, manufacturing, education, and the arts. Cavazos says San Antonio is a city of opportunity with a high quality of life; it's a big city with a small-town feel. "We have a world-champion sports franchise, and we are the only city in Texas that has schools in the UT and Texas A&M systems," he says. San Antonio's 40,000 small businesses provide 80 percent of its jobs. It's not an area with a huge number of Fortune 500 companies.
When the national economy does well, San Antonio's doesn't spike as much as other cities, but when the economy struggles, the city stays stable. "The diversity of our economy is a big advantage as we look to the future," Cavazos says. And he's motivated to keep that diversity in small businesses growing. If the chamber helps each small business add just one employee a year, they've brought the equivalent of a 40,000-employee company to San Antonio.
Each year, the chamber holds a large STEM expo to encourage 4,000 middle school students to consider careers in science, technology, engineering, and mathematics. Recently, Cavazos met with Rosie Castro, the mother of former San Antonio mayor and US Housing and Urban Development secretary Julian Castro and his identical twin, US Congressman Joaquín Castro. She's helping the chamber launch an initiative to encourage more Latinas to run for public office.
Additionally, the chamber recently selected Al Aguilar as its chairman for 2015. Aguilar, an advertising agency CEO, will help the group continue to advocate for causes important to its members while they seek to grow and flourish in and around San Antonio. The chamber is planning another trade mission to Cuba and is doubling down on its effort to get more Hispanics appointed to corporate boards and civil commissions. "We want Latinos and Latinas to have a voice in all aspects of life," Cavazos says. "It's good for us, and it's good for the nation."