Queen Victoria Ortega and Bamby Salcedo, while not the same age, both grew up in an era when trans women were not widely accepted by society—and as trans Latina women, both faced additional discrimination. While the world has changed since then, there's still a long way to go before the trans and gender-nonconforming community sees true equality. Ortega, now the national president of FLUX (a national division of the AIDS Healthcare Foundation), and Salcedo, president and CEO of the TransLatin@ Coalition (TLC), are both focused on changing that by not only making the world safe for trans people but also empowering them.
A Place in History
Ortega is a lifelong resident of Boyle Heights in East Los Angeles. Both of her parents were Chicano activists, and Ortega says that fighting for the rights of others is baked into her DNA. She had a promising career in ballet when she was young that was cut short by an injury, but Ortega took the opportunity to not only transition but to begin a career working on behalf of the trans community.
"I had really started contemplating what was the linchpin that led to so many people testing HIV positive, especially in the trans community," Ortega says. "There were two things that became apparent: the creation of a sense of positive future self and future permanence. The first is about recognizing that trans people go back as far as any civilization. I built a program around highlighting trans people or potential trans people throughout history from all cultures. An important part of accepting yourself is finding a sense of history."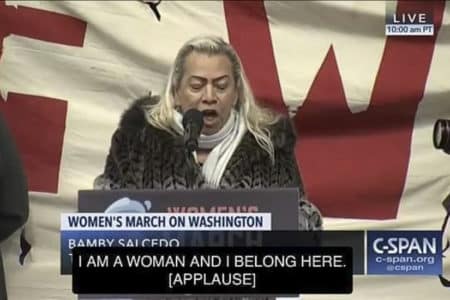 The second component both embraces that history and looks toward the future. "Why would anyone want to protect themselves if they believed they had no future?" Ortega asks. "You have to allow people to dream and have access to a bright future."
Ortega has served on the Los Angeles County Prevention Planning Council, the Los Angeles County Commission on HIV Health Services, the Transgender Service Provider Network, and the California Endowment's Building Healthy Communities, along with countless LGBTQ+ centers from Los Angeles to New York. "I like to think of myself as the Mary Poppins of nonprofits," Ortega says, laughing. "I come in, help make the organization trans inclusive and affirming, and then I leave."
As president of FLUX, Ortega has set her sights on more than just the survival of trans and gender-nonconforming communities. She wants them to lead. "We need to build infrastructure that is led by and for us," she says. "FLUX really focuses on building the economy of trans-led nonprofits, like Bamby's organization, TransLatin@ Coalition."
Ortega is able to provide strategy, grant-writing, and staff development for these organizations. "I've made it my business to help our community understand and navigate nonprofit management to evolve into revenue-generating and sustainable institutions," she says.
No Longer Invisible
Salcedo and Ortega crossed paths at a difficult point in Salcedo's life. She had recently become sober after years on the streets of Los Angeles engaged in survival-induced sex work, gang life, and drug addiction. She'd grown up poor in Guadalajara, Mexico, enduring sexual abuse by her stepfather before spending fourteen years in and out of jail in Los Angeles. But Salcedo, after entering treatment, emerged committed to helping members of her community that society refused to accept, let alone employ.
Prior to founding the TransLatin@ Coalition, Salcedo spent eight years at Children's Hospital Los Angeles as the health education and HIV prevention services coordinator. "It was while I was at Children's Hospital that I saw there wasn't a representation for trans Latina immigrant women nationally," Salcedo says. "That's how the coalition started."
The TransLatin@ Coalition, in collaboration with the University of Minnesota, produced the very first data set specifically highlighting the needs of trans Latina immigrant women in the US. Salcedo is also the focus of the 2014 documentary Transvisible: The Bamby Salcedo Story.
In just four years, Salcedo turned her passion project into a multipurpose, multiservice organization through the Center for Violence Preventaion and Transgender Wellness. The organization has a staff of seventeen with a current budget around $1.2 million. The TLC is currently preparing to find its own permanent home as it continues to advocate for legislation that directly addresses the needs of its community.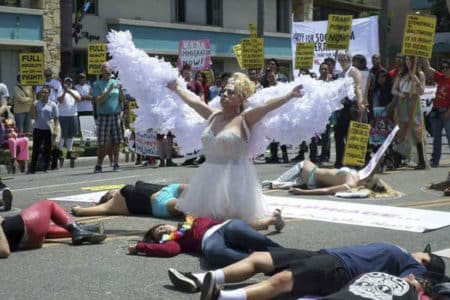 A Decade of Collaboration
The personal and working relationship of Ortega and Salcedo has endured for more than a decade, though they both agree that their personalities are on different ends of the spectrum. "I think that I've cultivated an image of being unattainable, aloof, even unemotional at times," Ortega says. "I'm the Iron Lady. Bamby is as real as it gets. She's a hugger, she loves people."
"[Queen Victoria] always inspired me, even though she seemed so young when we met," Salcedo says. "We've been able to be supportive of each other over the years, and I'm so proud of the sisterhood we've been able to build. It's such an honor."
As the two continue their collaboration into another decade, they're working to make sure that people in their communities are able not just to survive, but thrive.
Different But United
While both Queen Victoria Ortega and Bamby Salcedo seek more inclusion and representation for the trans and gender-nonconforming community, their respective organizations have different goals:
FLUX is a national division of the AIDS Healthcare Foundation dedicated to creating safe spaces for trans and gender-nonconforming individuals through advocacy, events, and innovative marketing.
The TransLatin@ Coalition focuses on addressing the needs and issues of their community by working with local and national organizations and policy groups to change the landscape and livelihood of trans people. This includes community-led campaigns, policy change, and leadership development.