When Olga Lozada made the decision to immigrate to the United States from Colombia, speaking limited English, she could have made it easier on herself. She had family members in Florida who would have welcomed her, but she knew she would need to learn English as quickly as possible to succeed in the corporate world. Instead, Lozada decided to move to St. Louis, Missouri, to be immersed in the language and forced to learn it.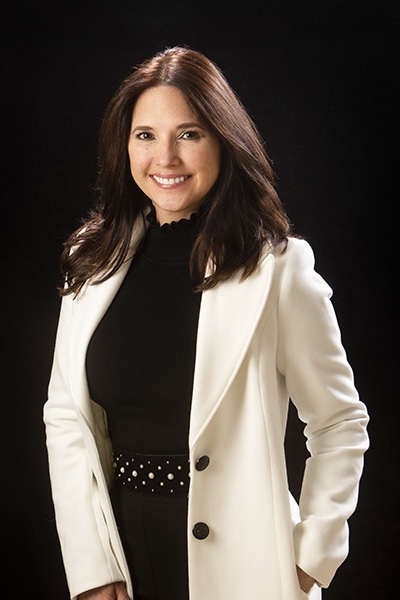 "I knew it was not going to be easy to climb the corporate ladder in America as an immigrant speaking accented English with no prior working experience in the US, but I was confident in my abilities," Lozada says. Her perseverance, work ethic, and passion for what she does opened numerous doors, propelling her from being an intern in HR to a vice president at a Fortune 100 company.
When asked to share lessons learned with other immigrants, Lozada says: "You will run into challenges but don't be discouraged. If you do not have a skill, challenge yourself until you master it—and repeat! Lifelong learning will provide new opportunities."
Lozada has certainly never shied away from challenges. With a commitment to excellence and an inclusive leadership style—cultivated through her experiences across industries as varied as aerospace, energy, and manufacturing—Lozada has been immersed in a number of complex HR programs and restructurings. Today, she is the vice president of benefits at Charter Communications, a leading broadband connectivity company and cable operator serving more than thirty million customers in forty-one states through its Spectrum brand.
Stepping Back
Lozada took on a big growth role at Energizer, where she led a global function supporting employees in thirty-eight countries. The role provided Lozada with the chance to see firsthand how people from different cultures and perspectives might interpret company strategies and directives differently. For Lozada, it was an opportunity that transformed the way she leads.
"It really instilled the idea that, no matter your role, everyone has a voice," Lozada says. "It's important to me that my team is heard, encouraged, and valued, regardless of their title."
Lozada says this practice has led to what she considers her favorite regular occurrence: proposing an idea and watching it evolve. "Whenever I offer an idea, I want to make sure that everyone on my team steps up and offers something to the discussion," she says. "I love when we walk out of a meeting with something completely different, just by empowering everyone to share their thoughts."
Charter Communications, Lozada says, has provided the optimal vantage point from which to make a positive impact on employees. The company is committed to investing in its people so that it can attract and retain top talent that reflects the diversity of its markets, as well as creating a culture of inclusion where all employees feel valued. The initiatives the organization has taken on behalf of its employees are extensive, which is exactly why—after doing comprehensive research on the company to make sure her own values meshed well with the company—Lozada knew she would thrive at Charter.
Programs, People, and Purpose
In her current role, Lozada supports an incredibly diverse employee base. Nearly half of Charter's 95,000-strong workforce are people of color, and nearly 10 percent are veterans. Lozada focuses her daily work on providing initiatives on behalf of all employees.
"It's a joy to come to work when your job is to advocate for your colleagues and their families," Lozada says. "I believe benefits are among the most important elements of the relationship between an employee and an employer." She is proud that Charter invests in employees in this way. To reduce employees' out-of-pocket costs for medical benefits, the company has absorbed cost increases for eight years in a row.
Lozada's team partners with providers that offer the best level of service for both Charter and its employees. Her team also continually analyzes data to identify macrotrends and refinements that could improve the day-to-day lives of Charter's diverse employees. To cultivate a work environment that supports working parents, Charter offers benefits related to family planning, breastfeeding travel solutions for mothers, paid parental leave, and parenting support. For LGBTQ+ employees, Charter offers market-leading services and benefits.
In concert with its healthcare partners, Charter also provides diabetes management at no cost to its employees. "From a diversity and inclusion perspective, we know that our Latino employees and their families can benefit from this care because this disease is so much more prevalent [in that population]," Lozada explains. "We're proud to provide this program, and we see great participation."
But Charter's commitment to diversity and inclusion extends beyond its benefits packages. The company has several career advancement programs focused on employees at different levels. The company also offers a tuition reimbursement program. In the past two years, more than half of the Charter employees who have taken advantage of this reimbursement program were people of color. "We aim to support our employees and help them advance in meaningful ways," Lozada says. "We're able to impact their lives both at work and at home."
Charter's commitment to diversity and inclusion has earned it both a Top Company for People of Color award from the National Association for Multi-Ethnicity in Communications and recognition as a Top Company for Women to Work from Women in Cable Telecommunications.
Lozada knows that the HR role has evolved from HR administration to building connections between employees and their employers. She also understands that HR professionals are now responsible for preparing their organizations to be agile, flexible, and responsive to employee needs while creating an environment where employees can thrive. That work, the VP says, is what makes her excited to come to work every day—no matter the challenge.
---
Livongo is proud to partner with Olga Lozada and Charter Communications to offer their employees personalized tools, coaching, and support for chronic condition management. From connected glucose meters to unlimited strips, our program fits easily and meaningfully into their everyday lives to keep them on track with their health. For more information, visit livongo.com.
---
Related Links