Paola Mora, director and associate general counsel for Club Med North America, was entrenched in Club Med's biggest resort opening of the 2000s when Hispanic Executive caught up with her.
It was just two weeks before guests would begin arriving at Club Med Michès Playa Esmeralda, a new addition to the company's Exclusive Collection portfolio located on ninety-three acres of beachfront land in the small town of Michès in the Dominican Republic. Mora was in the midst of working with the project team and dealing with licenses, permits, third-party provider contracts, transportation, cleaning, excursion teams, and any other pertinent international legal concerns that might touch an all-inclusive resort.
It seems like Mora should sound more stressed, but she doesn't. The native of Bogotá, Colombia, has been with Club Med—which created the all-inclusive vacation model—since leaving the US Army in 2000. "I traded in my combat boots for my flip flops," she jokes. But Mora's growth at the company has been anything but a breeze.
Mora started at Club Med as executive assistant to the company's general counsel, Eileen Kett. She didn't yet have her bachelor's degree (she was working on finishing it), much less a JD. "This company is known for fostering talent and for helping employees grow," she says. "That's what happened to me. I went from being my boss' executive assistant to one day being her successor."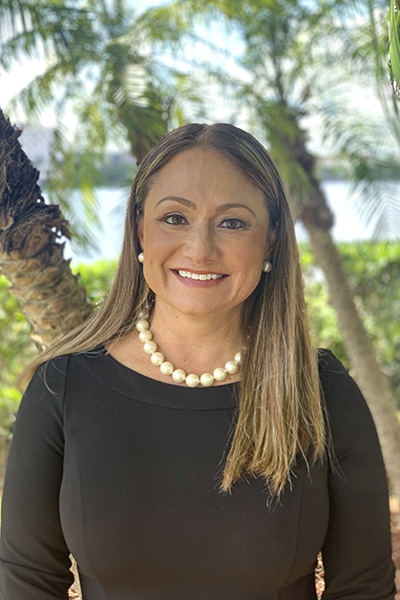 After earning her bachelor's degree, Mora went on to earn her paralegal certificate, working for Club Med the whole time—first as a contract administrator, then contract manager, then as a Legal Affairs Director. She attended law school at night while working full-time. In 2018, Mora took the final step and passed the Florida bar on her first try. All the while, she was also raising her own family. "I was taught by my dad that you have to work hard for what you want in life, nothing is handed to you," Mora says. "I've always kept that in mind."
Mora's present duties are best illustrated by the efforts she and Kett have made to bring the new Michès resort to life. Club Med communications manager Joseph J. Nuñez says that he visited the site where the resort now stands before it was built, and the difference is staggering. "I was there a year and a half ago, and there was no road for me to get there, no water, and no electricity," Nuñez says. "Paola and Eileen have really been leading the legal aspects of the development and construction of this project that was just a massive beast."
"We're pioneers in the industry," Mora says. "We don't just build hotels; we build destinations." At the company's Punta Cana location, Club Med even built the airport that would allow tourists to arrive. Michès was similar: Mora had to work collaboratively not just with a litany of third-party providers but also with all of the local governmental regulators that accompany infrastructure building. "There's a key in building relationships with people," Mora says. Her knowledge of the Latin culture and fluency in the Spanish language were key and extremely helpful. "Club Med is focused on being in destinations for the long haul; therefore, finding the right local advisors and partners is critical to the success of any project."
The successful opening of Club Med Michès Playa Esmeralda may be the most tangible evidence of Mora's success, but it's not her only motivator. She says that the people at home who watched her work her way through law school, and the bar exam are the ones who motivate her to succeed. "I think it's been a great example for my fourteen-year-old Gabriela and eleven-year-old Andres to see how hard I've worked to get where I am," Mora says. "I always tell them that no dream is too big, no star is too far, and that if set your mind to it, you will do it." Considering her long tenure at Club Med, it seems like Mora has earned herself a serious vacation.
An Exclusive Getaway Destination
The resort that has taken up so much of Paola Mora's time has truly earned its bandwidth. The $100 million Club Med Michès Playa Esmeralda in the Dominican Republic is the largest project for Club Med in the Caribbean in almost forty years (and the whole of North America in twenty). The 335-room resort is divided into four 'boutique villages,' two adult-only and two family-friendly. The property includes four bars, four restaurants, three wine cellars, and a coffeehouse. The resort has also gone through great efforts to reduce its environmental footprint: it replanted all of the trees that were taken down during construction and not only has a 'no single-use plastic' policy but also a farming program that works with the local community to develop and teach children, and their parents, about sustainable farming techniques and about eco-gardening.
Related Links