David Chavez, senior advisor at SVN | QAV & Associates, has spent the last three and a half decades in the commercial real estate business—a path he says is unusual for someone who didn't grow up wealthy.
Chavez was raised in a mining town in Arizona until the age of nine, when his family moved to the Bay Area. He earned a BA in political science from Stanford University in 1972 and a JD from the University of California's Hastings College of the Law in 1975, which makes him a part of what he calls the first real wave of Latinos pursuing postsecondary and graduate degrees.
His path after graduation wasn't entirely clear at first—he didn't have a lot of role models, especially in the field he wanted to pursue. "Commercial real estate is a pretty gentrified business," he says. "You may spend the first five years not making much money, and that is a huge hurdle for anyone who has maybe already put off marriage and a family to pursue their education."
But Chavez was able to put aside a small cushion for himself working in the securities arena while he learned the business, and over the last thirty-five years he has found ways to make his business interests intersect with public and private projects that positively affect thousands of people every year.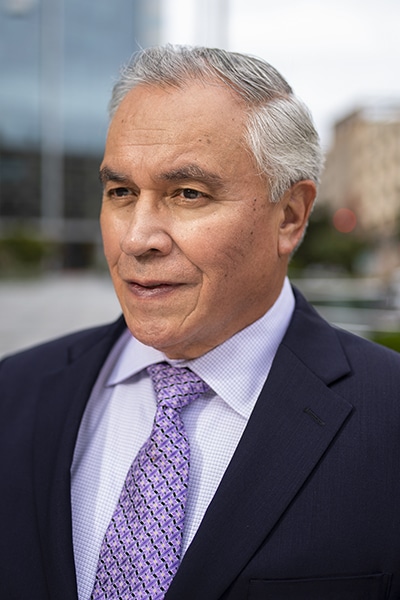 Good for Business, Good for the Soul
Over the course of his career, Chavez has managed to consistently find ways to help what he calls "forgotten communities" through his commercial real estate work in northern California. In the late nineties, a friend of his who was on the board of the Tiburcio Vasquez Health Center approached Chavez when the center wanted to open an additional clinic that would specialize in treating underserved, typically poor patient populations. Chavez was able to locate a site in Hayward, California, that had the right zoning and was accessible by public transit; the twenty-five thousand square-foot clinic now sees more than fifty-thousand patient visits a year.
Chavez was able to replicate this success with another clinic of the same size in San Leandro, a neighborhood that had high infant mortality rates, which now serves as many patients as the Hayward clinic. There was an additional bonus. "The big thing for me when these transactions are completed is to go by the site and see all of the people who are getting work thanks to the deal being completed," Chavez says. "That's always one of the most meaningful parts of my job."
In West Oakland, Chavez was able to balance the needs of a local church congregation in a historically black neighborhood that was also a food desert. After acquiring a warehouse in the neighborhood, Chavez worked with the Mission Baptist Church to upgrade and lease their parking lot in order to build a grocery store, a deal that meant an influx of revenue for a church struggling to maintain its operations, while bringing much-needed food access to an underserved community.
Pulling a Rabbit Out of a Hat
Last year, Chavez was tasked with a proposition that seemed impossible from the get-go. An affordable housing developer needed to locate temporary facilities for homeless assistance program for eighteen months while it built a ninety-unit affordable housing structure where those homeless outreach programs would operate on the ground floor. This was all happening in the conservative-leaning and affluent Walnut Creek. Through cooperation with the city staff and city council and the efforts of the homeless outreach director, Chavez was able to locate a former shopping center with public transit access and the necessary requirements to serve the city's homeless population. "That was really sort of like pulling a rabbit out of a hat," Chavez says, laughing. "But we were able to pull it off."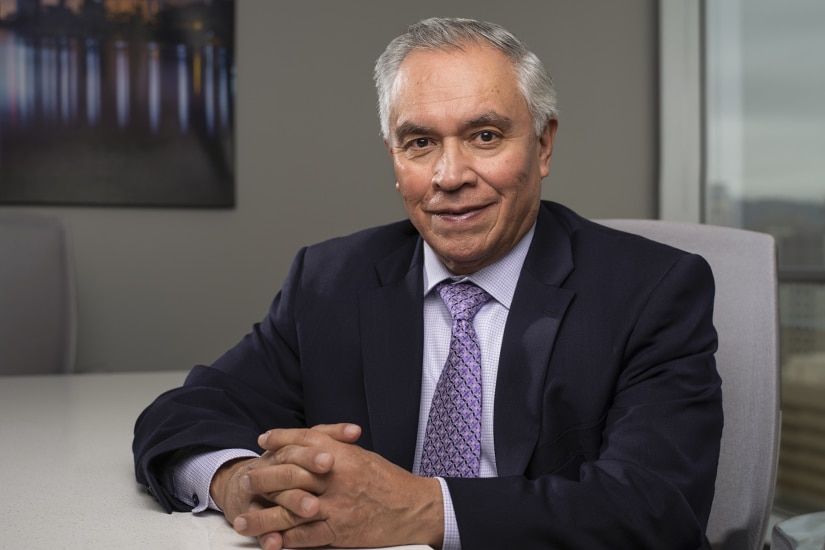 For the last fifteen-odd years, David Chavez has been an avid cyclist. The road-biking enthusiast recently completed the sixty-four-mile Napa Valley Eagle Cycling Club Bike Tour and the seventy-three-mile America's Most Beautiful Bike Ride; he ended 2019 by riding the seventy-five-mile El Tour de Tucson. Even an accident in 2010 that required him to be airlifted out hasn't slowed him down. "It just makes me more present," Chavez says. "I absolutely love it."
The Veteran's Administration has also been a beneficiary of Chavez's work in California's Central Valley, helping to find a site for a 150,000-square-foot prospective hospital and 150,000-square-foot medical clinic. This was to replace an antiquated facility in Livermore which was constructed in the 1930s. The project was so huge that multiple congressional districts were petitioning hard for the site, knowing well that a groundswell of construction and infrastructure often results in more new business and more money in the communities. In an even more impressive feat, Chavez was also able to identify a twenty-acre site in San Francisco, possibly one of the most real estate-starved cities in the nation, on behalf of the VA, which needed to expand its operation.
Show Up with Confidence 
Chavez says that with all his years in the business, he's only recently started seeing more Latino names in his field. "You may see more Latino presence in retail-oriented type businesses, but once you get more into the corporate real estate arena, I think the subjectivity of the business can present a lot of challenges for people from our communities who didn't grow up in these environments," he says.
He does have some advice for Latinos who want to get into commercial real estate—or any other field. It's imperative, Chavez says, to show up with confidence and without any self-imposed barriers. "You don't need to focus on your Latino experience or that you've had some sort of handicap for one reason or another. Be confident about who you are and what skill set you're going to be able to provide your client," Chavez says. "The value that you can provide should always be your focus."