Growing up in a low-income area of Laredo, Texas, Luz Martinez says she saw a lot of people trapped in a cycle of poverty, unable to escape. Her parents were manual laborers without much education, but that made them even more determined that she would have a better life than them. Martinez's mother, Emilia, had to leave school when she was just eleven, after her own mother was killed in a car accident and Emilia was left to run the house and raise her three younger siblings. Her parents valued education so highly, Martinez says, that even though they were migrant workers they would only travel in the summer, making sure that they were back in Laredo before school started.
After high school, Martinez went to community college because her family didn't have the money to send her to a university—but it wasn't a good fit. "I was looking around and saying, 'I have to do something other than this, I wanted more than Laredo could offer,'" she explains. After less than a year she joined the military, partly because the GI Bill would pay for her college education, but also because she wanted to get out of Laredo and see the world.
"I really did enjoy my time in the service," she says. "Mind you, I joined in July 1990, which is when Desert Shield, Desert Storm [the Gulf War] was kicking off. My timing was impeccable." After training, she was sent to Saudi Arabia for four months. "For me, just seeing something different is interesting," she says. "I know it's not a vacation hot spot, but I didn't mind going to Saudi Arabia. I stayed back and went to Kuwait after the war ended."
Between deployments, Martinez worked at Fort Bragg in North Carolina and went to school in the evenings. She volunteered to go to Somalia for Operation Restore Hope, then with a year of service left, she was on orders to Korea without much idea of what she'd do when she returned. An army major she'd worked with named Sharon Daniels, who'd since taken a job as a speechwriter for the Secretary of the Army at the Pentagon, recommended Martinez for an executive assistant position in the same office. "For me, that was a huge shift in my life," Martinez says.
Taking that job required her to move to northern Virginia, reenlist in the Army, and transfer to George Mason University to complete her undergraduate degree. "When I came to this area, I knew this was where I wanted to build my life," she says.
After she left the military at the end of 1998, Martinez spent several years working in public accounting, doing audits for government contractors. She got her CPA license and, after a stint in private accounting, an MBA in finance and accounting from Regis University. She started to shift from accounting to finance, taking a program finance position at the information technology company Unisys in 2008, where she was then promoted to finance director.
"The military is very much about discipline, timeliness; you have an objective, have to meet the objective. That's how I approach things even now. Where do I need to arrive? How do I back into the things I need to do and the timeline to meet my objective?"
Nearly ten years ago, she was approached by a recruiter about a finance director position at Leonardo DRS, a defense technology company. "I was not that interested in a lateral move," she says. But then she met with the CFO, who told her that he was planning to leave the company soon and wanted to line up a succession plan in which she'd take his job after he left.
Everything went according to plan; in less than a year Martinez became CFO and vice president of business operations. Not only did Leonardo DRS show confidence in investing in Martinez—particularly as that investment pertained to a male-dominated finance world—but the company has continued to support her growth and success.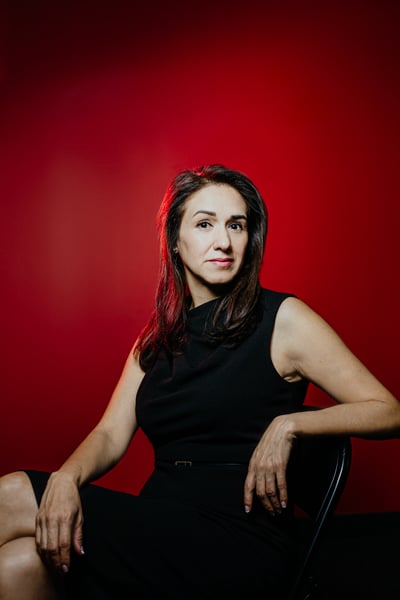 "In my role, I use both [finance and accounting], because the accounting department works for me so I have to understand the debits and credits—as well as the financial operations and strategy of the business," she says. Her military training has also served her well. "The military is very much about discipline, timeliness; you have an objective, have to meet the objective," she says. "That's how I approach things even now. Where do I need to arrive? How do I back into the things I need to do and the timeline to meet my objective?"
Her current focus is strategic acquisitions, particularly the due diligence process for potential acquisition candidates—essentially a financial audit of factors like performance and profitability. "For me, that's very exciting and interesting," she says.
Her mother is no longer alive, but did get to see her become CFO—and, Martinez says, "She was very proud, she'd brag every chance she had." While her mother pushed her as a child, Martinez says that Emilia didn't have to continue that role after high school. "She was very proud of me, and she always reminded me to stay humble and remember to thank God for all of the blessings in my life. Along with her push for education she also instilled in me my Catholic faith, which I carry with me every day and work to instill in my girls.
"She saw that I had that fire in my belly and once I was off and running, she knew her work was done. I'm competitive, and once I set my mind to something, I'm very focused on the end result. I believe that's what makes me successful here [at DRS] as well."
Carrying the Education Torch
Luz Martinez says her mother never missed a chance to emphasize the importance of education, independence, and hard work. "Every day and every opportunity she had, she'd ingrain that in me." Now Martinez is doing the same with her twin thirteen-year-old daughters.
"She would always tell me, 'Life will throw you obstacles, but don't lose sight of your goals. The first step in that process is education.' I've carried on the torch from my mom, instilling in my daughters that they are responsible for themselves. They have to be able to stand on their own two feet. I always talk about education.
"Coming from a low socioeconomic family and environment, I think we've got to get the message to younger girls who are in the same position I was in—who may not have an Emilia Martinez like my mom—to open up their eyes and realize that there is a way out of poverty. Education really is the key to getting out of that cycle."
A Message from BDO
"Congratulations Luz on your well-deserved recognition. BDO is honored to have supported Luz and the DRS team on government contracting compliance and cost accounting matters for over 10 years. It's been a privilege to witness your growth and to serve as your trusted advisory all these years!" 
—Giacomo Apadula, Managing Director Government Contracts
---
Related Links
Lisa Heritage McLin: "I'm here to serve, to work hard, and create positive change."
Former Marine Javier Diaz Devotes His Career to Paying It Forward