https://hispanicexecutive.com/roel-campos-hughes-hubbard-reed/
https://hispanicexecutive.com/havidan-rodriguez-university-at-albany/
Omar Galan practices what he calls "preventative medicine." The senior vice president and associate general counsel for United Community Bank (UCB) isn't talking about actual medicine, although he did grind through one year of medical school: the prevention he practices focuses on legal and financial concerns for customers and lenders.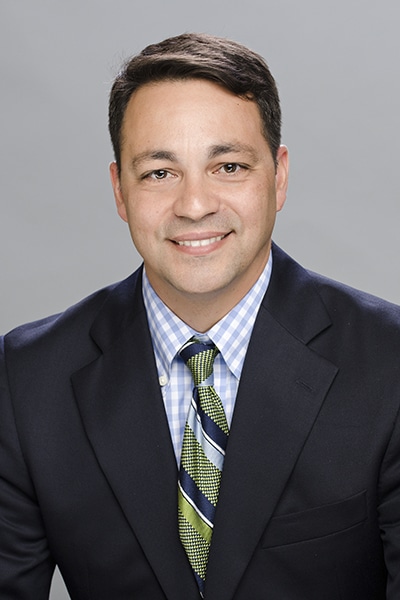 A shy kid who moved from Puerto Rico to Arizona when he was eight, Galan says he encountered a steep language-learning curve after arriving in the US. A few years later, his family headed to Germany, where he gained a deep appreciation for the culture's organization and efficiency. He planned a military career, and after graduating university as a first-generation student, he was commissioned as an Air Force officer.
Galan supported missions and deployed to Turkey, Iraq, Kosovo, and other classified locations around the world as his unit's intelligence officer, which he says he found truly satisfying. "I was responsible for squadron/group briefings, and mission planning, and I even reassured the aircrew of the integrity of my information by flying combat missions with my aircrew," he explains.
While the Galan loved the Air Force work, after four years he realized he also loved his home life and wanted to start a family. After his wife, who worked at Mercer University School of Law, convinced him that a JD offers a wide range of fascinating career choices, he completed his law degree at Mercer. He spent several years in commercial real estate law before shifting focus and taking a position at United Community Bank eight years ago. "I've become well-rounded," he says.
Though he left the service years ago, Galan has brought Air Force processes to UCB. "In the Air Force you are either deployed or training for deployment," he says. "We constantly train for the game." Galan wants "front-line" employees to know how to spot and respond to legal risks, even if they do not know the solution to the problem entirely.
"Our culture is very customer-focused. We give the benefit of the doubt."
Basing topics on legal trends he sees, Galan leads ongoing, in-depth trainings every other month, starting with a few minutes of music prior to the call and ending exactly on time. A recent focus on loan covenants and events of default has led, he says, to a trackable reduction of questions and issues for loans that may be headed to the bank's loss mitigation or special assets departments.
Galan started at UCB as legal counsel and is now responsible for responding to all of the operating company's legal risks, including supporting the company's 149 brick-and-mortar locations, back office operations, M&A, vendor contracts, and, most recently, litigation.
Discussing his general workflow, Galan says that in any given week, he might expect his average days to include communicating with concerned customers and providing real time support to bank employees on matters that could increase the bank's legal or reputational risk. In reality, he says, "You don't know what wild card might be waiting. A customer might have crashed a car into a branch office, or a wire fraud case may have popped up."
Recently, for example, he was called to respond to a situation that involved a customer struggling with dementia. The customer's children, unable to access their parent's account, had concerns about financial decisions the customer was making. Galan helped the family find solutions, including providing read-only online banking access for the customer and walking the customer's son through the steps needed to take over the account.
Because of this incident, Galan is leading UCB in looking at other preventative measures to avoid potential problems, including a review of bank policies and procedures, trying to balance elder-abuse concerns and best practices to assist customers suffering memory loss, educational tools for tellers on both how to spot signs of difficulty with banking and how to respond, and a social media campaign to educate customers.
It's an all-encompassing approach to proactive problem-solving that those partners who work with Galan have noticed and heralded. "As one of the financial service industry's top executives, Omar demonstrates excellence in all that he does," explains Ron C. Bingham II, a partner at Adams and Reese LLP. "It's our privilege to work alongside such an outstanding leader as Omar and to watch his continued success."
"By the time an issue gets to legal it's been through the ringer. We look for solutions that will benefit all involved."
Galan's team, responsible for the risk and safety of the bank and its customers, manages with a very lean head count for an institution of UCB's size, he says. A general counsel, a legal counsel, two paralegals, and two legal support members—together with Galan himself— run all legal functions for the $13 billion bank.
"Our culture is very customer-focused," Galan says. "We give the benefit of the doubt." While this means that UCB sees fewer disputes and litigations, he explains, he is called on to take time and be flexible when problems arise. "By the time an issue gets to legal it's been through the ringer. We look for solutions that will benefit all involved." Galan's strategy involves listening and finding out what is not being said.
Despite the challenges of his job, Galan is proud of his employer's values, noting it has both high customer satisfaction and high workplace ratings. "The bank treats others as they would like to be treated," he says. UCB, which recently expanded to a new state, is looking to double in size in the upcoming years, and Galan is ready to grow along with the company.
In February 2020, Galan took on a new challenge: he was appointed co-chair of UCB's brand-new diversity and inclusion committee, nicknamed the Power of U. Focused on improving customer service, increasing performance, and designing welcoming environments, Galan is excited for the new addition to his role. "Let's start small, and we will build momentum," he says.
---
Related Links