https://hispanicexecutive.com/mark-madrid-pedro-guerrero-latino-entrepreneurship/
For Havidán Rodríguez, president of the University at Albany (UAlbany) and the first Latino president of a State University of New York (SUNY) four-year campus, his path to the presidency was never a straight shot. Raised in Puerto Rico and the Bronx by a single mother, Rodríguez grew up in a very humble background. Thankfully, Rodríguez says, his mother was always a strong supporter of education.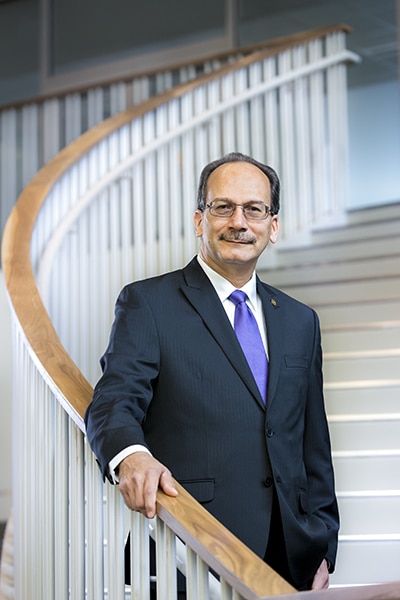 "That foundation was critical for me," Rodríguez stresses, "especially since my high school teachers didn't think I was college material." Encouraged to obtain a technical degree, Rodríguez graduated with a concentration in auto mechanics. "When people ask me how I got to the presidency, I say, 'By being an auto mechanic,'" Rodríguez laughs.
For a while, Rodríguez worked as an emergency medical technician with the United States Air Force while completing his bachelor's degree. But after many conversations with "one of the greatest mentors in my life," who instilled in Rodríguez the idea that he could make even greater contributions with an advanced degree, he obtained his master's and PhD in sociology, and moved back to Puerto Rico to give "back to my community."
At the University of Puerto Rico-Mayagüez, Rodríguez worked his way up through various professorial and administrative roles for twelve years. Eventually, he moved to the continental US, working at the University of Delaware and the University of Texas-Rio Grande Valley before heading to upstate New York to serve as the twentieth president of UAlbany.
Presidential Praise
Rodríguez received the American Association for Access, Equity, and Diversity's 2016 Cesar Estrada Chavez Award and has been recognized by an array of prestigious organizations such as the New York League of Puerto Rican Women and the National Diversity Council.
"There was one important factor that was very appealing to me about the University at Albany," Rodríguez remembers of his decision to move to New York. "At the University of Texas, about 90 percent of the students were Latinos/as, and many were first-generation, low-income students. I felt that I could have a significant impact on that community in particular, and that was one of the first things I looked for at the University at Albany."
According to Rodríguez, close to 40 percent of UAlbany students are minority students, and a third are first-generation students. Given his own upbringing and experiences, such statistics resonated with Rodríguez. "The University at Albany also stood out because of the nationally recognized success of its Latino and African American students," Rodríguez says. "We're one of the top institutions in our category in terms of the social mobility of these students, and we are one of the most diverse research one institutions in the country. That was very appealing to me; we don't just talk about diversity—we see it everywhere and feel it around us."
"We are one of the most diverse research one institutions in the country . . .  we don't just talk about diversity—we see it and feel it everywhere around us."
Of course, the University at Albany that Rodríguez leads today is much different than the one that was founded 175 years ago. Originally a teacher's college, UAlbany is now a comprehensive Research 1 (R1) institution well-known across the country and the world for its cutting-edge research programs. Rodríguez sees it as his responsibility to continue that legacy.
"When I first started as president, we engaged in a strategic planning process to engage everyone across the institution—faculty, staff, students, external community members, and our global alumni—in our efforts to build and expand the university," Rodríguez explains. "We do a very good job of reaching out to our communities, getting students to come to the university, retaining and graduating them, and ensuring that they become engaged global citizens. But we also want to increase our international visibility, reach, and impact."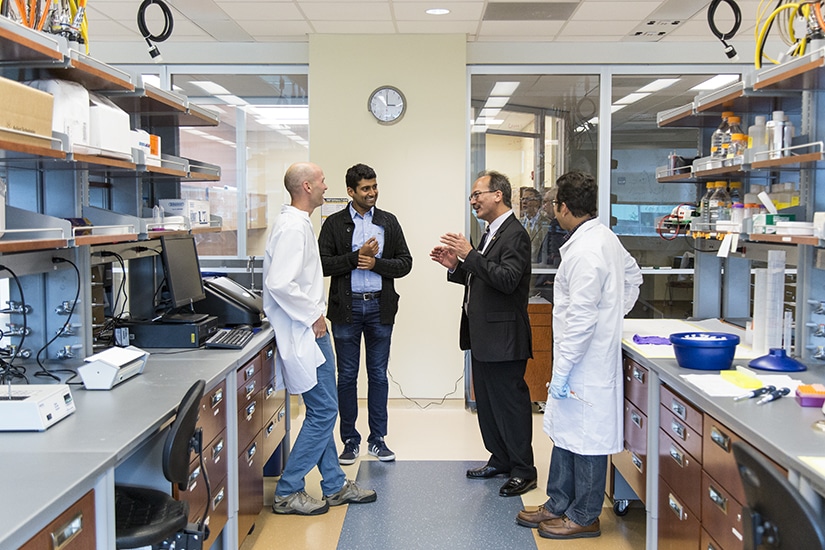 Right now, Rodríguez says, UAlbany is also focusing on developing partnerships in Central and South America as well as the Caribbean. Rodríguez notes, "and we want to continue to prioritize internationalization."
Known in the academic community as an expert in disaster mitigation and preparedness, Rodríguez is helping lead SUNY's and New York State's recovery work in Puerto Rico after Hurricane Maria—just one of many experiences that has helped strengthen his leadership abilities.
"When you treat everyone as a leader, and with dignity and respect, you come together as a family as well as a community."
"I worked in Honduras following Hurricane Mitch, in India and Sri Lanka after the Indian Ocean tsunami, and in the Gulf Coast following Hurricane Katrina," Rodríguez says. "So, when someone walks into my office and says they've got a disaster on their hands, I just think, 'I've looked disaster in the eye.' These experiences also made me much more proactive in terms of the issues that we confront."
But at the end of the day, just as in disaster recovery efforts, Rodríguez's work at UAlbany comes down to collaboration, coordination, and communication. "Last year, our strategic plan kept changing up until the very last minute—because we received feedback from hundreds of stakeholders, and incorporated many new ideas into the plan," explains Rodríguez. "This is so important to me—when you treat everyone as a leader and with dignity and respect, you come together as a family and a community."
What to Know About UAlbany
128,960 service hours were contributed to the community by UAlbany in 2018.
UAlbany is one of only 131 institutions nationwide to be recognized as a Carnegie R1 "highest research activity" institution.
UAlbany is one of the Top 10 institutions for Latino/a student success according to the Education Trust, and a top 30 university for social mobility.
UAlbany has 600 study abroad opportunities available across the globe.
There are 50 research institutes/centers at UAlbany, bolstering research in life, social and health sciences, public health, emergency management, engineering, and more.
Related Links
Always aiming to innovate, Marnie Forestieri focuses her energy on education
Veronica Gonzales on Shrinking Regional Poverty with Education