To say Jason Soto has understood the value of mentors from an early age is a bit of an understatement. He was born to one of his best.
Jason's mother was a fifteen-year-old New York City high schooler when she gave birth to Soto's older brother. She had two young sons by the time she went back to school to finish her GED and her undergrad degree at Hunter College. When Soto was nine, his mom was accepted to Harvard University, where she earned both her master's and PhD. It took her twenty years to achieve her dreams, but along the way she became an important symbol of drive and perseverance for her son.
"Her journey shaped a lot of my perspective and motivation. She kept marching forward. She took advantage of opportunities and 'got it done,'" Soto says. "How could you not be influenced by that story?"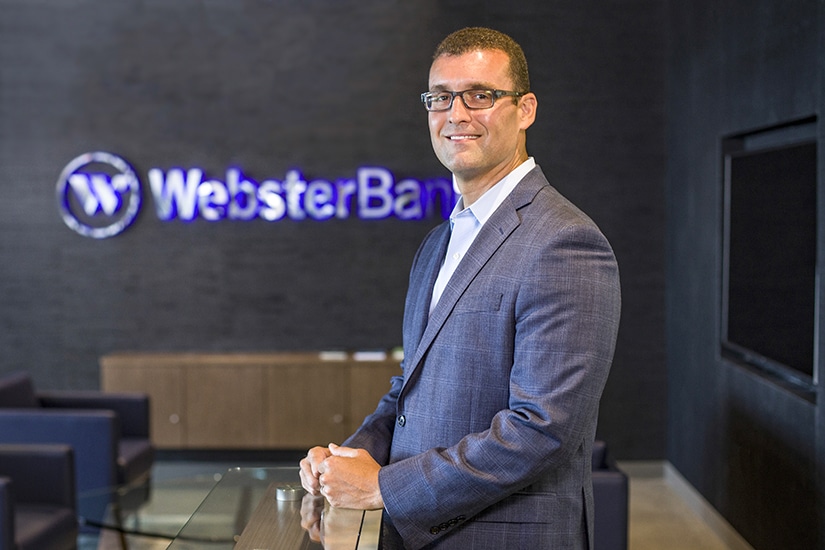 Indeed, Soto has taken his mom's example to heart throughout an ambitious career. As an economics major just out of Wesleyan University, he landed a challenging position at Prudential, swiftly completing five rotations before moving to an associate position at GE Capital. At GE, he was promoted twice within two years and was soon leading the underwriting of new credit opportunities as a vice president. Eventually, he rose to chief credit officer of the corporate finance division. Now chief credit officer (CCO) at East Coast-based Webster Bank, Soto has earned a reputation as a confident credit executive who tempers his hard-charging energy with an honest desire to motivate others in a positive environment that makes them want to come to work in the morning.
So far, it's been a career with many interesting turns.
While at GE, Soto threw himself into projects and roles that didn't necessarily lead directly to his ultimate goal but offered him the scope and perspective necessary to become a seasoned CCO. There, he met a more senior executive mentor who took him under his wing and let him in on what he called "the great pause"­—or taking a deliberate, patient step back so that he could see the bigger picture. "That was hard for me, and [he] really had to drill it into me a few times throughout my career for me to understand it. As I'm mentoring folks now, it's a critical skill I try to teach."
The value of a thoughtful mentor isn't at all lost on Soto. At Webster, Soto says he takes it upon himself to connect with those around him, learning from them in every interaction. For those he works with and supervises, he says, "I want to give them flexibility, help their development, and provide direct feedback when they need it," Soto explains. "There were a lot of nights where I went home frustrated by what [my mentor] had to say, but it's because he was so direct with feedback that I didn't want to hear at the time. It made me better." Soto adds that his delivery tends to be a little less blunt than that of his early mentor.
"There were a lot of nights where I went home frustrated by what [my mentor] had to say, but it's because he was so direct with feedback that I didn't want to hear at the time. It made me better."
He follows in the footsteps of another more recent mentor, Webster President and CEO John Ciulla, who once held the CCO post and made critical decisions during the Great Recession that Soto seeks to learn from during their discussions. "No pressure taking over the job the CEO once held," Soto says with a laugh.
Soto often looks to Ciulla for inspiration—whether he's deciding on a particularly challenging credit arrangement or representing Webster at a community event. "I've learned from working with John these past few years how important it is to balance protecting Webster's solid financial position with the needs of the customer."
During his two years at Webster, Soto led a critical, cross-functional project utilizing innovative technology to provide real-time credit portfolio information. "As we grew our commercial bank, we needed to improve insight into the portfolio and streamline processes."
Today, Soto—a little over a year into his new position—finds his scope has again shifted dramatically, but his understanding of the importance of the "great pause" has motivated him.
As chief credit officer, he has had to pull himself back from the individual deal. "I really have so much perspective on the overall bank, the portfolio, and the strategy," Soto says. And that broader scope has also meant that Soto has become a more sought-after representative for Webster Bank.
"All of the exposure I've had throughout my career, the different jobs, the people who have helped me take on this broader role, I find I'm asked more and more to step away from my desk and represent Webster more broadly both internally and externally."
"It's part of Webster's DNA, to give back to the communities where we live and work, and that rings true to me both in my professional life and my personal life."
One of the things Soto appreciates about working at Webster is the bank's commitment to invest in bankers both professionally and personally. "It's part of Webster's DNA, to give back to the communities where we live and work, and that rings true to me both in my professional life and my personal life."
A volunteer for Junior Achievement in inner-city Bridgeport when he was based in Connecticut, Soto recently joined the board of Families First, a Watertown, Massachusetts-based nonprofit that helps single parents form relationships with their peers and become better parents. "Their mission resonated with me," he said, adding he looks forward to working with his fellow board members and the staff to help the organization continue to grow.
Looking back on the many twists and turns in his career, Soto is clear about the power of mentors—as a boss, a peer, a parent—and the impact they have had on his life, shaping his perspective and perseverance.  Soto says, "I want to help others, the same way others helped me—to see the big picture and motivate them toward making their vision a reality."
Expertise Spotlight
Webster Financial Corporation is the holding company for Webster Bank, National Association and its HSA Bank division. With $28.9 billion in assets, Webster provides business and consumer banking, mortgage, financial planning, trust, and investment services through 157 banking centers and 308 ATMs, helping individuals and communities go further faster to reach their goals.
Webster also provides mobile and online banking. Webster Bank owns the asset-based lending firm Webster Business Credit Corporation; the equipment finance firm Webster Capital Finance Corporation; and HSA Bank, a division of Webster Bank, which provides health savings account trustee and administrative services.
Webster Bank is a member of the FDIC and an equal housing lender. For more information about Webster, including past press releases and the latest annual report, visit the Webster website at www.websterbank.com.
Related Links
Carla Molina's Goal: Helping People Achieve Financial Freedom
Oscar Garcia Offers Financial Empowerment to the Underbanked