Many titles can be used to describe the roles of Roel Campos's career. Air Force officer, lawyer, entrepreneur, general counsel, SEC commissioner, law partner, advisor, board director, chairman . . . these are perhaps the most prominent, but they certainly do not encompass the full list.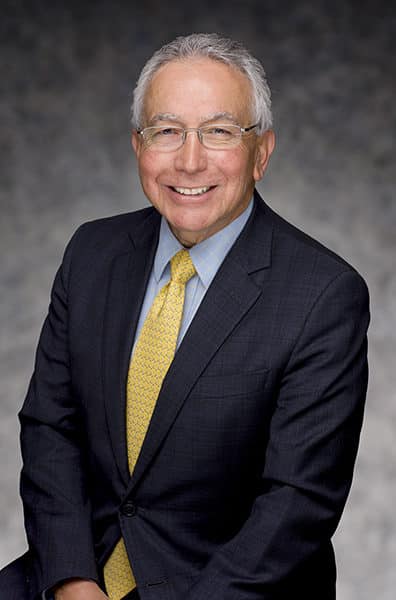 It seems almost poetic that a man whose experiences are so diverse is also a prominent advocate for diversity and for the Latino community as a whole. Campos has reached leadership levels that few, if any, Latinos have reached. And so, his continued success—and empowerment of successors who reflect his values—has become paramount.
Some of the most successful Americans in history have a singular trait in common: the ability to persuade others. Roel Campos is no exception. Perhaps gained from his legal training or perhaps innate, he knows how to position an issue in a way that motivates others. In some, persuasion is a power used for personal gain and feels overbearing, often leaving those who were persuaded feeling duped. In Campos, however, the ability comes across as wisdom. It can even transcend the act of persuasion to reach a level of inspiration; it can inspire purpose.
Campos views himself modestly and explains, "As my family will assure you, God has given me no special gifts. In my work, I begin with a deep respect for others' views. That leads to the building of a measure of trust, which can help discover common ground, often leading to some form of agreement. Persistence and being resilient are key."
Now, take this ability, amplify it by his influence, and one can see how he has achieved great success in his various roles.
As chair of the Securities Enforcement Defense practice at Hughes Hubbard & Reed LLP, an international law firm named by the American Lawyer as one of "the top firms among the nation's legal elite," Campos uses his persuasiveness—helped by his experience as former SEC commissioner—to represent companies and executives who are having to defend their actions against allegations or potential allegations of wrongdoing by the SEC.
"Everyone deserves a fair defense," he says. "If there's an obvious wrongdoing, the approach that one has to take is to find a fair settlement. Often—I would say most cases—the alleged misconduct has been caused by an error; it's inadvertent. They violated a rule. For example, the client wasn't clear enough in their disclosures. What I do is I work with the enforcement division of the SEC and try to make sure that we have an understanding of the facts (finding trust and common ground) and then try to have a reasonable resolution."
"Yes, in conjunction with my business responsibilities, my top priority is to be an effective advocate for the Latino community."
This legal specialty has given Campos a high level of visibility in the American legal and business landscape. "Part of my work involves  having people understand that I have capabilities and qualifications that will be useful to them," he explains. "I write, I make speeches, I speak on panels, I'm available to advise companies in preventive situations. I also speak to boards about what they might do to anticipate problems."
Building upon this visibility, Campos also serves on the boards of several businesses: Regional Management, a consumer loan company; Liquidnet, a registered broker dealer and automated trading system; and several early-stage companies that he is helping grow. It is in these roles that one of his underlying purposes is activated: advocating for diversity in the most senior levels of the business landscape, particularly for the Latino community. 
Understanding this advocacy, it comes as no surprise that, in 2019, Campos became chair of the Latino Corporate Directors Association (LCDA), and that he continues to serve as chair of the Smithsonian Latino Center and Gallery and is on the board of the Latino Donor Collaborative.
"Yes, in conjunction with my business responsibilities, my top priority is to be an effective advocate for the Latino community," he says.
It is in these roles where his diverse experiences and persuasiveness elevate into the ability to inspire purpose in others. One example of this is seen in his work with the Smithsonian Latino Center, a project that has been in the works for several years but will come to fruition in 2021, when the Molina Family Latino Gallery will open in the American History Museum in Washington, DC—what Campos describes as the first stage toward eventually having a Smithsonian Latino museum, which requires Congressional approval.
"Few Americans realize that we have had Latinos in America long before the United States was a country, going back to the 1500s."
Campos brought this concept of a Smithsonian Latino Gallery to the Molina family. The father of the family founded Molina Healthcare, which became a Fortune 500 company. Subsequently, using his persuasive approach, Roel Campos helped convince the Molina family to contribute $10 million and become the founding donors for the future Latino Gallery that will bear their name. This gift is one of the largest philanthropic gifts in history by American Latinos.
"It will be a venue within the Smithsonian Institution, America's museum, that deals with the story of American Latinos," he explains.  "There is no other venue in the US that's dedicated to telling the history—the story, the accomplishments—of Latinos in America.  For example, we've had Latinos serve in every war that's ever occurred, from the Revolutionary War, the Civil War (North and South), the two World Wars, Korea, Vietnam and, of course, today's undeclared wars in the Middle East and Afghanistan. Since the beginning, Latinos have died for this country, their country.
"We are obviously in a very polarized time in our history and there is much antagonism toward Latinos," Campos continues. "The Molina Latino Gallery on the nation's mall will help educate mainstream Americans, and even our own community, about the critical contributions that Latinos have made and continue to make to America."
He adds, "Hopefully, in time, the Molina Latino Gallery will help bring Latinos fully into the American family."
With Campos involved, that hope is more likely to become a reality.
---
Regional Management Corp. (NYSE: RM) is a diversified consumer finance company that provides attractive, easy-to-understand installment loan products primarily to customers with limited access to consumer credit from banks, thrifts, credit card companies, and other lenders. Regional Management operates under the name "Regional Finance" in 356 branch locations across 11 states in the Southeastern, Southwestern, Mid-Atlantic, and Midwestern United States.
---
Related Links
Graciela Ivonne Monteagudo Urges Companies to Explore Untapped Potential