In the past two decades, insurance giant New York Life has created a network of more than two thousand financial professionals, managers, and managing partners that have been empowering and educating Latinos to protect their families and businesses by creating a financial legacy. Now, they are looking for what's next: to elevate the entire Latino community.
"It's not enough for us to have a diverse organization; we want our financial professionals to reach new heights, inspiring growth not only within our company but also among the community. We want to ramp up our ability to create leaders that will set an example for what other Latinos can achieve," says Liliana Canedo, corporate vice president and head of the Latino market at New York Life.
The Latino market's Elevate campaign was born out of the realization that many Latinos have already achieved their dreams and become successful—now is the time to create what's next. The campaign combines several strategies, including supporting agents as they grow their businesses, increasing the number of Latino managers in the company, and empowering the community to build wealth.
One of the tools used to accomplish the Elevate vision is the company's Fast Track to Management Program, which was designed to attract, develop, and nurture high-potential up-and-coming leaders who have reached a glass ceiling in their careers at other organizations and are ready to rise.
The program centers on offering professionals who are already successful at what they do—entrepreneurs, industry leaders, experienced managers, and MBAs—an opportunity to be promoted to a management role in half of the time they normally would. New York Life recognizes the time and effort these professionals have put into achieving success in other industries and companies and gives them the opportunity to change careers without having to start again.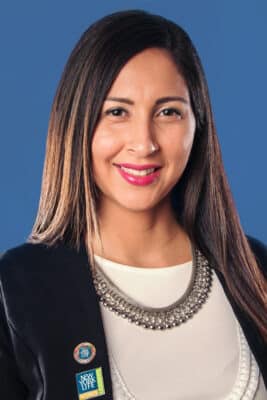 Partner Rosani Hernandez joined the company through the program after four years in banking, when she realized there were no opportunities for her to grow at her company. And she wanted more than a job; she wanted a purpose. "I came to New York Life for three reasons: the diversity, the opportunity to reach my highest potential, and to serve my community," she explains. The El Salvador-born Hernandez knew New York Life had spent years developing its Latino market, as well as various other cultural markets, and that they were always trying to innovate and foster a strong Latino community both in and outside the company.
Hernandez knew she wanted to grow as fast as she would be allowed. Despite her ambition, she still needed some direction. Hernandez's mother, a successful New York Life agent in her own right, asked Hernandez to speak with Canedo about the company's Fast Track Program. "Liliana was the reason I decided to become a partner," Hernandez says. "She came to my office and spoke about her own experience, and I could just see myself following the same path. Her story was such an inspiration to me."
Both Canedo and Managing Partner Jimmy Rivera say that New York Life's focus on building diverse leaders makes their employer a truly unique place to be.
Brazilian-born Canedo was asked to take on the national strategy for all Latino markets three years ago. Rivera says, "Her new role wasn't just important for Canedo—it was important for any Latina who wants to lead someday. Other organizations, associations, and publications recognized our strong focus on evolving and innovating the Latino market internally and externally." Indeed, in 2020, New York Life was recognized as the third-highest-ranked company on LATINA Style's 50 Best Companies for Latinas to Work For list.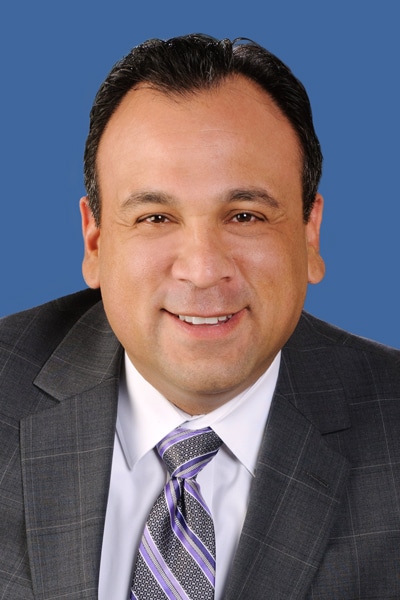 The Fast Track Program is by no means a free pass to a management career. Candidates need to have previous managerial experience and meet the eligibility requirements.
"This program didn't exist when either Liliana or I joined, and it would have been perfect for me and many others that I knew. However, it requires dedication and effort," Rivera says. "We're looking for that ideal person—someone like Rosani—who has been in a number-two position for a long time and wants to rise.
"Twenty years ago, there were not many Latinos in the industry," Rivera continues. "I joined the company at a time when I was one of only five Latino partners. New York Life knew that cultural markets, especially the Latino market, would not only provide opportunities that could position us well into the future but help shape our community by educating Latinos about the importance of building a financial legacy."
Canedo concurs about the sense of support at the company. "We talk about this huge corporation feeling like a family, and that is exactly what it is. We all take care of each other," she says. "I am very proud of the work I do to help identify and develop future Latino leaders who will grow within our organization and change not only the future of our company but the future of our community. I want to give people the same opportunity I had."