When people think of NASA [National Aeronautics and Space Administration], they often picture the Kennedy Space Center in Cape Canaveral, Florida, from which all 135 space shuttles have launched. What they might not know is that NASA has other locations around the country that are just as actively involved in the space program, such as the John H. Glenn Research Center, or NASA Glenn, in Cleveland. NASA Glenn is advancing exploration in our solar system and beyond while maintaining global leadership in aeronautics.
"What gets me up in the morning and keeps me excited about working for NASA is being in a position where you can help people realize their dreams," says Ramon "Ray" Lugo, director of the center—the first Latino to serve in this capacity. One of the John H. Glenn Research Center's most recent projects is the Communications, Navigation and Networking reConfigurable Testbed, or CoNNeCT, which will be used to evaluate the performance of software-defined radio. "We're replacing three conventional radios with a portable computer. This will reduce the footprint of the communication system, using less power while providing more capability," Lugo says. "Japan will be taking CoNNeCT when they fly their next mission to the International Space Station."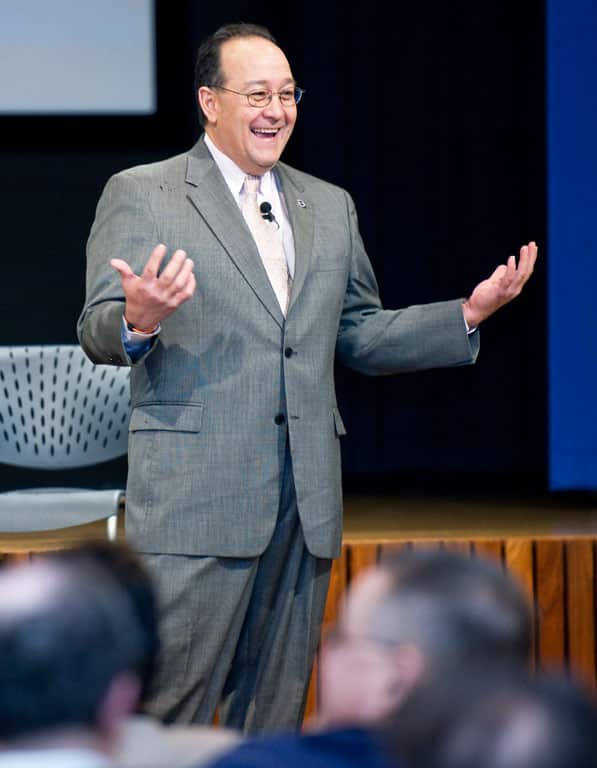 More than 150 people spent much of the last three years designing, building, testing, and sweating over this payload. When you get the opportunity to see a group of people who have accomplished something like CoNNeCT, and now it's within a couple of months of launch, there's a unique sense of accomplishment," he adds.
The main campus of the Glenn facility is a 350-acre installation. Glenn's Plum Brook Station, located 50 miles west of Cleveland in Sandusky, Ohio, is situated on 6,400 acres of land. Lugo oversees a workforce of 1,650 employees that is supported by 1,800 contractors—with 600 people doing research across up to 15 technical fields, as well as engineers, facilities management, and a security force. "My key responsibility is to advocate work for our center and the people of our center," Lugo says. "That involves meeting with members of industry, government, or academia, to find ways we can collaborate on projects of interest to NASA. I also spend quite a bit of time in the education community speaking to students and schools. In addition, I sit on three or four boards in the Cleveland area."
As a hands-on leader, Lugo enjoys visiting employees and seeing what they're working on firsthand. To improve communication, Lugo started blogging a couple of years ago. "We used to have an 'Ask the Director' corner in our internal newspaper, AeroSpace Frontiers, but it wasn't interactive," he says. "This is better because it gives employees the opportunity to share an idea, a question, or an issue. If they're unclear about direction coming from me, they can post it and I will respond."
Lugo's father worked in the space industry after retiring from the US Air Force in the 1950s. "So I was exposed to the space program at a very young age. But I had not planned to follow in my father's footsteps. I was within a month of going to college to study finance and then follow that with law school when I got selected for the NASA [Cooperative Education Program], and I found I liked it. I've been here 37 years."
THINKING OUT LOUD
with Ramon "Ray" Lugo
SUCCESS
"Being in a place where you can do the things you dreamt about doing and having the ability to make those things happen."
INNOVATION
"Using your brain to solve difficult problems. It's not invention."
INTEGRITY
"This is one of my hot-button words. It's about doing the right thing, even when it's hard."
LATINO
"American first, a very proud group of people with a very family-centered value system."
As the first Latino director in Glenn's history, Lugo is quick to point out that he is there for everyone. "We have 80 Hispanic employees, but I mentor anyone who walks in the door that wants to be mentored," he says. "And I believe it would be wrong of me to single out the Hispanic community for mentoring because I have been mentored by so many people who are not Hispanic. I've always felt included and I always want people to feel that I'm approachable, no matter who they are."
In 2010, Lugo was recognized by Hispanic Engineer & Information Technology magazine as one of the most influential Hispanics in technology. "I hope that what I have accomplished can be an inspiration to anyone. I've worked hard and had good opportunities in my career, and I've taken advantage of every one I was given. I had people who cared enough to tell me what I was doing right, but also where I needed improvements."
Lugo, 55, is happy with his current role, but would like to try something new in the next few years. "I have a coach that's helping me figure that out," he says. "I will probably retire in a couple of years and I don't necessarily want something that pays a lot, I want something that is challenging, but also is more about what I give than what I take. The Peace Corps, for instance. That's one idea I've had."
Meanwhile, NASA has always been a government agency, but now, "we're trying to find a way to take these technologies we're working on and look outward, to solve different technology problems, but also to create economic activity and jobs. That's something I would like to accomplish before I hang up my cleats," Lugo says.
Get to know all of Hispanic Executive's "Best Of 2012" Recipients here.