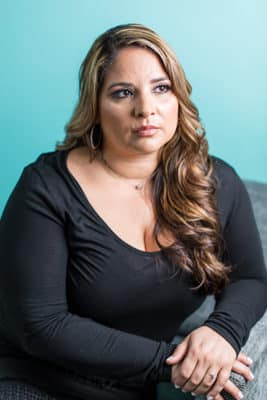 Michelle Martinez Reyes was on the path for a successful career in legal marketing. But in the mid-2000s, a painful and difficult divorce left her with nothing but unfathomable debt and sole custody of her infant son. She refers to that time as a deep, dark, financial, and emotional crater.
Despite difficult years, Martinez Reyes turned things around for herself and her son.
Just as her Cuban-born parents had urged all four of their daughters to do, Martinez Reyes studied diligently, leaped into the workforce, and began contributing to a 401(k) at an early age. She then cashed out her 401(k) to support herself and her three-month-old son for about a year while she got back on her feet.
"Family was always the core of it all," recalls Martinez Reyes, who is now the chief marketing officer of Greenspoon Marder. "I remember my mother would say, 'Come home. Come live here. We'll help you.' I said 'No way.' I found a day school for my son, got back to work, and started all over again from zero."
Over the course of a decade, one well-established national law firm led to another for Martinez Reyes. By 2016, she had found considerable success working in the marketing departments of the largest law firms in Florida.
"If I've learned anything," she says, "it's that the biggest power you can have in your life is the power of choice. Sometimes your choices may be really bad, but sometimes they may be really good."
There was most definitely a huge choice at hand when Martinez Reyes began considering work with Greenspoon Marder in 2016. For one thing, it was only thirty-five years old—a small-firm operation compared with the much older, legacy firms at which she had worked. Martinez Reyes entered the interview process as a favor to a friend, and she soon found herself intrigued with the possibilities.
"I was very adamant about not making a move, more out of fear than anything," she admits. "I was concerned. It's always scary when a firm is undertaking a new venture, and you have to be the person to lead it because the chance for errors are high and your life is on the line."
Greenspoon Marder's vision was to build the firm's brand to help it grow to national status. Martinez Reyes knew the opportunity was rare, especially for a woman and minority in the industry. And that is why she felt the need for it to be amazing—maybe even industry-changing.
With the receipt of sage advice from her mother—who called it a no-brainer, much to Martinez Reyes's surprise—Martinez Reyes was ready to come on board as chief marketing officer.
In no time at all, she was starting with the firm's brand-building. "When I needed to make a decision, I was a decision-maker," she says. "That's something that most firms and most organizations don't allow their CMOs to do because they have lots of bureaucracy and politics. I was able to work directly with the owners and gain the trust of the leadership. That's very scary but also very cool."
Martinez Reyes points to the creation of one definitive logo as an early example of the rebranding process with Greenspoon Marder when she started. She locked it into a single-line, black-and-white classic look. Nobody liked it, she says. Everyone wanted to know why it was just black and white.
"I told them the focus shouldn't be the color," she explains. "I told them we could use it with any color or image, but the Greenspoon Marder identity was going to be based on its name: two founders, one line—period."
"I tell my son, 'You don't always have to take advice, but you should always listen to it.' Why? Because experience is the greatest teacher."
The firm's identity is, as planned, plenty visible these days with twenty-four offices from New York City to San Diego and twelve locations across Florida. As daunting as this whirlwind role has been for Martinez Reyes, some of it has been an easy sell thanks to the firm's remarkable track record of great work.
"What makes my job easy is being able to say, 'There are already great things to talk about; just give me a megaphone,'" she says. "So, that's what I did. The best part is they let me do it. And the firm has achieved success because of it and lots of hard work."
With all that Martinez Reyes has accomplished both in legal marketing and within her community—including being involved in numerous children's, women's and arts organizations—it's both her humility and her wisdom that shine brightest. "I'm so grateful that Gerry Greenspoon and Michael Marder allowed me the opportunity to be a part of their team," she says. "Nothing will ever be the same."
"Clearly, I've made my mistakes," she says. "But I tell my son, 'You don't always have to take advice, but you should always listen to it.' Why? Because experience is the greatest teacher."