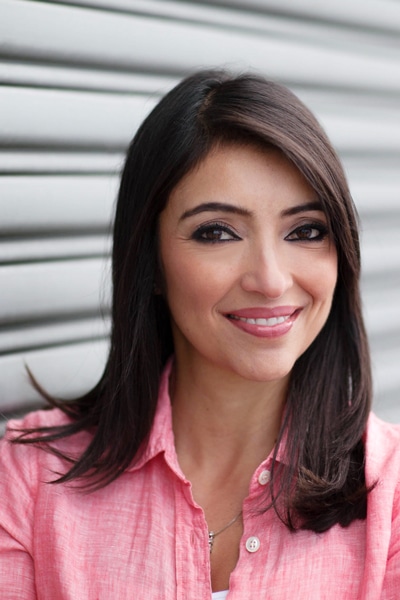 In December 2001, Marisol Fisher, a recent architecture school graduate, had just arrived in the suburbs of Chicago to embark on a three-month work exchange program to practice English and experience American culture when serendipity stepped in. "As I was making copies of my résumé in a printing shop, somebody from an architectural firm took my résumé, left a business card, and suggested that I call that number," she says. "I called, got the interview and three days later the owner of Arete 3 drove all the way to a McDonald's drive thru window to tell me I was hired. At the time, I had no idea delivering that one coffee was going to change my life forever." After three months on the job, Arete 3 sponsored Fisher for a work visa, and she remained with the firm until 2006 when she joined Hyatt Hotels Corporation.
Today, as director of design and planning for the design services department of Hyatt Hotels Corporation, Fisher manages the design of multiple, concurrent new construction and renovation projects for Hyatt's luxury, upper-scale, lifestyle branded properties in the Americas region. "I provide design direction to ensure the design team understands the DNA of each brand, throughout all phases of design until hotel opening," she says.
As a Latina architect working in a male-dominated industry, she shatters stereotypes and builds consensus in her job by remaining authentic, building genuine relationships, and connecting with people.
"When I connect with people on my design team, preconceived stereotypes about me, my skin color, and my background disappear," she says. "Others appreciate my expertise and the added value that I bring to the table. Hyatt has really embraced my background, and they allow me to remain authentic to myself. Having lived and studied in Colombia allows me to bring a unique perspective and skill set to serve the projects that I lead within the Americas region."
As a Colombian living and working in the United States, Fisher has fought for respect by engaging with people and ignoring the noise surrounding gender and racial biases. "I often have to dispel preconceived stereotypes and comments of my Colombian culture, education, and gender," she says. "My degree comes from one of the most prestigious universities in Colombia, yet I have to defend my credentials by working hard and remaining humble because I didn't study at an American or European accredited university." Fisher graduated from Universidad de Los Andes in 2001, and upon joining Hyatt Hotels Corporation in 2006, she advanced from her roles in Hyatt International Technical Services to her current position.
With more than ten projects on her plate at any given time, Fisher facilitates collaboration, communication, and conflict resolution between owners, developers, Hyatt's operations team, the company's design team, and other specialty consultants throughout the design process. "Hotels are complex projects that come with many design challenges, budgetary concerns, and conflicting expectations among all of the stakeholders," she says. "I have been successful in my career by connecting with people, listening, and building genuine relationships. This has allowed me to understand all perspectives brought to the design table so that I can not only embrace their unique point of view but also lead the design team to bring the design vision to life."
Fisher works from Hyatt's headquarters in Chicago but travels 50 percent of her work life. "When I travel, I visit the construction site, attend design coordination meetings, report on the construction progress, visit properties for property improvement plans, review mock-up rooms, and attend dinners with colleagues and team members."
The hectic travel schedule is exciting but presents its own challenges as Fisher looks at her career for the first time as working mother; she celebrated the birth of her first child this past year. "As a new mom, I will have to learn how to continue to travel while having a baby at home," she says. "It was much easier with just my husband and dog, but I have the support of my family to continue with my career, which I love."
Fisher has seen tremendous evolution in hospitality design and architecture in her twelve years working with Hyatt. "One of the biggest changes I've seen happened in conjunction with the recession in 2008, when people had to break with the conventional ways of designing hotels," she says. "We had to redefine the meaning of luxury. Luxury was no longer about expensive materials but rather personal service, delivering authentic and unique experiences, exploring ways to maximize efficiency in the design, and asking our guests what they wanted rather than us dictating to them the experience we wanted them to have. There are so many things shaping the way we do hotels now. You have to be nimble."
Today, Fisher focuses the design teams on providing unique guest experiences through the lenses of each brand. "Each brand already has very defined and well-researched guest experiences that take into account the current traveler expectations and lifestyle," she says. "From a product perspective, I encourage designers to always challenge convention and take risks."
After seventeen years in the field, Fisher advises anyone interested in following her career track to constantly feed the creative mind by remaining curious. "Keep your mind open to learning and your eyes open for inspiration, and try to break the rules of conventional design," she says. "If you end up managing design, embrace people and their unique point of view."
Through authenticity, empathy, understanding, and active listening, Fisher fosters creativity and consensus that allows all members of her design team to succeed in a common goal. Behaviors that are at the heart of Hyatt's purpose—which is to care for people so they can be their best. "Hyatt's purpose not only taught me how to develop skills that allow me to successfully manage the design teams," she says, "but it also confirmed to me the importance remaining authentic to myself and being proud of my race and background."
Design Dreams
Growing up in a household of design and construction professionals, Fisher knew architecture was her career calling early on. Her mother is an architect, and her father is a civil engineer. As a child, Fisher incessantly drew pictures of houses—so much so, in fact, that a teacher took note, expressing dismay. "Architecture, design, and construction were always a part of my life and a daily topic at the dinner table," she says. "I was born to be an architect, and I love the balance of being creative and artistic yet working with the structure and precision that architecture requires."