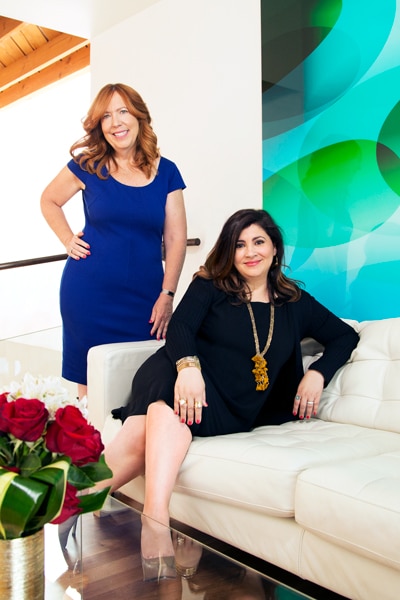 The relationship between Rochelle Newman-Carrasco and Alice Rivera goes back almost twenty years, when Newman-Carrasco co-owned Enlace Communications Inc., one of the leading US Latino ad agencies in Los Angeles. Rivera worked for the agency as an account supervisor, before building her career at a few other agencies. Then, three years ago, Rivera and Newman-Carrasco began working together again, this time at the Culver City, California, office of Walton Isaacson (WI), a nontraditional marketing and advertising agency. "I knew Rochelle was doing something special," Rivera says, "and I was really intrigued by WI's reputation for insights and innovation."
Newman-Carrasco's path to Walton Isaacson started in 2008 with the recommendation of an industry friend with whom she had worked very early in her career. After almost three decades as a prominent US Hispanic marketing specialist, including fifteen years of agency ownership, Newman-Carrasco was getting ready to return to her roots as an actress and writer. In fact, she was winding down her agency when she was introduced to Aaron Walton.
"Aaron and Walton Isaacson were so forward-thinking, and I saw they were doing some very visionary work in the cultural marketing space," Newman-Carrasco says. "I wanted to be a part of that."
WI was the agency of record for Lexus' black and LGBTQ consumer marketing. The successes with those segments led the client to consider the agency for Hispanic marketing as well. Bringing a respected Hispanic marketing specialist on board became a priority, and Newman-Carrasco's name was at the top of several lists.
"The next thing I knew, I found myself developing a Hispanic marketing program for Walton Isaacson's clients across the agency, building up their expertise as well as overseeing the Lexus account's Latino-specific initiatives," Newman-Carrasco says. "I was also getting to work with exceptionally talented colleagues, ideating across cultures and marketing disciplines.
Seven years later, with the Lexus program well under way and WI's Hispanic marketing capabilities in place, Newman-Carrasco enrolled in a low-residency MFA program focused on nonfiction writing and literary translation. Upon graduating, she worked with WI's owners to reframe her responsibilities at WI, which allowed her to play to her strengths and add value as an agency team member while also providing flexibility as she pursued her creative passions. Filling her shoes not only meant finding someone as passionate about Hispanic culture as she was, but it also meant finding someone who was ready to reinvent the Hispanic marketing model in order to better address intersectionality and diversity within the segment itself. Newman-Carrasco reconnected with Rivera who, it turned out, was the perfect fit for the new vice president of Hispanic marketing and account services role.
"I had worked at a multicultural agency and always believed relevance depended upon leveraging universal and unique insights," Rivera says. "Rochelle and I talked about polyculturalism as a Latino superpower, if you will. Our community is diverse by definition, and that's a strength."
Newman-Carrasco invited Rivera to come meet the team, and Rivera quickly fell in love with them and vice-versa. "The WI team just gets it" says Rivera, "and, because everyone has a voice and value, lots of perspectives get shared."
Although they share the same beliefs, Newman-Carrasco and Rivera have very different ways of approaching things. Rivera is naturally a very structured person, whereas Newman-Carrasco tends to be more improvisational and instinct-driven. In that sense, they complement each other very well, and each has learned when to let go and let the other lead.
"This relationship has also really helped me think about how I want to be with the people that I mentor," Rivera says. "So, there's a little bit of paying it forward and trying to build as much of this in the world as we can as women, as Latinas."
For her part, Newman-Carrasco tends to forget that some people see her as a mentor, though she's certainly honored that that's the case. She doesn't rank people in a hierarchy; she has a very team-oriented mentality.
"I always felt that everybody owed it to each other to bring the best of what they had," Newman-Carrasco says. "I'm on the board of Florida State University's Hispanic marketing program, and sometimes I forget that I'm the mentor because I get all of this benefit from the students."
This fits with Newman-Carrasco's belief that no one has all the answers. She remembers discovering the Meyers-Briggs test in the 1990s. She loved how it helped identify strengths and styles. "I had the whole staff at Enlace do it, and people really began to understand that there aren't right ways and wrong ways; there are just ways," Newman-Carrasco says. "Teams work best when different strengths and styles come together."
One of the things that Newman-Carrasco and Rivera bring to the table—beyond their Hispanic market expertise—is a desire to shine a light on systemic racism and have an impact on changing the way corporate America is defining diversity and inclusion. "The original intent behind D&I was good, but right now, it's more like adversity and confusion," Newman-Carrasco says. "Have you noticed how everyone but straight white males fall into the diversity bucket, as if everyone else has some adverse characteristic that makes them other? As for inclusion. Inclusion into what? Using whose rules?"
Rivera echoes Newman-Carrasco's sentiment that diversity and inclusion need to be rethought, even revolutionized.
"If you're breathing, you're biased," Rivera says. "So, until people get comfortable with being uncomfortable, they won't examine that bias or acknowledge the damage being done, not only to others but also to themselves."