On May 21st, the Latino community made history. Over one thousand Latino employee resource group (ERG) leaders from more than three hundred corporations gathered online that day for the Latino ERG Digital Summit, a first-of-its-kind event hosted by Hispanic Executive and its partner, the Consortium of Latino Employee Organizations (CLEO). This made the Summit the largest-ever gathering of Latino ERG leaders.
But to all those who attended, the Summit was remarkable for far more than just its size. As Pedro Guerrero, CEO of Guerrero Media and publisher of Hispanic Executive, noted in his opening remarks, "Events like today are what we live for—to unite the leaders of the new majority and elevate the profiles of executives within our community. Our goal is that we leave today's event with new insights on how each of you can build an effective ERG and influence the trajectory of your company's strategy."
CLEO Founder and Auténtico coauthor Dr. Robert Rodriguez echoed Guerrero's remarks, explaining that he had established CLEO in order to connect ERG leaders, promote collaboration and partnerships, benchmark and share best practices, and advance the Latino agenda.
Even during a crisis such as the COVID-19 pandemic, Rodriguez explained, ERGs play a key role in the recruitment, retention, and development of Latino employees—efforts that not only benefit top Latino talent but also add measurable value back to companies across America. In fact, in subsequent addresses, Antonio Humphreys of Adobe and Ashley Quintana of Facebook both highlighted the numerous ways in which they have continued to engage, unite, and enhance their ERG communities while working from home.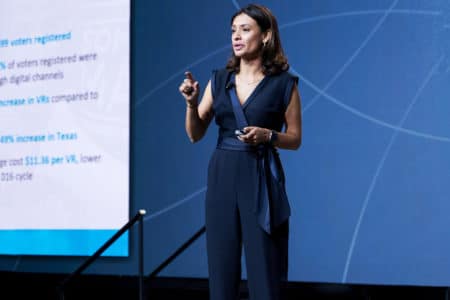 That question of how to support and strengthen the Latino community—especially during this crisis—was also central to the Summit's keynote conversation between Dr. Rodriguez and María Teresa Kumar.
The founding president and CEO of the nonprofit Voto Latino, as well as the cover star for Hispanic Executive's Leading Latinas issue, María Teresa Kumar has been working to "give young people the tools they need to navigate America" for more than a decade. And in recent weeks, she and her colleagues at Voto Latino have been "working at COVID speed" to help ensure that the Latino community is not left behind as a result of the pandemic.
Hispanic households and businesses—the "economic engine of this country"—are being devastated by the novel coronavirus, she explained. Voto Latino has been working closely with community partners to provide immediate relief to families left out of the CARES Act through the Immigrant Neighbor Fund, but as Kumar emphasized, voting is the only way to effect lasting change for Latinos all across the United States.
"Our political power is intertwined with the celebration of our roots here in the country," Kumar said. "We don't necessarily need activists—we need all of us, wherever we're working, to come together as a community of civic citizens to make sure we're making investments in the infrastructure of the community in which we live."
Participation in voting is the core of both our government and our nation, Kumar explained. "We may not like what's going on politically," she told Summit attendees, "but it's functioning that way because of how others voted. We have to flex our voting power if we want to see change."
And the Latino community has an enormous capacity to make those changes a reality: in 2021, that community will be the second-largest voting block in the country. The only problem, according to Kumar, is that much of that community either has not registered to vote or, like the fifteen million Latinos who sat out the last election, does not consistently exercise their voting power.
"We are at a turning point. We have expected others to invest in our political power. But no longer," Kumar said. "We have to double down, as other communities already do, and invest in our community."
Kumar detailed a number of ways that Voto Latino has able to engage Latino voters and also provided several suggestions for ERG leaders seeking to help support and empower the Latino community:
Promote National Voter Registration Day (September 22nd) and encourage your company's employees to vote using nonpartisan Voto Latino toolkits.
Talk to each other. "It's going to take every single one of us to make sure we all show up in November," Kumar noted.
Donate to the Immigrant Neighbor Fund and see your donation matched by a partner organization.
Participate in Voto Latino's Power Summit 2020, the premier leadership conference for emerging Latinx leaders.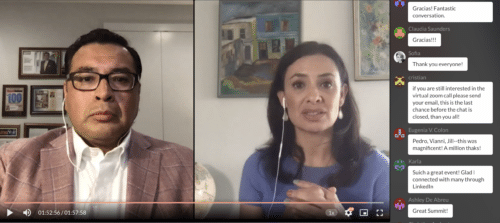 No matter what, Kumar emphasized, the key is to remember that your vote truly does matter. "People keep telling us we're not American," she told the ERG leaders attending the Summit. "I keep saying, we're so American we're going to show up in November."
Join #LatinoERG Index, a LinkedIn group created by Hispanic Executive and CLEO, to join other Hispanic employee resource groups in facilitating impactful connections and sharing thought-provoking insights.