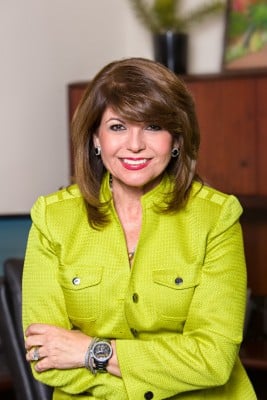 Maria Sastre is a people person. Whether dealing with jet-setting business executives who rely on the services of Signature Flight Support, the aviation-services firm for which she is president and COO; the cruise-line vacationers on Royal Caribbean, for which she was vice president of hotel operations; or the passengers who fly United Airlines, for which she was vice president of worldwide customer satisfaction, Sastre understands how to provide a top-notch experience for her customers. The Cuban-born executive generously lends her expertise to a number of other companies and organizations as well. Sastre has been contributing in the boardroom for the past fifteen years.
A lone female and Hispanic on many of those boards, Sastre believes more board diversity is important—"increasingly so," she explains, "as boards should reflect the composition of the customer base and the population in general." According to Sastre, including diverse perspectives in the boardroom makes for a productive and well-rounded discussion. Below, Sastre shares her many board experiences, from the successful restructuring of Laidlaw International, the parent company of Greyhound, to improving education opportunities for at-risk youth.
What were your first boardroom experiences?
Before I joined the corporate board environment, I was actively engaged in nonprofit boards while working for United Airlines. We had a very strong social responsibility program that focused on making sure key officers at the company were highly engaged in their communities. It was a great opportunity to make contributions to local nonprofits. I was actively involved in several: the United Way; the Greater Miami Visitor Convention Bureau; the Beacon Council, an economic development agency of Miami-Dade County; the Greater Miami Chamber of Commerce; and the New World Symphony.
How did you get involved in the corporate board world?

My corporate, public-company board experience is with Darden Restaurants. I started on that board at a very exciting time because it had recently been spun off from General Mills as a separate company. I was able to contribute to the strategic growth of the company, the hiring of executive leadership, engaging with new board members, expansion of new brands, and significant committee work.
I then joined the board of Laidlaw International, which is the parent company of Greyhound. It was a very unique experience because Laidlaw had gone into Chapter 11 reorganization. A committee of creditors hired me as part of a replacement board, and we were critical to the reorganization. My airline background was very crucial in things like route planning at Greyhound, and we were able to hire a former airline executive to oversee and manage Greyhound. The company emerged and eventually relisted at $7.40 a share, and we sold the company four years later at $37 a share. It was a pivotal experience.
Personally, what drives you to participate as a board member?

It's an opportunity for me to contribute to another company with different skill sets and a different set of eyes. It's also beneficial when working with the board of your own company. The network you establish and create is also unparalleled. It gives you access to talent and information.
What do you see as the most important function of a board member?

Fiduciary compliance and the best interest of the shareholders are the first priority. The board must ensure that the strategic plan of the company is being carried out, and that it's being complied with so the shareholders can benefit. The other key area of responsibility for the board is the evaluation of the CEO and the management team.
Have you ever had to replace upper management?
Yes, it was very challenging. You want people to succeed, and when that success isn't being evidenced by the results, it's a difficult process to undertake—albeit a necessary one.
Being a Hispanic woman, do you feel any unique responsibilities on boards?

Obviously, I bring a diverse opinion on issues. When I joined the board of Laidlaw, for example, I remember visiting a Greyhound bus station in Dallas, and the management wanted to pitch us on how to upgrade and update the terminals, which were in much need of improvement. I observed the customer base, and there was a significant number of Hispanics and youths. But there was not one sign on the buses or in the terminal that was bilingual. That was amazing to me. It was a safety issue and a communication issue for the company. But most importantly, it was about serving the basic needs of their customers.
Did they listen?

Yes, we had a new senior VP at Greyhound, who developed a Hispanic strategy, which the company ultimately embraced.
You continue to be active in the nonprofit arena with your participation on the board of the Helios Foundation. Why is that important to you?

Helios focuses on early childhood education, the transition years, and college attainment for at-risk youth. In 2009, I took a corporate sabbatical for eighteen months, and I ran the nonprofit Take Stock in Children that was focused on providing college access for at-risk youth. Helios was one of our funders, and I was impressed with what they were doing. I am also an immigrant, and I believe that a core differentiator in ensuring success for a child is access to education. It certainly enabled me to get where I am today. It's wonderful that even though I'm back in the corporate world, I can continue to work on this passion and the Helios mission.