"Being on a board of directors, whether it's for profit or nonprofit, is a privilege," says Aída Álvarez. "Whatever board I'm on, I want to help the organization succeed." And as an award-winning journalist, the first Latina to serve in a US presidential cabinet, and a board member for an array of prestigious nonprofit and for-profit organizations, Álvarez knows what it looks like to succeed—she just has to help others see and act on that vision.
Learning From Each Other
According to Álvarez, the essential purpose of any board member is to provide strategic direction and oversight, ensure that the organization is well run, and make sure that the organization is not only delivering returns to its stakeholders but doing right by those stakeholders as well. But what many board members and organizations may not realize, Álvarez says, is that the path to achieving those goals often looks much the same—no matter their industry or sector.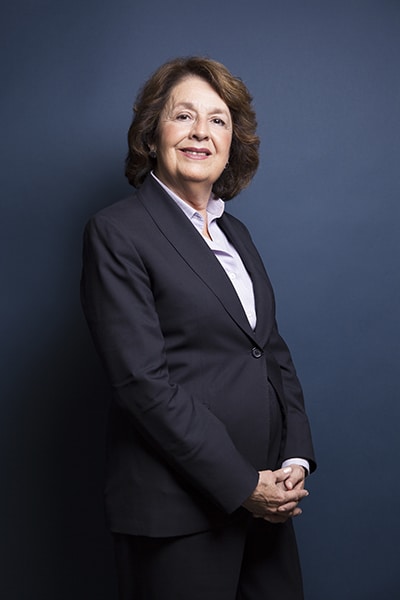 "For-profit companies and nonprofit organizations both benefit from good governance practices—which, in many cases, are very similar," Álvarez explains. "They both benefit from understanding the separation between the roles of the board and the organization's management, from prudent financial practices, from intentionality, and from discipline.
"Nonprofits need to be mindful of the bottom line," Álvarez continues, "and for-profit companies need to have a social purpose as well as a financial responsibility."
As a board member for public and private companies, for for-profit tech companies as well as nonprofit arts organizations, Álvarez strives to help others see—and capitalize on—that overlap between charitable and corporate sectors. And as a founding leader of the Latino Community Foundation (LCF), Álvarez has seen that mission come to life.
Dreams Take Discipline
"The foundation started out as a dream, with very little going for it," Álvarez recalls. "But all the while I have served the foundation, I have been really mindful of the need to be disciplined as an organization." Discipline is critical to every organization and every company in existence, Álvarez asserts. If you want something to be successful, you have to have the discipline to see it through to the end.
And through years of discipline and hard work, Álvarez says, the LCF cultivated a strong and dedicated fund-raising base, ranging from corporations and foundations to individuals hoping to give back. "The best of intentions can't get accomplished if you don't have a revenue stream," Álvarez points out. "And now, the LCF is a very impactful foundation that makes life better not just for Latinos but for the entire state of California."
But impact isn't the province of nonprofits alone, Álvarez says. "In the corporate sector, you want to ensure that the company is mindful of its responsibilities to stakeholders—but stakeholders include the community, the environment, and the company's own employees," Álvarez remarks. "As a board member at Walmart, I put a sharp focus on Hispanic leadership within the company because I knew it would benefit both the company and the community."
No matter your goal for the organization, and no matter the type of organization you serve, you will always have to do a bit of "heavy lifting" to accomplish your objectives, Álvarez says.
"Companies are complex, human organizations. Issues will always arise and need to be addressed," she emphasizes. "I've been very fortunate to be on the boards of good companies and to have good colleagues on those boards, but it can be a great challenge to ensure that a company remains best in class and that it continues to have a diverse board even as it expands or becomes public."
Making Opportunities Count
Over the years, these philosophies and strategies have helped Álvarez drive unquestionable financial and operational success for the organizations she has served. And that is important, Álvarez acknowledges—leaving the organization in a better place, with values and practices of integrity, inclusion, and diversity, should be the objective of every good board member.
"As many challenges as we face in this country, there are just as many extraordinary opportunities."
But to Álvarez, the success that is captured through analyses of organizational revenue or shareholder value only tells part of her story of success. Like a resume, she says, lists and numbers "don't necessarily give you an insight into some of the motivations and experiences that drive people to accomplish the things they accomplish."
"In my case, the story goes back to when I was born in Puerto Rico," Álvarez says. While quite young themselves, her parents moved to New York City when Álvarez was just nine months old. Both of her parents were extremely hardworking, Álvarez says, but they experienced many of the same hardships endured by those immigrating to the United States today.
"It was a very unfriendly environment, yet my parents were always really supportive and encouraging," Álvarez stresses. "In the face of discrimination, they always reminded us that when people attack you, it's usually because they are ignorant. If you can dismiss that ignorance, you can move forward."
And as Álvarez has moved forward through the worlds of journalism, government, business, and board membership, she has remained grateful for all the opportunities she has been afforded.
"As many challenges as we face in this country, there are just as many extraordinary opportunities," Álvarez says firmly. "I'm very proud of what this country offers to all of us. We just have to make the most of those opportunities."