Linda Griego credits her grandmother, who raised her, for the inspiration to leave Tucumcari, New Mexico, just after high school—a path that's culminated in national distinction as an entrepreneur, business and civic leader, and fearless community activist. In recalling her grandmother's favorite saying, "La mujer que adelante no mira, atras se queda," she says, "For me, it meant always striving to do more." Now Griego is returning to Santa Fe to begin a new chapter.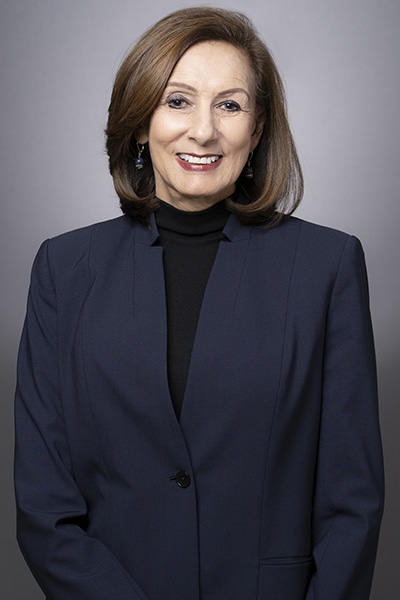 Griego has a roster of impressive corporate boardroom directorships, currently including ViacomCBS and American Funds. Her prior directorships featured Granite Construction, AECOM, City National Bank, First Interstate Bank, Southwest Water Company, and Blockbuster. She also served as a Los Angeles director of the Federal Reserve Bank of San Francisco and was a US presidential appointee to the North American Development Bank, Community Adjustment, and Investment Program.
Her civic leadership is just as impressive. She serves as a trustee of the Charles R. Drew University of Medicine and Science and the MLK Health and Wellness Community Development Corporation (founder and chair). Previously, she was a trustee of the David and Lucile Packard Foundation, the Ralph M. Parsons Foundation, the Robert Wood Johnson Foundation, and the California Community Foundation.
Griego's grandmother also instilled in her the belief that it's important to help those less fortunate and most vulnerable in our society. That commitment led Griego to run for mayor of Los Angeles in 1993, against the backdrop of civil unrest in communities that had long been neglected and underserved. She had served as a deputy mayor for economic development under the retiring Mayor Tom Bradley and understood that rebuilding communities required economic investment—and not building more jails, as many of the candidates were proposing. Griego was the first woman to run for that office, and though she lost, she says running was the right thing to do. There was an essential need for a strong voice to help small businesses rebuild and create jobs.
Following that race, Griego was tapped to be CEO of Rebuild Los Angeles—formed to revitalize communities devastated by the civil unrest—and later to be CEO of the Los Angeles Community Development Bank. She says, "Prosperous communities build strong families who are able to buy homes and send their children to college, as well as a tax base that supports public services like schools and libraries."
In recognition of her community service, Griego has received numerous awards, including the UCLA Medal, the highest honor bestowed by the university. She's also been recognized by Hispanics in Philanthropy, the San Francisco Hispanic Foundation, YMCA of Metropolitan Los Angeles, CORO Southern California, City of Hope, MALDEF, the LA Chamber of Commerce, and the White House Fellows Commission.
"Always acknowledge those who helped you get to where you are."
Griego has faced and overcome many obstacles. She values those who supported, encouraged, and mentored her along the way. She advises, "Always acknowledge those who helped you get to where you are."
She gives high priority to identifying future business and civic leaders and mentoring them, particularly women and minorities who are underrepresented in leadership positions. She says, "Mentor as many people as you can, and never close the door behind you." Griego keeps a long list of potential directors for corporate and nonprofit boards and works closely with the Latino Corporate Directors Association. Michael Camunez, president and chief executive officer of Monarch Global Strategies, is one example of a leader Griego has mentored and recommended both as her replacement on the board of the David and Lucile Packard Foundation—where she termed out after twelve years—and to serve as director of American Funds beginning last year.
Griego believes that her ambition has roots in the small town of Tucumcari, where she was born. Her entrepreneurial spirit started at age eleven when she worked at her uncle's small grocery store, selling bait to fishermen headed to nearby Conchas Lake. At age thirteen, she was a cashier and bread wrapper at the local bakery run by her grandmother and relatives. She credits those early work experiences as confidence builders that, years later, led to her opening restaurants and bakeries in Los Angeles. One of the proudest moments was showing her grandmother the Engine Co. No. 28, the 136-seat restaurant that she developed and operated for almost twenty-five years in downtown Los Angeles. Her grandmother's love of dance and music—including Mexican rancheras, opera, and her favorite artist, Prince—rubbed off on Griego, who once produced a Latino dance TV trailer.
Next year, Griego and her husband will celebrate their fiftieth anniversary. After forty-eight years of living in Los Angeles, they recently moved to Santa Fe, where she will be closer to and be able to spend more time with her extended family, including her many nieces and nephews. Undoubtedly, her grandmother will continue to inspire new entrepreneurial ventures and community projects in New Mexico. At the same time, Griego plans to stay connected to Los Angeles through ongoing projects and friends there.