"It started when I was in kindergarten," says Maria Garton of the work ethic instilled in her by her family. "A lot was expected of me from the beginning—in school and sports—but I was never one of those people who could just breeze by."
Garton's father had moved to the US from Puerto Rico and her mother from Spain. Each immigrant's experience made hard work a hallmark.
The family needed to move frequently, following her father's job with the US Agency for International Development. "I hated it at the time, but that's something I also credit as a tremendous advantage," she says. The experience forced her to learn about people quickly, to adjust to new environments and analyze new situations. When the family moved to Costa Rica for five years, for example, the young Garton saw it as an opportunity rather than a challenge—refining the reading and writing of Spanish that she already spoke at home while experiencing a Latin-American culture firsthand.
Garton would go on to study at both the University of Salamanca in Spain and the University of Virginia, earning her JD from Columbia University School of Law, continuing on her quest of putting hard work and dedication to good use. "I studied commercial law as a commerce student in my undergrad program, and I thought I could add value by helping companies navigate the complex legal world," she says. "That's when I decided to go to law school.
After graduating, Garton got her first associate job at Dewey Ballantine, working in the firm's global finance group. She was fascinated by the work, which involved everything from drafting documents for refinance and credit transactions to due diligence for corporate transactions. But, no stranger to relocation, Garton found herself moving to Washington, DC, when her husband received a job offer. There she continued to grow her global project-finance experience at Hogan Lovells, advising clients on construction, financing, operation, procurement, and licensing for complex infrastructure projects, both in the US and internationally.
"It wasn't a straight line that brought me here, but that's why it's important to take chances."
While it's true that the legal field has been playing catch-up in terms of representation and diversity, Garton found that she could offer key differentiating strengths grown from her unique upbringing. At Dewey Ballantine, she found great success working closely on projects in Latin America, as few other legal professionals had her level of personal experience and connection to the environment. At Hogan Lovells, she frequently worked with clients and negotiated with opposing counsel in both English and Spanish, her fluent bilingual ability prized by the firm.
After three years at Hogan Lovells, Garton was offered her first opportunity to become a general counsel for the Abu Dhabi-based Strata Manufacturing PJSC. Again, her childhood experience proved valuable, knowing that she could adjust to any new environment and learn customs and traditions quickly. "I didn't know anything about Abu Dhabi, but I took the chance," she says. The company was investing in aerospace and began developing parts for companies such as Boeing and Airbus as a way to diversify the country's economy away from oil dependency.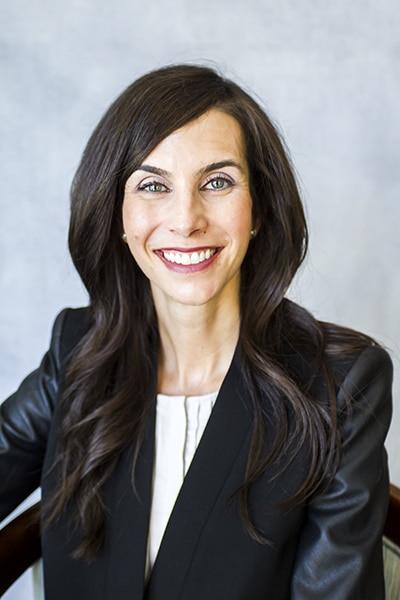 Though she'd never considered aerospace and aviation as a career path, Garton quickly found a passion for the industry. "The people that work in the field are always very passionate, and there are so many challenges," she says.
After five years in the United Arab Emirates with Strata, Garton and her husband decided that it was time to move back to the United States. An opening at Lockheed Martin Aeronautics allowed her to return to the states and continue on in the aviation industry. But her most recent opportunity came calling in the form of Signature Aviation (formerly BBA Aviation): the FTSE 250 company was looking for a group general counsel, and Garton fit the bill perfectly.
"They were looking for a lawyer with a lot of international experience and expertise in aviation and aerospace," she says. "It wasn't a straight line that brought me here, but that's why it's important to take chances."
While it's important to take chances at the personal level, Garton's responsibility is to guide her team in minimizing legal and regulatory risks wherever possible at Signature Aviation. That could include anything from leases and tenancy agreements to commercial contracts and M&A activity. The largest part of Signature Aviation's business is Signature Flight Support, which runs fixed-base operations (FBO), providing services to the corporate and private jet market. "We look at refueling, maintenance, and other aircraft services," Garton says. "It's the industry's largest FBO network, and there's a lot to get to know."
In addition, Garton's team deals closely with Ontic, Signature Aviation's legacy licensed-parts business, whose worldwide offices she visits  during her travels to familiarize herself with the operational side of the Signature Aviation business.
To keep track of all of those moving pieces, Garton works as closely as she can with all members of her team. "Communication is just so crucial, and I want to make sure everyone is aligned on our goals," she says.
Communication is a key differentiator at Signature Aviation compared to her previous companies, as well; as a customer-facing organization, Garton knows intimately the importance of getting the customer-satisfaction element right. To that same end, Garton brings her communication skills and focus on interpersonal connection to the executive management committee, helping bring the entire organization together to deliver on a united strategy.
Every day, Garton utilizes the work ethic that she has leaned upon ever since her childhood. "If I do my job well and build strong relationships, I can really represent women and Latinas in a positive light," she says. "I work hard so that anyone who hasn't worked with a woman or a Latina can interact with me and get a positive idea of what we can contribute."
A Latina Role Model
While women of color are underrepresented across the corporate world, Signature Aviation recently launched an inclusion and diversity initiative to drive change within its own organization. "We're taking a serious look at our company and making sure that we have a diverse representation across the organization," Garton says. As a key part of that process, she emphasizes her place as a role model, representing the potential place for other women and minority employees in leadership.
Garton also knows that setting a good example is only a part of the process. "While we already do a pretty good job when it comes to entry-level positions, we really want to bring that diversity up through the organization," Garton says. "And I feel very fortunate to be a contributing member on the steering committee for the initiative. You get better results when you have an inclusive and diverse environment, and Latinas and women in particular can add a lot of value to the aerospace industry because we tend to be very good at building relationships, being empathetic, and quickly assessing situations to understand priorities—all essential skills in a field that relies so much on establishing a clear, precise strategy in the midst of a complex environment in a short amount of time."
At Nixon Peabody, diversity and inclusion are core values and important parts of our strategic plan. We are recognized as a diversity leader by important measures like the Corporate Equality Index. We welcome the chance to recognize the achievements and potential of executives like Maria Garton of Signature Aviation with Hispanic Executive. www.nixonpeabody.com