It was only four years, but it was everything. Lani E. Medina joined the Air Force straight out of high school. She didn't even take the SAT. Growing up in the Bronx, the self-professed "Nuyorican" (a Puerto Rican who grew up in New York City) is the daughter of a retired NYPD officer and NYC school teacher who supported Medina every step of the way in her early journey.
"I wound up stationed at McConnell Air Force Base in Wichita, Kansas," Medina says, laughing. "That was quite a culture shock for someone from the Bronx, but it was so important in providing the opportunity to interact with people from all over the United States."
Being surrounded by corn, soybeans and wheat on all sides, Medina's four years in the Air Force fundamentally altered her life. The senior corporate counsel at PetVet Care Centers, a network of over 425 general practice, specialty, and emergency veterinary hospitals across the nation, says were it not for the Air Force, she wouldn't have found her way to Columbia University, where she worked full-time and earned her undergraduate degree.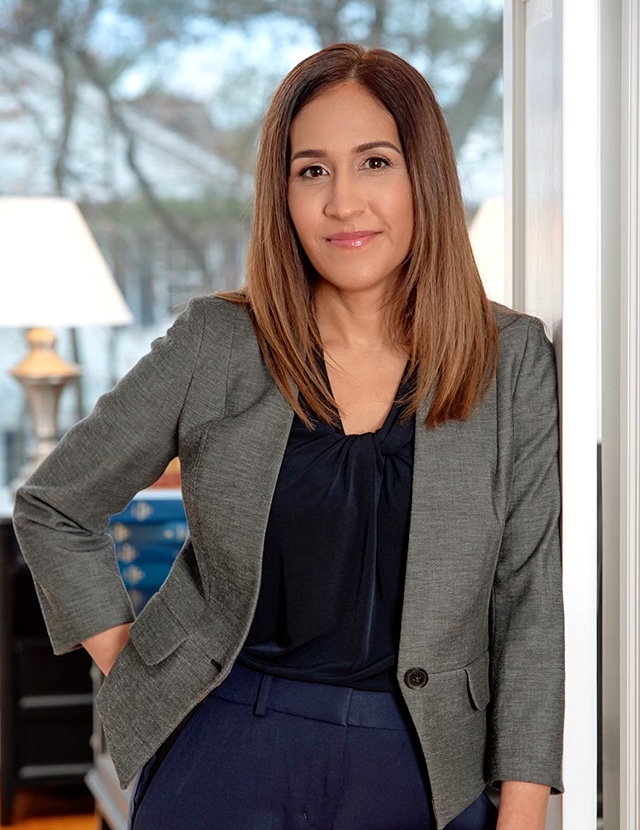 She wouldn't have moved on to Fordham Law School, where she served as copresident of the Latin American Law Students Association and published an article, "An Unsatisfactory Case of Self-Determination: Resolving Puerto Rico's Political Status," in the Fordham International Law Journal. She wouldn't have found the path into corporate law, first in Big Law, where Medina began her legal career as an associate attorney at two international law firms, then back to higher education, and at last to her present in-house role at PetVet, where she started as an M&A attorney in 2018.
"Over twenty years later, the Air Force is still fundamental to who I am as a person," the lawyer explains. "Those experiences [in the Air Force] helped me become the leader I am today, and what I bring to the table, so to speak, as a practicing attorney and professional is shaped by those four incredible years."
While her time in the military would be essential in her growth as a young attorney, Medina also says that chance has played a large part in her career trajectory. At her first law firm, Medina assumed she would join the litigation department and become the firm's go-to associate to work on briefs and motions. But based on the needs of the firm, she wound up in the corporate law department.
Medina was stunned. She didn't know anything about contracts, let alone closing a deal. But she learned, and her present role at PetVet started with the formal M&A work that defined her early legal career. The lawyer says it's important to never underestimate how the unexpected can positively impact one's journey, and that it's okay to pivot when the unforeseen arises.
As she's risen through two promotions at PetVet, the lawyer has helped the company grow through acquisitions (they're growing so quickly, in fact, that interested lawyers should reach out to Medina if they're interested in working with her), working on deals with tight deadlines and requiring military efficiency. But Medina stresses that her own leadership isn't necessarily grounded in cold efficiency.
"I think the most important characteristic a leader can provide is compassion," Medina explains. "I work with a diverse team of business analysts and outside counsel, and I try to do it with compassion and kindness. Everyone has a hard job to get these deals across the line, and I want my pride and care for my team to show through."
Compassion isn't necessarily the first quality associated with attorneys, but Medina says that's the point. She may not fit the traditional stereotype of a lawyer, and she doesn't want to. The attorney is a natural introvert in a job that relies heavily on strong communication. After spending years thinking she needed to fit into a more traditional mold, she realized that her nontraditional path to becoming an attorney is as an asset that sets her apart from her peers.
"You have to be yourself and be confident in the skills that you bring to an organization," Medina explains. "I can't say this enough: Be yourself."
Medina also places a great deal of emphasis on mentorship—both the mentorship she received and the mentorship she now provides. The senior counsel says that the best way to be prepared is having multiple mentors in both a formal and informal setting. As the first lawyer in her family, Medina wants to help pay forward the guidance she's received in navigating her own career.
It's also why Medina spends time providing business and corporate law services to small businesses and nonprofits though her socially conscious law firm, Lani Law, PLLC.
"I mostly do pro bono and low bono (discounted legal services for people of modest means) work through Lani Law because I just want to give back to causes that are important to me and make our world a better place," Medina explains. "Whatever we've been able to achieve in our careers, we have to remember to give back. You've worked hard. You've paid your dues. But remember to help those who are coming behind you."