As conversations about the sustainability and stability of the global food system continue, more people are considering where their food comes from and where it goes—but what about the hands it touches along the way? Afterall, if it weren't for the people who picked it, most of us wouldn't have anything to eat.
"There is a labor void in the US and other developed nations. Whether it be harvesting the fields, or picking the produce, there isn't enough labor force to do it—and Latinos fill that void proudly and beautifully," says Juana Gomez, chief people and culture officer at Monterey Mushrooms. "I wholeheartedly believe that, without the labor, the food chain would break down."
Born in a small town in southern Oaxaca, Mexico, and moving around constantly as her dad looked for work, Gomez's childhood is filled with fond memories of her family but the most notable are the memories revolving around the fields her father worked.
"One of my fondest memories happened on a sunflower field. My dad was doing something with the tractor, and we all went with him. We were having lunch and it started hailing. So, we all huddled up underneath the tractor," she recalls. "To this day, sunflowers are my favorite."
When Gomez was seven years old the family split; Gomez and her two brothers moved in with her grandma then her aunt, while her dad migrated to the US. At eleven years old, her brothers joined her dad in the US. Her dad started working in the fields in Monterey County, and by 1989 they all moved into an old farmhouse at the ranch her dad managed. He loved working in the fields, a lifetime passion that he quickly passed down to her.
As a child, Gomez often picked produce in the fields with her friends and began working in the office during her freshman year of high school. Each day after school, Gomez would be there helping the bookkeeper with miscellaneous tasks. That is, until she was offered a position in the packing shed as a way to get more hours.
"I always say I have angels whispering in my ear. I remember standing there looking at the doors to the shed and hearing a voice in my head. It said, 'If you go there, you're never going to get out,'" Gomez recalls. "I was at a cross path, and I needed to choose."
Rather than working in the packing shed, Gomez decided to take weekend shifts at the farm stand in Carmel Valley, about forty miles away. Without a license, young Gomez would beg and plead for a ride or catch one on the company truck. "I don't know how I did it, but I found a way to show up," she says.
Being the only bilingual employee, the owners and managers saw her potential, and she was initiated into human resources by the time she graduated high school. However, after getting married and having her first child, Gomez wasn't in any position to relocate to Arizona as the job required.
At the end of her leave, she came back and joined the accounting team and pursued an associate's degree in accounting while working full time. The company needed help with payroll, so Gomez stepped up to the challenge. Next came a need to administer benefits—so she started benefit administration. She went on to get her bachelor's in business administration with an emphasis on HR and, when the opportunity presented, stepped in as the HR manager.
But Gomez didn't stop there. After taking a year off from school, she went on to get her master's degree. "I'm a Latina. People that look like me have a hard time moving up," she acknowledges. "I knew that if I wanted to go higher, I needed more than just my experience."
After working at the same company for her entire life, the time came for Gomez to leave the nest. But she wasn't looking to go just anywhere—she wanted to work for a company that she could be proud of. After four months of consulting work, Gomez found Monterey Mushrooms, or as she'd say, they "found each other."
As the chief people and culture officer at Monterey, Gomez drew on her lifetime of experience growing up in agriculture. But her passion is what makes her a true leader in the field. "When interacting with our teammates, I see my dad. It's important to me that they're being treated the way I'd want him to be."
Eloy Garza, managing member of Garza & Sons, speaks highly of Gomez's focus on the people behind the work. "Having the privilege to work with Juana, I'm still amazed at the amount of passion and dedication she gives to everyone involved in the operation," he says. "I've seen her spend countless hours, taking time to make sure each employee's needs are being met. She leads by example and puts people first."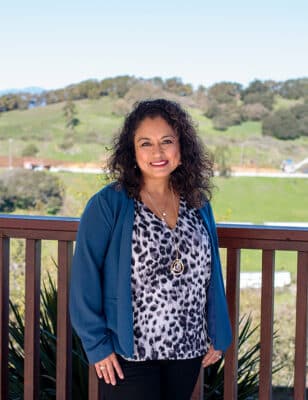 The way Monterey Mushrooms wins is by "creating win-win situations," or building systems so that when the company does better, so do the employees. This could be providing paid incentives when key performance metrics are achieved, on a weekly and quarterly basis. But it also looks like lower healthcare deductibles and premiums, without passing on any of the cost to the employees. The key is having the right partners who help the organization find the right solutions.
Gomez mostly credits active plan management, and she recalls that her dad believed in incentives too. It was an idea he had thought up back in the nineties. "It's amazing to me that my dad was so ahead of his time. Now here I am, working on that same objective," she says, adding that family is not only a source of inspiration but also comfort.
"For me to have a great career and get an education I had to have an amazing support system," she explains. "My parents, husband, family (including the person who is like a second mother to my boys), as well as professional mentors . . . I would not be who I am today without that great support system."

Now in HR, Gomez is uniquely positioned to support Latinos. "Being an immigrant myself, I know we don't leave our country because we want to see how it is—we come to this country, and we fill a void, and we're too often persecuted for it.
"Latinos are here doing the hard jobs that no one else wants to do. It's time that the country recognizes that and celebrates it." Gomez continues. "Being in HR, I get to do for them what someone once did for me: see their potential and provide the mechanisms to succeed."
In March 2023, Gomez continued her HR journey by bringing her expertise and passion for agriculture to Frutura Produce as its EVP of human capital. She is tasked with leading the strategic direction and planning of the human capital and culture function across companies for Frutura. Regarding the move, Gomez shares, "I'm grateful for my time at Monterey Mushrooms. Lifelong friendships will remain and [I] will bring the same passion to the people of Frutura Produce."