Before Dr. Martin Ahumada was the president of San Carlos Apache College, the higher education institution of the Apache people, he was just a struggling teenager looking for a sense of belonging. Born in San Luis Rio Colorado in Sonora, Mexico to immigrant parents, Dr. Ahumada was raised by his father until he was seventeen years old.
"During my junior year in high school, my one-parent family completely broke apart with my sisters and me literally bouncing around to different homes and families," shares Dr. Ahumada. "It was a very depressing time for me. I took on a nighttime restaurant job to survive, stopped attending my classes, and abandoned any career dreams and aspirations. My high school counselor, Dr. Maynard Campbell, learned that I was withdrawing, and he took a special interest in 'saving me.' It was his kind intervention that made all the difference in my life."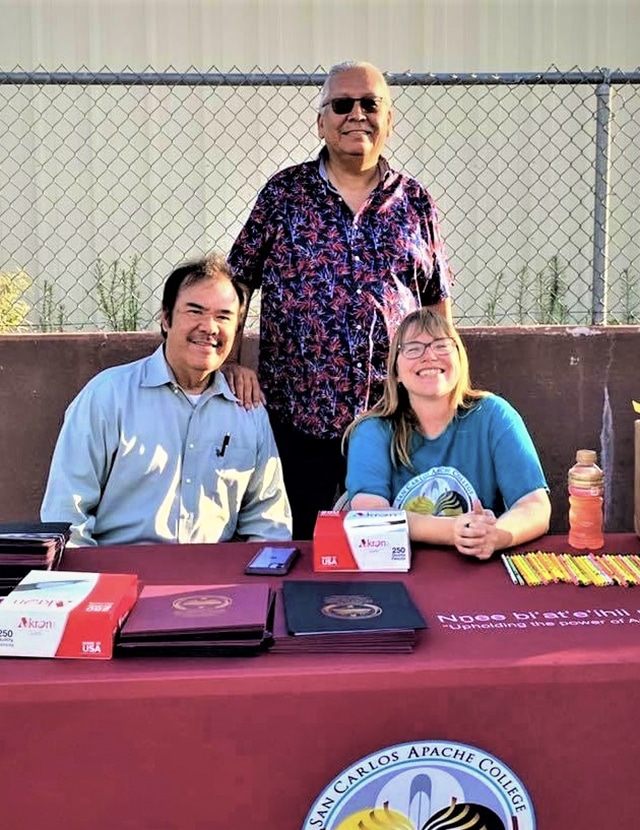 Dr. Ahumada's counselor helped him navigate the college application process and ultimately helped him land at Carleton College in Minnesota, which he credits as the most pivotal before and after of his life. As a Latino with Indigenous heritage, the opportunity to go to college inspired what has become a career in service of students like him—students who are Latino, Indigenous, or simply looking for a sense of purpose.
"Going away to Minnesota, to a private college, enabled me to see myself through the eyes of people from different backgrounds, different worldviews, even different countries," explains Dr. Ahumada. "I think that was the first time that I really started looking at myself as a Latino."
Since then, Dr. Ahumada has been a professor at the University of Arizona and Harvard University, the CFO for Eastern New Mexico University-Ruidoso, the provost and interim president of Diné College, and now the president of San Carlos Apache College. He's also worked on higher education policy, including as the first VP for education and research at the Hispanic Association of Colleges & Universities (HACU), where he worked closely with The White House, members of congress, corporate and philanthropic leaders, and the presidents of Hispanic-Serving Institutions (HSIs) to spearhead national efforts to improve HSIs.
Dr. Ahumada's work with the California Postsecondary Education Commission specifically helped establish state policy in assessment, financing, diversity, and educational excellence. He credits his time in policymaking with preparing him to head colleges and universities now.
"I could not do justice to this role had I not worked at these other levels," says the president. "When you're dealing with the impact and social role of higher education, you must think about, 'what is the real purpose of every institution of higher learning? How is it a catalyst for change? How is it a vehicle for people to become empowered?'"
He also believes it's important to stay clear on how you define success beyond the academic accolades. Success is rooted more closely in how a higher education institution can become a place of refuge for the communities it serves.
"I feel very fortunate to be serving one of the most legendary communities in the world right now: the Apache People," he says. "With all the challenges this community faces with isolation, drug abuse, suicide, underemployment, and tremendous unemployment . . . this college provides an opportunity for everybody within this community to see themselves as being able to pull themselves out of whatever hopelessness and despair [they are in] and move on and do great things and serve their community."
Since taking on the role as president, Dr. Ahumada has seen firsthand the college's impact on the community, which often reminds him of how meaningful college was for his trajectory. But more importantly, it's a reminder of how the community wants to see itself reflected in its leaders, educators, and mentors.
"I was in their position once," explains Dr. Ahumada. "I was very depressed when I left [home]. . . I went to Minnesota looking for a place to belong, a place to live, a family, and an identity. In many ways, the people that I serve are looking for that kind of shelter, a place to belong, and to redefine what home means for them. I've been able to experience this, of serving a community that's dear to me, and when they see me, and they learn about my background they can feel inspired too."
That same reflection of potential inspired Dr. Ahumada when he was seventeen years old, and it continues to drive his mission to inspire others along the way.
"I have a moral obligation and a unique opportunity to prepare the next generation of Native American and Hispanic students," explains Dr. Ahumada. "They can be the next deans, the next provost, the next faculty members, the next presidents of our tribal colleges, community colleges, our liberal arts colleges, [and] our large universities."