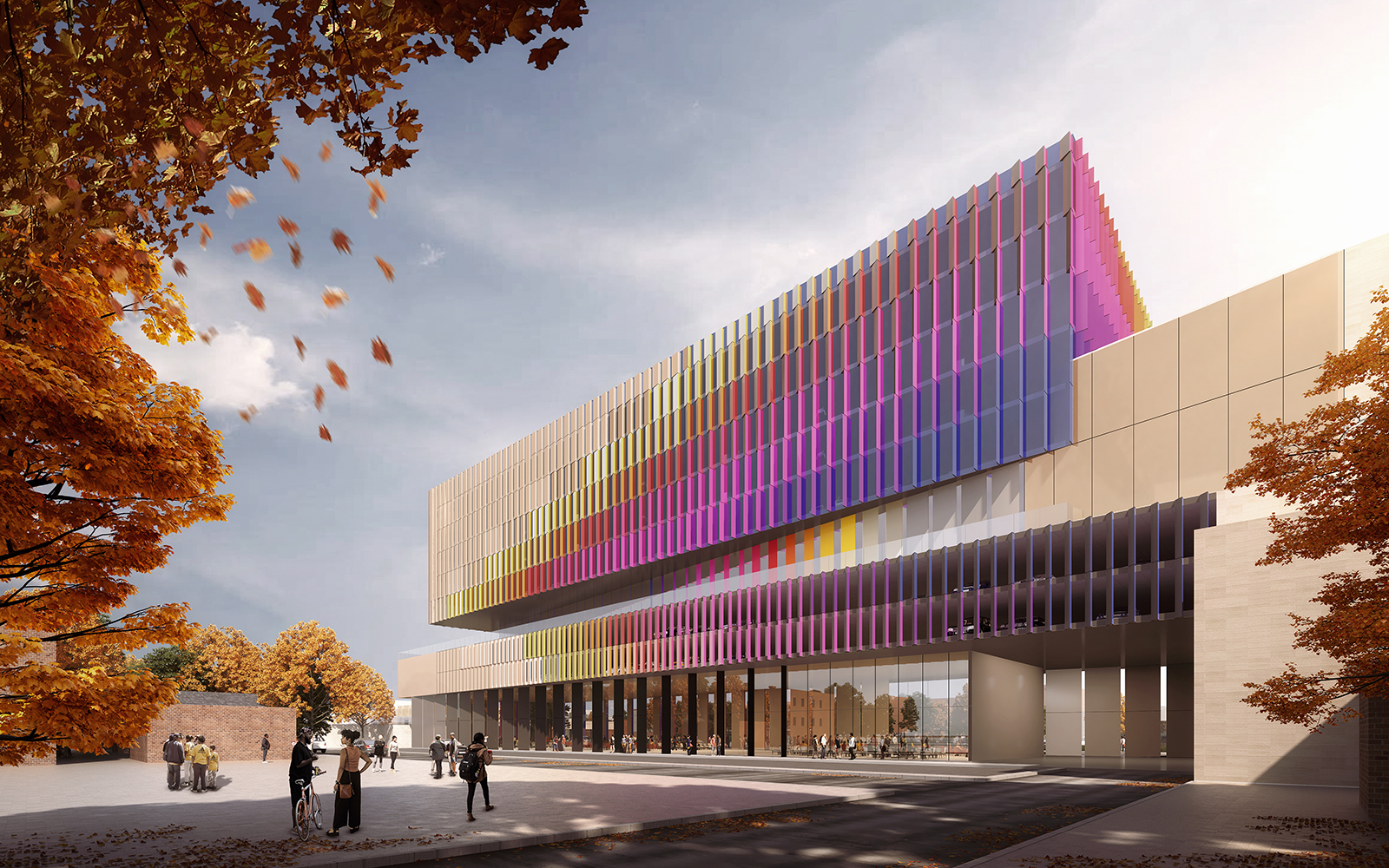 Juan Gabriel Moreno still speaks in awe about his first visit to Italy. This was years ago, when he was an architecture student.
"I had a humble upbringing, so we didn't travel much," says the Colombian native, whose parents immigrated to the US when he was very young. "Being in Europe for the first time, seeing actual buildings like the Pantheon in Rome—it was a magical experience. It was nothing like in a book. I could really feel the architecture."
Today, Moreno is president and founder of his own Chicago-based architecture firm, JGMA, which describes itself as "a progressive architecture and design practice committed to active community involvement and the enrichment of peoples' lives." Part of his work at the moment involves leading a Latino-led development team that is renovating an important historic building—while adding a significant adjacent structure—in the city's West Humboldt Park neighborhood, which is heavily Hispanic.
The development is known as the INVEST South/West Initiative, one of ten projects funded by the city's Department of Planning & Development. The program combines public, private, and philanthropic capital to revitalize economically challenged neighborhoods. Notably, a requirement of the INVEST developments is that they endeavor to not displace existing residents with gentrification.
Moreno successfully bid on this particular site, which makes use of a grand 1920s bank building and an adjacent empty parcel of land. The bank has classical columns encircling it and a soaring three-story lobby, and was for years known as Pioneer Bank. Honoring that name, Moreno's mostly Latino team of builders (including development, construction, design, and engineering experts) is known as Team Pioneros.
"The composition of this team opens the industry's eyes that we can be leaders with a near-100 percent Latino team," Moreno says. "It has a lot of potential for a ripple effect in the community."
The new structure will include seven stories of affordable housing (seventy-five units), a neighborhood health center, and possibly a public library branch, plus a wraparound terrace. It has an eclectic contemporary design: a sophisticated use of massing, color, and stacked, cantilevered boxes. Two levels of parking nearest the ground elevate the residences to optimal vistas of the surrounding city, the Chicago Loop, and even Lake Michigan.
Moreno isn't just building this for the community. His firm will be the anchor tenant, which neatly fits part of the economic development goals of the development. Approximately fifty JGMA employees will work in the new structure, and many (including Moreno) also live nearby and will benefit from the enhancements to the local culture and economy.
In addition to his role at JGMA, Moreno also sits on the board of a local Jesuit high school (Cristo Rey) and is likely the first architect those students meet. He wants all young people in Humboldt Park to experience architecture close to home—and within the context of a community of color. "We should make communities that have awesome architecture," he says. "And not just work that patronizes, such as Aztec styling just because we're Hispanic."
Moreno's own journey to development and design leadership came about after his college years. He was drawn to the Windy City because of its fabled history in architecture and quickly experienced the excitement of working in a big firm with global clients. "I spent time working on projects in Asia and the Middle East," he says. "But back in Chicago, I was very oriented to the city's Latino community. And large firms don't always have a place for community projects."
So Moreno ventured out on his own and formed his own firm. That was in 2010, when the country was still in a deep recession—an advantage, he discovered, because there were a lot of talented architects looking for work. He snapped up several and established a downtown office, albeit in a windowless parking garage space (the address carried some prestige). He upgraded to another office—with windows—as the firm grew.
And true to his original vision, the firm has succeeded at employing a near all-Latino staff: architects at JGMA trace their heritage to or were born in Mexico, Spain, Portugal, Argentina, and Colombia. "They are some of the most talented and humble people I've ever worked with," Moreno observes.
And their work brings world-class design to communities where it has great impact. The firm provides striking contemporary architectural concepts serving higher education (including Northeastern Illinois University/el centro and the Chicago School of the Art Institute Wellness Center), early education (such as the Gads Hill Early Learning Center), community health (including Esperanza Health Brighton Park and the Christian Community Health Center), education-athletics (such as the United Neighborhood Organization soccer academy), subsidized housing (including the KLEO Art Residences), commercial/retail (such as the Westfield Old Orchard Mall/glass cube), and high-end homes (like the Bieniek residence).
"To me, architecture is an art form, an exploration, and discovery," Moreno says. "There is no formula. We look for that 'aha!' moment."
That's something he hopes occupants and visitors experience as well—even if they can't travel to Italy.