This líder's influence brings diversity, creativity, and community outreach to JPMorgan Chase & Co.
Jacqueline Rosa describes her progression into Corporate America as a natural career path. But how does a Spanish Harlem native with a decade of experience in the gaming industry find herself as a leader in supplier diversity at one the most recognized names in the financial industry, JPMorgan Chase & Co? Answer: she never stops moving.
As "A Better Chance Scholar" scholarship recipient, Rosa attended the Watertown, Connecticut Taft School–a college preparatory boarding school. She earned her B.A. in Marketing from Fordham University, which led her to a sales and marketing role in the gaming industry.  While working and living in over 20 different countries, she gained, in her words: "vast global experience and necessary marketing skills," knowledge she carried throughout the next 12 years at Morgan Stanley.
In August 2011, Rosa joined JPMorgan Chase as its director of Global Corporate Supplier Diversity. Recently promoted to Managing Director, Rosa believes she is at the pinnacle of her career – an achievement she says would not have been possible without being authentic to who she is, what her values are and being courageous.
Synthesizing her professional and formal education with 10 years of working out-of-country, Rosa's thought process is always driven by her global and diversity experience– qualities that have helped her succeed in the global banking world.
"I believe that my upbringing and childhood experiences play a major role in my approach to diverse entrepreneurs; people who are striving to create their own legacies, while influencing job creation and making an impact," said Rosa.
As head of JPMorgan Chase's Global Corporate Supplier Diversity Program, she views her role acting as an "ambassador for diverse businesses." Taking again from her experience in the international gaming industry, she continues to fuse together markets and community culture – concepts she was taught in life experiences by growing up with an abundance of community and family support.
Because she had so much early support and encouragement, Rosa believes the onus is on her to give back. "There is so much untapped talent within our community due to lack of access to information," she says, "I would like to focus on and bridge that gap." In the future, Rosa would like to give back to the community by launching a non-profit organization that focuses on inner-city young women.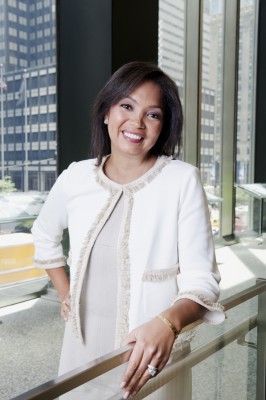 No two days are alike for Rosa; her role is far from siloed. She goes from advocating business diversity to discussing sourcing strategy to reiterating the importance of supporting diverse businesses at events.  She works across many lines of business (LOBs) at JPMorgan Chase, helping to "connect the dots" between Supplier Diversity and LOBs by combining strategy, marketing, advocacy, and community outreach.
"To strategically leverage marketing opportunities, one must be open and accepting of different cultures and thought processes; that's where the power of diversity comes into play," said Rosa.
Rosa integrates a strategic platform which includes accountability and measuring results as one of the guiding principles of their supplier diversity program.  "Measurement is one way we build connections between suppliers and internal business partners. It gives us the ability to infuse the sourcing process with qualified diverse businesses, while also evaluating program efficiency and measuring value-add to the organization," says Rosa.
For almost two decades, JPMorgan Chase's Supplier Diversity Program has helped the bank develop and utilize partners that are owned and operated by minorities; women; military and service-disabled veterans; lesbian, gay, bisexual and transgender (LGBT) community members; and disabled individuals—to name a few.
In the last year, the firm has put a strong emphasis on its strategy to continue to form a partnership between industry and community. Rosa says the interaction between diverse businesses and the corporate sector is a catalyst to job creation.
This commitment helps promote economic growth, and ensures access to new and innovative products at competitive prices. Being a strong advocate for diversity allows JPMorgan Chase to expand their reach and productivity.
"It has been my experience that diverse companies have more 'heart.' They tend to be more adaptable, competitive and bring creativity to the table.  Employees at diverse companies very often reflect the demographics of the communities they are in; using them enables us to keep these communities strong," she says.
Rosa is grateful for the mentors she has encountered along her path to JPMorgan Chase. She's thankful for both the ups and downs of her career, for each have taught her strength and encouragement to operate out of her comfort zone.
This fearlessness that Rosa carries has taught her to be innovative, creative, flexible and open to different solutions – tools which have helped her be successful as an active community member, a bona fide leader and a Latina who always stands by her convictions.
"I fully embrace bringing my authentic self into the workplace," she adds. "I am proud of where I came from and where I am – what you see is what you get."
Check out all of Hispanic Executive's 2013 Top 10 Líderes here.
To download the "Best of 2013″ edition on your iPad, visit our iTunes app here.