Jennifer Salinas has had many milestones she wanted to achieve in her legal career—among them, developing a certain amount of business and becoming a go-to first chair IP litigation partner. Over the course of a twenty-year career in private practice, she reached all the goals on her list. However, she always had the sense that she would end up transitioning to an in-house counsel position.
Now, as executive director of IP litigation for Lenovo, a leader in intelligent transformation, she has accomplished that, too. "I'm a problem-solver and have always enjoyed being part of the decision-making process that can identify and address issues before they get out of hand—which is usually where outside counsel steps in," Salinas says. "I think I always knew that my skill set is actually better suited to in-house, so coming to Lenovo makes me feel like I'm where I'm supposed to be."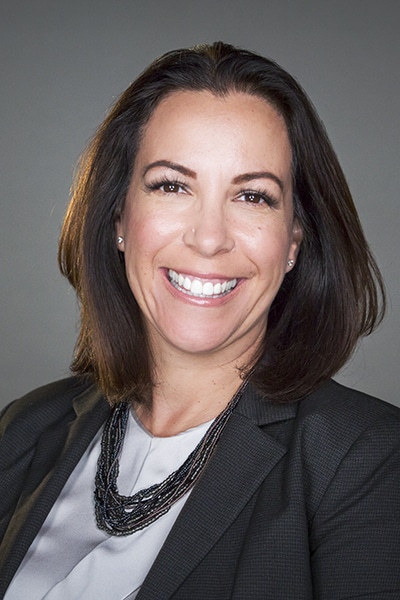 A self-proclaimed tech geek, she is also very excited about being in an environment where she can see innovation at work and getting advance peeks at new products and services before they come to market. Additionally, working collaboratively with numerous global partners and having the chance to be part of a team on a larger playing field than ever before invigorates her.
"Jennifer is fantastic attorney and a wonderful person," says Eric Findlay, founding partner of Findlay Craft PC. "She's incredibly hard working, dedicated, and never quits. More than that, I'm honored to call her a friend and am excited for her as she begins this new chapter in her professional career."
Salinas began working with Lenovo ten years before coming in-house and has witnessed its transformation and growth, including the company's acquisitions of Motorola and IBM's server business. Those experiences familiarized her with the company's legal department and its overall objectives, but she is now in the process of getting to know a much wider array of internal processes, protocols, and products, as well as the individuals in many different business units.
In addition to her own reading and researching, she says she is learning more about the company by doing a great deal of listening. "I'm very team focused and have made a specific effort to find time to meet one-on-one with as many people as possible," Salinas points out. "Beside making sure they know they've been heard, it makes them feel like they're part of something and creates a better, happier, and more productive environment."
That kind of relationship-building extends beyond the legal team to her internal clients, as well. In addition to helping her fully understand their needs and priorities, her conversations provide an opportunity for her to show that she is a trusted advisor and resource, not a nay-saying lawyer who should be avoided. "I want potential clients to get to know me and what I have to offer, part of which is being very client-focused and working effectively to address their concerns," she says. "They have to get to know me to invite me to the table, though, so building these relationships is a real priority."
To help illustrate her pragmatism, Salinas tells the story of a former global client that was concerned about compliance issues related to product labeling in the United States. One of her colleagues became very focused on potential liability and discussed the possibility of product recalls that could have cost tens of millions of dollars. Salinas, however, discovered that the fine for a product labeling infraction—if one actually existed—was no more than $30,000. For her, this demonstrates the importance of always maintaining a proper perspective, fully investigating the root causes of any issue, and assessing what solutions are truly in the best interest of the business.
In addition to her responsibilities at Lenovo, Salinas has also recently become president of the Hispanic National Bar Association (HNBA). She has discovered that Lenovo's diversity and inclusion practices are very much in line with her goals for the nonprofit. Not only have Latinos been Lenovo's fastest growth executive group, she has found a culture of meritocracy that is often lacking in many private law firms. The company supports Hispanic employees in growing their careers at Lenovo through its HOLA, Employee Resource Group.
Salinas has happily agreed to speak at a number of related events for Lenovo and other organizations that will focus on young people. She grew up in a tough neighborhood in difficult family circumstances, but she had a significant mentor: Mr. Cannon, her fourth-grade teacher, who she says made a tremendous difference in her life. "Mr. Cannon changed everything by showing me that my environment didn't have to define me," she says. "Especially in the legal profession, there are many times when I don't look like the rest of the people at the table. But with my new role and responsibilities, I can reassure kids that look like me of how much potential they have. It just takes one person to make a huge difference."
That priority is part of what she plans to bring to her leadership at HNBA, as well. She will be encouraging sponsors to become more invested in developing new legal talent by providing resources to those without friends, family, or mentors who can help guide them to make wise academic and career decisions. "My parents didn't graduate from high school, and I didn't have anyone who could offer academic and professional insights," Salinas says. "I want HNBA to provide the knowledge and skill sets members need, whether they want to be solo practitioners, part of the judiciary, or work in-house at a major corporation."
As she continues to settle into her new position, Salinas says there are a few things that have surprised her along the way. In addition to innovative products and service offerings, she discovered the company's innovative approach to the workplace. She has found the investment Lenovo makes in its people and culture—everything from benefits and lifestyle considerations—including flexible, remote working arrangements—to ongoing process improvements and encouraging a collaborative environment—creating a very collegial work environment.
But she has also noticed a difference in the way that she and her work are perceived. "I've always been valued by my clients," she says. "At Lenovo, I not only feel valued, but I'm able to use all of my capabilities on a regular basis. That feels pretty awesome."