On paper at least, the cities of Madrid and Houston have a few similarities. Both are sizable cities; Madrid is the third largest in the European Union, and Houston is the fourth largest in the United States. Both are steeped in historic architecture, industry, and each area's respective culture. Both have professional sports teams of note: baseball by way of Houston's 2017 World Series Champion Astros, and fútbol via Cristiano Ronaldo and Real Madrid.
But when Madrid native Jose Olalla uprooted his family and resettled in Houston two years ago as part of his new role with BBVA (Banco Bilbao Vizcaya Argentaria), one enormous difference from his homeland stood out: transportation.
"How Houstonians live in the city is very different," Olalla says with a nod to the fact that almost half of Madrid gets around the metropolitan area via public transportation. "The majority of people here never walk on the streets. Everyone drives everywhere. It was kind of shocking."
Growing up in Spain, with an engineer for a father, Olalla had, from a young age, a desire to solve problems with mathematical logic. As far back as elementary school, he excelled in math. So, it wasn't much of a surprise when he chose a telecommunications engineering program at Universidad Politécnica de Madrid for his collegiate years. The surprise came when he completed the entire six-year program in only five years—at the top of his class—only to conclude that he had no interest in pursuing engineering as a profession.
"I enjoyed the content of the program," Olalla says. "But the engineers I knew at the time were very introverted and hard to communicate with. They spent all their time just thinking about work and nothing else. I decided that I didn't want to be what those guys were, if possible."
Instead, he spent a few years working at a consulting firm before coming on board with a domestic bank owned by the government of Spain in 1992. That bank was Argentaria, which merged with Banco Bilbao Vizcaya about seven years later. Throughout the 1990s, Olalla cultivated an interest in business—finance and financial planning, more specifically—which led him to additional training and education. By the time of the BBVA merger, he'd earned an MBA from the University of Chicago Booth School of Business.
As the twenty-first century began, both Olalla and the merged banking group for whom he now worked began to chart new, wider courses for leadership and growth. Today, BBVA has grown to operate in more than thirty-five countries, one of which is BBVA Compass in the United States. Meanwhile, Olalla has led teams involved in areas such as e-business, customer analytics, strategy, marketing, innovation, and information technology. "I have been very lucky to work in so many different positions, including group CIO from 2009 to 2012," he says. "But the role that probably had more impact in the company and gave me the most opportunity was when I was global head of multichannel strategy from 2012 to 2014."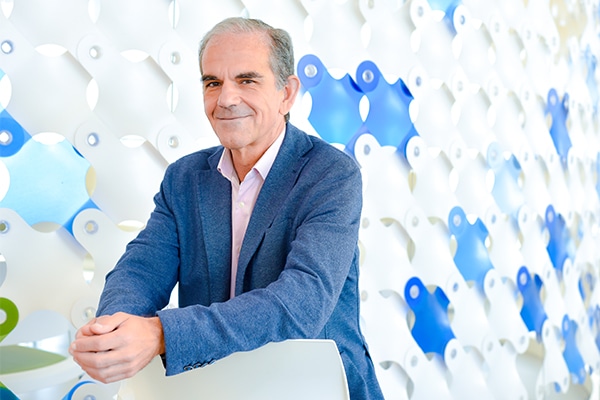 Along the way, in close to a dozen different capacities, he's logged a lot of time developing his management style. He recalls learning early on that he had to step aside to let his teams develop—even when that meant letting them learn to solve problems he could easily and quickly fix himself. "I learned you have to let them do it; otherwise, neither you nor they will ever develop as professionals," he says. "You have to find the right balance. It's about working with your staff to establish goals and then empowering them and letting them find their own path to get there instead of telling them what to do all the time."
Nowadays, as head of business development and digital transformation—and with his home in Houston—Olalla leads a diverse team of eight men and women, which includes staff originally from Turkey, Pakistan, and Mexico. The position involves a bit of travel to say the least; he counted ninety-two flights for himself (mostly domestic flights from Houston to Birmingham, Alabama) and 106 nights away from home in 2017. But to say his work at BBVA is nothing like the engineering road he almost chose is to put it lightly.
"I get to work so much more with people than I would have if I'd been an engineer," he says. "I enjoy it all: working with teams, having to manage big groups of people, and dealing with different ways people are motivated, both what they expect from life and what they expect from work."
Nonetheless, the logical lessons he learned long ago are never too far away. "It was hard to get an engineering degree, but it helped me learn a very structured way of thinking and approaching problems," he says. "It also helped me learn to work hard and not be afraid of challenges."
---
We are passionate about the customer experience. Every day we connect 500 million consumers with leading brands across thirteen countries, helping blue-chip companies meet increasing consumer needs.
We have developed long-lasting client relationships through our deep understanding of the verticals and cultural environments where they compete, providing unique insights into our clients' businesses and consumer needs.
Our motivated team of over 150,000 employees is an enabler for our business model and a core competitive advantage. Atento's is the only CRM/BPO firm among the top twenty-five companies to work for in the world, according to the Great Place to Work Institute.
---
Accenture congratulates Jose for his distinguished leadership at BBVA Compass. He has made a measurable impact, aligning his teams to achieve the bank's vision of being a leader in digital capabilities. Accenture has enjoyed a long history working with BBVA globally. BBVA Compass' relationship with Accenture to support its ongoing digital transformation in the United States reflects the bank's commitment to technology innovation and leadership. Jose's dedication towards new digital solutions are resulting in new products and services to the Bank's customers. With Jose's vision and focus, BBVA Compass will successfully navigate its ongoing customer centric transformation to a digital bank.
Accenture is a leading global professional services company, providing a broad range of services and solutions in strategy, consulting, digital, technology and operations. With approximately 442,000 people serving clients in more than 120 countries, Accenture drives innovation to improve the way the world works and lives. www.accenture.com