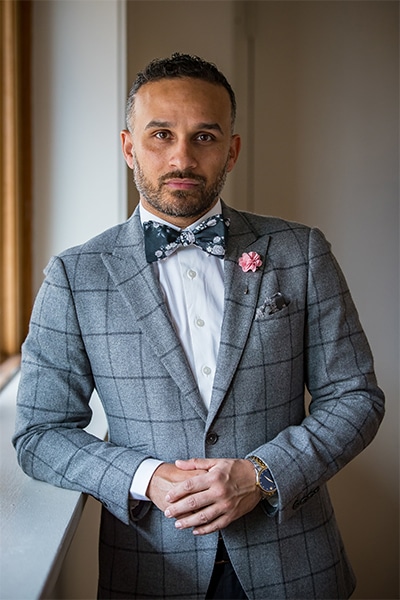 "Try not to become a man of success, but rather try to become a man of value."
These words from Albert Einstein are inscribed on the inside of the silver business card case that Dennis Verges has carried for more than a decade, and with each new milestone in his career, the words take on new meaning.
In the earlier years, Verges was focused on becoming a man of value by creating and adding value to his own personal brand as he engaged several entrepreneurial pursuits. But more recently, he has shifted his focus to investing in the success of others and becoming a person who brings value to his whole community.
As a serial entrepreneur who is always on the move, Verges has his hands in many projects in the town where he resides, Elgin, Illinois, a small city at the end of one of Chicago's west-bound commuter train lines. "I like to think that I can create value in Elgin by encouraging the leadership in our community to think strategically and stay focused on the big picture," he says, emphasizing the importance of networking and proactive listening. "If I can help the people of Elgin discover their own value, that will, in turn, increase my own value."
One of his favorite stories of connecting people's greatest skills with an area of need is the time he made a recommendation for the new director of Elgin's
Downtown Neighborhood Association. "When I told the board of directors that Jennifer Fukala was the perfect fit for the job, they interviewed and eventually hired her—and she is a perfect fit," he says. "That's a perfect example of how I find personal success in the success of others."
That example also highlights Verges' desire to remain focused on big-picture goals without prioritizing his own personal agenda. "That goes back to me being a man of value," he says, citing the dynamic combination of his father's outgoing, Puerto Rican personality and his Sicilian mother's industrious ambition. "I am passionate about connecting people and bringing value to their work."
One project that Verges is particularly invested in right now is the Elgin Math and Science Academy (EMSA), Elgin's first public charter school, which is set to open in August 2018. As a founding board vice president with a background in finance, Verges was initially brought on to help guide the school's fiduciary process. But in the past few months, his role has expanded to include outreach as well as promoting the new school with a special emphasis on diversity.
Not only has the school put measures in place to ensure an economically and racially diverse student body, but Verges is personally constructing policies to build diversity among contracted service providers and suppliers. "Truly prioritizing diversity can't be limited to our student population," he says. "It starts at the top with our board members, and then it trickles down to our teachers and the businesses we hire, which creates a culture of real inclusion." EMSA's kitchen supplies will be provided by a woman-owned business, and the school's goal is to hire a local business for grounds maintenance. "This is one way that we're going to make a real difference in Elgin," he says
EMSA will also use the Expeditionary Learning Program in all its classrooms. Its first school year will include students in kindergarten through third grade, and then it will add a class each year for the next five years until it services kindergarten through eighth grade. Students will be selected from a lottery system, and the cost of enrollment will be the same as a traditional public school. "It's going to be amazingly great for Elgin because it allows a new option for parents with young children, like me," Verges says. "Plus, it gives students who can't afford private school an opportunity to learn in a uniquely academic environment."
For Verges, proactively promoting diversity in all aspects of his life is vital to "servicing the customer from a 360-degree standpoint." He says that incorporating diversity of thought, economic status, age, gender, and other demographics is important when learning about a population and understanding its greatest needs, wants, and motivations. Whether he's strategizing with his business clients, connecting people with opportunity, or starting a charter school, Verge focuses on a diverse group of end-users so he can reach a bigger audience and create a greater impact.
"As our country becomes more diverse, we must realize that, if we aren't intentional about including diverse voices, we will only create splinters and eventually crumble," Verges says. "We must include everyone who shares our vision of a healthy community, equal opportunity for education, and a supportive business environment."
Verges says this kind of thinking is what has earned him the reputation of being "disruptive in a good way" from leadership in the City of Elgin. A personal mandate to create change and disrupt the way business is currently happening and a passion for making meaningful connections and preemptively servicing his customers has made Verges a force to be reckoned with, both in his career and volunteer work. "No matter what I'm working on, my goal is always to sell a solution," he says. That means he is always prepared to challenge his colleagues by constantly asking them, "How are we creating solutions for the most amount of people?"
Being an effective influencer in any project or workplace often requires this kind of drive and solutions-based,
service-oriented thinking, Verges says. It also demands hard work, follow-through, and a great investment of time that often goes unseen. However, Verges says it's also a richly rewarding experience that can bring lasting change to culture and community—one that he believes is worth every moment. "Seeing the students arrive for their first day of class at EMSA this August is going to be incredible," Verges says. And for this thought-leader and change-maker, it's sure to be a living manifestation of what it means to find meaningful success as a "man of value."
Surely Einstein would be proud.  
Photo by Victor Vega/Your Dream Brand