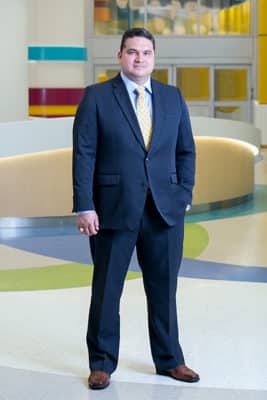 Eduardo Garcia might be busier than ever, but that's okay.
As the director of facilities project management at Texas Children's Hospital, Garcia draws on eighteen years of experience of construction management to direct a managerial team that oversees the development, planning, coordination, and monitoring of projects for the hospital.
Hired in May 2017, Garcia found an experienced team of ten project managers in place, many with long careers there. "I didn't come in to presume I knew more than they did, especially when there were already solid procedures in place," he says. "I came to integrate into their team and provide leadership as we continue to undertake and deliver challenging projects."
Garcia says he leads his teams by focusing on communication and trust. And with all new hires, Garcia aims to surround himself with experts who have the necessary technical skills that the position requires in addition to the emotional intelligence that enables them to integrate well with the team and all stakeholders. He says that, essentially, his job is to make sure everybody comes together as one.
Garcia, however, says he is not a micromanager. Instead, he says he is a "macromanager," meaning he places a great deal of trust in his team and lets them do their jobs. "We're all professionals; we know what the job is and what the mission is," he says. "You go ahead with your business; if you need me in any way, I'll make myself available."
When challenges do arise, though, Garcia says the first step is to understand the overall problem and its repercussions, including the worst-case scenario. Once they know that, the team comes up with a plan to implement mitigation efforts.
In addition to leading his own team, part of Garcia's role is to communicate with executive leadership and keep them informed on solutions that are being developed. "Often, I have to address concerns and, perhaps, anxiety because we work with stakeholder teams that are all tasked to deliver projects that will deliver care," he says. "I feel privileged to have been granted an opportunity to do so and to be part of this organization and such a great team."
Garcia, however, wouldn't be able to fulfill all these responsibilities and lead with grace and confidence if it weren't for a lifetime of hard work.
Garcia was born in the United States and raised in a Mexico border town. During his childhood, he attended schools in both countries because his family wanted him to get an education in both English and Spanish. His mother was widowed three months before he was born, but Garcia says he never lacked parental guidance from his large extended family. Even today, he describes himself as family man, and he spends most of his free time with his wife, Mayra, and their two daughters, ages ten and three.
Although family has always been a big part of his life, Garcia's interest in architecture didn't start until high school when he enrolled in a vocational program that focused on construction. After graduating high school, he went to Texas A&M in 1995 to pursue that passion further. In fact, he earned two bachelor's degrees in the process: halfway through his first degree in environmental design, he signed on for thirty more hours to earn another degree in construction science.
"I realized architects, at least in the United States, focus on design," he says. "I liked to do the building part of it, too, overseeing construction efforts all the way through completion."
In 2010, he earned a master's in construction management from the University of Houston. But by that time his career was in full swing. And although he says it was tough to balance a full-time job with his class work load, he felt like he needed to do it to separate himself from the pack.
"I have always liked to continue to grow both professionally and personally," he says.
Throughout his career, Garcia has worked primarily in the Houston area. For nearly two years starting in 2004, however, he worked for Halliburton KBR as an operations coordinator, scheduler, and planner in Iraq, where he helped oversee the construction and maintenance of military bases and living compounds—a $500 million project with the US Department of Defense.
Back in Houston, though, Garcia held project management positions at various firms, including Arcadis US, CH2M Hill, and Vaughn Construction. He also worked at Parsons, where he provided overall design coordination between the City of Houston and METRO for a $1.4 billion light rail expansion, among other high-end projects, before joining Texas Children's Hospital.
"I'm really excited about where my career is right now," he says. "The progression in my professional career has been continuous and sequential."
Today, Garcia focuses on Texas Children's Hospital's mission to create a healthier future for children and women throughout the global community by being a leader in patient care, education, and research.
Right now, the organization is working on expanding to Austin as well as a plan to open cancer clinics in three sub-Saharan African nations. Working in partnership with the Baylor International Pediatric AIDS Initiative and the Bristol Myers Squibb Foundation, Texas Children's Cancer and Hematology Centers will provide care for children with cancer and blood disorders.
Garcia says he is proud to work for an organization that contributes so much to the city of Houston and the community at large.
"At the end of the day, everybody believes in the mission," he says. "If you believe you're having a bad day, just walk around the hospital, and things will come into perspective rather quickly."
Photo by Karina Serna