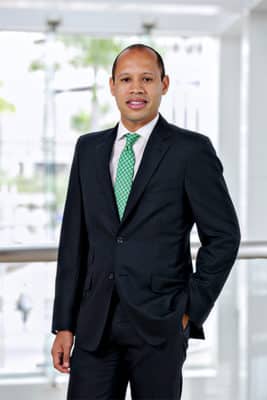 By 2010, after years of legal work in the financial services industry, Jorge A. Rivera had worked his way up the ladder to become senior vice president and deputy general counsel of Popular Inc., the largest financial institution based in Puerto Rico and one of the top fifty bank holding companies in the United States. In this role, he advised the organization on numerous strategic transactions and complex bank regulatory matters. It was the result of a career that he wouldn't have had without the support of his friends, family, and community at large.
In 2016, however, Rivera made a pivotal change. He accepted a role as senior vice president and associate general counsel for Minneapolis-based U.S. Bank. The new role was based in Washington, DC, which meant he and his family would leave their home and community and start again in the nation's capital.
Rivera says the leap was worth it. In his leadership role at U.S. Bank, he builds on his legal experience by serving as an influential advisor and playing a crucial role in the bank's regulatory strategy. Rivera and his team at U.S. Bank are responsible for providing regulatory guidance and expertise on matters that impact the full range of the bank's consumer products and services.
"The financial services industry plays a crucial role in powering human potential. At U.S. Bank, that means providing our customers, communities, and stakeholders with the resources, tools, and guidance they need to achieve their possible," Rivera says. "This is one of the reasons why this industry has always appealed to me—and why I was attracted to U.S. Bank as an employer."
Rivera also recognizes that there have been other influences that have been key to his success.
"I've been lucky to have people in my career who I looked up to, not only professionally but also personally," he says. "These mentors played an important role in helping me understand where I wanted go and what was important to me in life."
One major influence on Rivera's career was Ignacio Alvarez, the president and CEO of Popular. Alvarez, who was the general counsel for Popular prior to being appointed CEO, has been a constant in Rivera's professional life. The balance that Alvarez struck between his personal and professional lives, more than anything, was something that the young Rivera aspired to. "He not only has a phenomenal intellect, but he's also an incredible human being," Rivera says. "His ability to work through complex issues quickly and provide sensible legal and business advice was something I always looked up to."
Of course, family and community are just as important. The decision to leave Puerto Rico was not one made lightly. "Family and family values are crucial to us as Puerto Ricans," he says. "I carry those values with me every day."
Rivera's time in Puerto Rico prepared him well to take on a leadership role in the law division of a major commercial bank.
At Popular, Rivera developed a deep skill set in helping organizations and individuals through the challenges associated with less-than-ideal economic conditions. He says that experience helped him better understand the full scope of challenges facing financial institutions. Paired with his intellectual curiosity, that has readied him for his role at U.S. Bank—a role that he was attracted to for a variety of reasons.
Beyond the opportunities the role afforded, Rivera was drawn to U.S. Bank because of its culture and values. "I've always had great respect for U.S. Bank," he says. "It constantly delivers outstanding results by leveraging a deeply rooted set of core values, which starts with putting people first and doing the right thing."
Additionally, U.S. Bank's law division has made it a priority to positively impact the communities it serves, including Rivera's native Puerto Rico. "I've been able to provide pro bono assistance to victims of Hurricane Maria," Rivera says. "That's one of the aspects of U.S. Bank that I appreciate the most: its commitment to help build and support vibrant communities, including a very strong pro bono program."
Because he, himself, has drawn so much from his personal interactions and sense of community, Rivera has been inspired to lead with commitment to the well-being of his team members. He sees having a strong team morale as a top priority because he says that success follows when individuals feel comfortable in the workplace and can truly be themselves.
"I see myself as a facilitator and collaborator," he says. "Many times you're truly successful when you allow yourself to take a step back and empower others to lead. I can then act as a source of knowledge and guidance in pursuit of a common goal."
Photo by Felix Rivera Negron
---
Sullivan & Cromwell is pleased to recognize the accomplishments of Jorge Rivera, a leader in the banking bar and a master of the complex legal and regulatory regime applicable to banks. We are proud to have had the honor of working with him both at Popular, Inc. and at U.S. Bancorp.