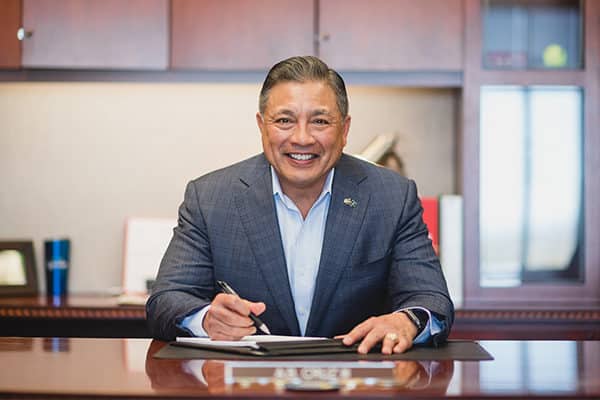 A.B. Cruz III always knew that he would make his way back to his hometown of San Antonio. He just didn't expect the opportunity would come through a job offer.
"I always felt that I would return at some point but had never taken any initiative to make it happen," he says. "Indeed, it was a surprise phone call from USAA some forty years after I left San Antonio that made it a reality."
Taking a job with a financial services group that provides banking, investment, and insurance products and services to military veterans and their families seemed like a logical fit for Cruz, who spent more than thirty-three years in the Navy, twenty-six of those years in the Navy Reserve.
"When I retired from the military in 2013, I didn't realize how much I was going to miss serving," Cruz says. "When I told my wife that USAA called, she said that it's the one company she'd allow me to talk to. She said, 'The one thing you've missed since leaving the military is being with and supporting service members.'"
Now, as senior vice president of enterprise shared services in the chief legal office at USAA, Cruz helps to serve fellow service members, veterans, and their families. It's completely different from what he did in his first post-military role as executive vice president, general counsel, corporate secretary, and chief compliance officer for Emergent BioSolutions. Where once he managed legal and compliance functions for a pharmaceutical company, he now works for a company focused on improving the financial security of the military community.
"Much of what USAA does is new to me," he says. "For instance, I really have no banking experience professionally. It's one of the most regulated industries out there, so it's a great learning opportunity for me. What gives me some comfort is that I have shifted industries and fields many times over both in my civilian and military careers."
Cruz says his Navy career consisted of nineteen commands and twenty-five different jobs over those assignments. The many role changes informed his curiosity and unending quest to learn more, and now that experience forms the foundation of what he looks for in teammates at USAA.
"I look for passion and enthusiasm in people I hire," he says. "When we're hiring in the legal field, too often we look straight to where they went to law school and what their GPA was. That's important, but for me, it's not what ultimately matters. I've known a lot of attorneys coming out of great law schools with good grades that didn't measure up because they lacked the enthusiasm for the practice of law. I want someone who's going to bring a big heart to whatever role they're applying for—evidence of strong leadership rather than simply evidence of strong pedigree."
This not only applies to his team, but it also applies to the individuals and companies with which USAA does business. Cruz seeks others who share USAA's values and ideals. Cruz says his responsibility to USAA is to optimize and improve the company—not just for today but also for the future.
"If the companies we do business with are big supporters of the military and/or diversity and inclusion, it makes you want to work with them," he says. "You can just pay for legal services, but doing a joint project together while also advancing diversity and inclusion or helping the military community—I like those relationships best."
Nearing its one hundredth anniversary, USAA is focused on thinking strategically. Cruz says this plays into everything from which matters the legal team tackles to which hires are making it onto the team. Currently, he's creating a three-year plan for success in his area of influence, and though he says a company with a century of success at its back probably doesn't need his guidance, he's determined to help sustain that success for the benefit of the whole company.
"If I can look back and say I contributed to make sure USAA stayed true to its mission, then I think I've done justice and added value," Cruz says.
Now back in San Antonio and reconnected with those who wear and who have worn the uniform to sacrifice for their country, Cruz says he's more motivated than ever to work on their behalf. Learning the ins and outs of the financial services industry—or investments, insurance, and banking at a minimum—at this stage of his career might not have been what he anticipated, but the greatest adventures typically aren't scripted.
"I don't think I've ever changed," Cruz says. "A lot of people look at my career and say, 'Wow, how did you do that?' It wasn't by design. I go where the action is. That's just my nature. I'm like that person coming out of law school or business school who wants to chomp at something new. I'll learn. And as I learn, I'll be able to contribute more to that side of our business."
Photo Courtesy of USAA
A Return to Familiar Standards
Beyond returning to a service-based organization, A.B. Cruz III says USAA's core values resonated deeply with him. During his time in the Navy, the ideals of honor, courage, and commitment were drilled into him.
"When I think about the military and what I loved during my time in service, it's really those values embodied in those I served with," he says. "So, when I looked at the USAA Standard, I actually said, 'Whoa.'"
The USAA Standard is:
Keep our membership and mission first.

Live our core values of service, loyalty, honesty, and integrity.

Be authentic, and build trust.

Create conditions for people to succeed.

Purposefully include diverse perspectives for superior results.

Innovate and build for the future.
"It's not only the mission, but the way USAA does business," Cruz says. "It's very much in line with what I lived, enjoyed, and held dear for the thirty-three years I was in the military."