Juan Carlos (JC) Arteaga believes the beauty in architecture lies in function. He cares more for how elements move around, operate, and interact than how they look. Because without functioning infrastructure, the most impressive buildings really aren't all that useful.
Arteaga is an architect, urban planner, building official, and builder. He says he knew as early as age seven that he wanted to be an architect. He came upon the idea when he noticed how much the tallest structure in Cochabamba, the small city where he grew up in Bolivia, stood out. It was all of six stories.
What impressed him wasn't the building's design, he says. "I was thinking about what such a large building said about the city it was in."
From then on, Arteaga began a long arc of learning and accomplishment, designing and constructing more than just buildings. The associate vice president and senior project director of architecture for global infrastructure solutions firm HNTB has been responsible for the architecture and engineering of entire complexes: terminals in the Miami and Orlando international airports; a $13.5 billion capital improvement of the Miami-Dade Water and Sewer Department systems; college campuses in Yemen and Cameroon; and Weston Town Center, a dense retail-village concept in South Florida.
Arteaga has also designed individual buildings, some of which are striking symbols of the institutions and developments in which they sit. But it's really the sprawling, interconnected moving parts of projects that define his internationally revered style.
He's channeled wastewater through pipes and tunnels to get it where it needs to go and protect everything else it passes on that journey. He's similarly kept the flow of airline passengers moving through airports as new or refurbished portions of terminals are built, while planes and service trucks simultaneously travel about unencumbered. He's had to design for the limitations of developing countries in Africa and the Middle East, and to meet the budgetary demands and taxpayer critiques of multibillion dollar infrastructure projects in the United States.
He designed buildings for a dozen years after receiving his bachelor's and master's degrees in architecture, having attended architectural schools in Bolivia, Spain, and the United States. He also earned master's degrees in urban planning (University of Virginia) and urban design (Universidad Autónoma Gabriel René Moreno, Santa Cruz, Bolivia).
It was developing the 180-acre master plan for the University of Dschang in Cameroon that Arteaga demonstrated his talents for infrastructure. "I was interested in building something bigger, something that transcends one building, for humanity. One building can't do as much as interconnected infrastructure. The sum of the parts and how they relate to each other is what actually makes up the urban grid," Arteaga says. "How we plan cities dictates, in large part, the quality of life of a community. Architecture in the urban context is what articulates nature, society, and art."
Arteaga returned to the United States to develop an expertise in managing the design and construction oversight, with his signature achievement being the Weston Town Center in South Florida. Designed as a Main Street-style shopping center, it features an eclectic mix of upscale retailers, restaurants, and a grocery anchor. In this project, as well as when he was awarded the development of a luxury gated community, Arteaga honed his skills and credentials in building code compliance.
It might seem like a less-prestigious skill compared with design and planning, but it was critical when he was asked to renovate American Airlines' North Terminal at Miami International Airport, a project that had been plagued with delays and cost overruns.
The $3.1 billion project was being managed by another firm that was burdened with lawsuits and claims before it could be completed. "They asked me, 'How can you fix this?'" Arteaga says. Functioning as program director, he and his team went in, reorganized it, reworked and finalized the drawings, and satisfied the client's requirement that thirty-seven gates remain open during construction.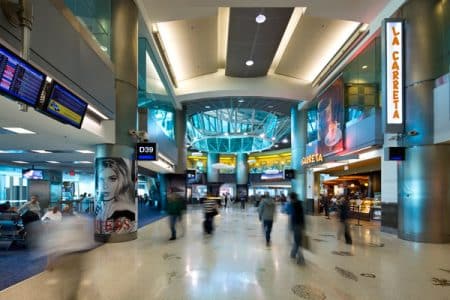 According to Arteaga, the following factors enabled his team to succeed: familiarity with codes, large project experience, and the fact that they were both the designers and builders. "I also required that there be no more change orders," he says, referring to how mid-project problems are often resolved by telling the client more work at a greater cost would be necessary. "We decided it would be better to just fix the root of the problem."
From that success, Arteaga was hired to work on the Miami-Dade wastewater revamp and the Orlando International Airport South Terminal Complex.
Currently working on the Orlando airport project, where HNTB is the architect of record, Arteaga makes a bold prediction: "This terminal will be the best in the nation." Extolling the growth and economic diversification of the city itself, he discusses how the design of the airport addition reflects the region's water, skies, and foliage. Arriving passengers will exit at the upper level, unlike most airports where they leave on the lower deck.
"People will know they are in the Sunshine State, and particularly in Orlando," Arteaga says.
The project is also shooting for a LEED v4 certification, using about 30 percent less energy and less water, and incorporating building materials with safe (nontoxic) product declarations. The terminal will also have public spaces with a boulevard connecting to stations for local public transportation and the Brightline higher-speed rail system, which is also currently under construction. Brightline will ultimately connect Miami and Orlando, carrying millions of passengers annually via a three-hour journey between the two cities, making stops in Fort Lauderdale and West Palm Beach.
When it comes to infrastructure complexity, the egress and regress of people, planes, and trains could hardly be more challenging.
And yet it's the mix and mash of people and environments that interest and inspire Arteaga. He is a fan of urban theorist, writer, and activist Jane Jacobs, who inspired the New Urbanist movement, which favors the density of cities over suburban sprawl.
"Like most people, I like being able to walk to shops, outdoor cafés, and restaurants," he says. As simple as that sounds, Arteaga knows better than anyone the infrastructure challenges are involved in creating that cosmopolitan lifestyle. From a Bolivian city where a six-story building made the biggest impression to the international stage, finding the beauty in transforming complexity from vision to reality is what sets Arteaga apart.