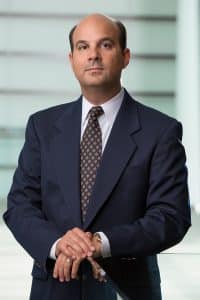 When Emilio Revilla was hired as an attorney at Capital One, it was his first venture into the financial services sector. His first assignment was to review the marketing package the company was going to be rolling out—and he wasn't comfortable with it. Thankfully, Capital One was the kind of place where he immediately felt welcome to express his opinion. And it was the response from his colleague who put together the marketing package that solidified Revilla's belief that Capital One was the place for him.
"The person responsible for putting it together initially disagreed with me about it, but made a point of using our disagreement as an opportunity to meet with me and explain the thought and process behind it. I loved that." Revilla says. "At the end of the day, this person listened carefully to what I had to say, even though I was new in the role and new to the industry. Right out of the gate I came to understand that Capital One was filled with people committed to doing the right thing: doing right for the company and their colleagues."
Fast forward seventeen years and Revilla is Capital One's managing vice president and chief counsel of consumer regulatory. He says that as the company has grown, so has he, and he attributes this to Capital One's desire to invest in future leaders and provide the tools and resources needed to succeed.   
For the past couple of years, the company has been making every effort—from cultivating business resource groups to encouraging access to senior leaders—to truly send the message home: Capital One is the place where you can achieve your professional goals.
"The worst thing that can happen is that you have a very talented person within the organization who develops a narrative in their head that where they are now isn't the place that's going to get them to their career goals," Revilla says. "We are trying to make sure that we are targeting individuals within Capital One who have extraordinary potential, and we're giving them all that they need to achieve any professional goals they may have."
First Among Equals
Though he'd likely shy away from the assertion, Revilla is a shining example of what happens when a company invests in employees with great potential who, as Revilla says, "bring a different flavor to leadership."
In his concurrent roles, Revilla is a leader by default, but being a leader is different than simply being placed in leadership. Revilla says he might not have some of the attributes generally associated with leadership—like the ability to be very outspoken or comfortable in front of large crowds, which he struggles with—but he says he's lucky to work for a company that recognizes and appreciates different approaches.
There are parts of leadership that do come naturally to him. His team doesn't call him the "subject-matter expert of subject-matter experts" for nothing. Revilla subscribes to the "first among equals" approach to leadership—meaning that while he may have the more senior role, he views himself as equal to everyone on his team.
This approach, he says, also reflects his desire to set a personal example of what is expected. It's understood that Revilla would never ask anyone on his team to do something he wouldn't—or hasn't—done himself. The VP says he wears the fact that he's held many different roles in Capital One's legal department as a badge of honor, and that it lends him credibility as a leader.     
"It's easy to establish credibility [with a team] when they know you're a guy who's been in the trenches, so anything being asked is understood to be reasonable," Revilla says. "That's how I embrace my job. I may initially give my opinion, but I want to hear from other people as well because I want to get to the best outcome."
"We are trying to make sure that we are targeting individuals within Capital One who have extraordinary potential, and we're giving them all that they need to achieve any professional goals they may have."
Emilio Revilla
Now, the VP is thrilled to be helping develop Capital One's emerging leaders in ways both big and small. During the course of his career, he has found that there's a direct correlation between motivation and passion.
While few have the luxury of solely working on projects they are wildly passionate about, Revilla makes it his goal to ensure that his team members have a project or a set of responsibilities they are "anchored to" and passionate about. Being able to work on something they feel passionate about makes them happier people who feel as if they're contributing something of value. This feeling can sometimes get lost in day-to-day tasks.   
"That feeling that you are contributing to something bigger can be so empowering," Revilla says. "And I want to be seen as a resource for making that happen."
Pulling up Hispanic Leaders
Many of Capital One's Hispanic associates are also finding empowerment—not to mention opportunities for growth and mentorship—through ¡HOLA! (Helping Our Latino Allies), the company's Hispanic business resource group (BRG), cofounded by Revilla. Capital One has seven BRGs, but ¡HOLA! is one of its most active with thirteen chapters nationwide.
Last year, the group launched a six-month development program for high-potential Hispanic employees and emerging leaders who are mentored by Hispanic leaders. Capital One is also working to provide support from the very top to all of its business resource groups.
"The wisdom of the crowd is very important to Capital One, which is why every one of our groups is sponsored by a member of the executive committee," Revilla says. "This means each group has someone on their side that is at the most senior level of the company, one stop away from our chairman and CEO; someone who is championing their group."
Members of ¡HOLA! also attend events where they have access to Capital One's Hispanic leaders, a possibly life-changing opportunity for some who've never encountered a leader who looked like them or came from a similar background. In this sense, Revilla and Capital One's other Hispanic leaders serve as powerful reminders to associates of color that Capital One is a place where diversity is both valued and uplifted. 
"I feel so lucky, I really do," Revilla says. "Being able to help people see what's possible and being able to assist them in not just identifying their goals, but accomplishing them. It's really incredible."