In 2006, four high-ranking Hispanic executives who were members of the National Society of Hispanic MBAs (NSHMBA) came together, realizing that though NSHMBA was doing good work, there was a gap in its focus: Hispanics in IT. Frank DeArmas, David Segura, David Olivencia, and Jose Guerra decided to fill this gap by creating an organization of their own: the Hispanic IT Executive Council (HITEC), which aimed to cultivate stronger leaders and role models within the IT field. In the summer of 2007, Hispanic IT professionals from across the country converged in New York City for HITEC's inaugural meeting. According to Andre Arbelaez, current HITEC president and honorary "fifth founder" who was with the organization from the very beginning, the passion was palpable.
Though a lot has changed for the organization in the five years since its first meeting, one goal remains the same—something Arbelaez calls "the push up and pull up." "We've grown in size and scope, but our mission is the same. We want to push up mid-level Hispanics in IT to the upper ranks and we want to pull up young stars and provide them with the visibility they need to get to the next level," Arbelaez says.
In other words, HITEC is all about paying it forward. The group also helps large IT corporations realize the benefits of having an executive staff that is representative of the community it serves. This has become especially important as the demographics of the country continue to shift. In 2011, the Pew Research Center reported that the Hispanic population accounted for most of the nation's growth—56 percent—from 2000 to 2010.
Making corporate connections is a large part of what Arbelaez does. Recently, a chief technology officer who previously wasn't aware of HITEC was so impressed by the organization that he immediately wanted to put Arbelaez in touch with his company's HR department for future partnerships. "We are well aware of the overwhelming talent of Hispanics in the IT industry, but many aren't," Arbelaez says. "This lack of minority inclusion is also difficult for Hispanics in the industry. As one of our members said, 'How can you succeed in white, corporate America if you look and sound like Ricky Ricardo?'
As IT executives climb the ladder, they feel somewhat secluded because of the lack of diversity in their field. Finding out about an affinity group like HITEC can really change their careers. Not only will they encounter a built-in community of people they can relate to, but they will also have access to information and networking opportunities they wouldn't have otherwise."
HITEC is committed to shining a spotlight on talented Hispanics in IT and providing them with the visibility they need to succeed, which is why the organization releases its annual list (see p. 92) of the 100 Most Influential Hispanics in IT. Arbelaez makes it very clear, however, that what they're doing is about more than simply showcasing Hispanics in the industry; it's about showcasing the best in the industry who happen to be Hispanic. "All of our members take pride in being good technology leaders who happen to be Hispanic. We have all grown up in a culture where people want to be judged on their competence and nothing else, but as a minority you get to a certain level and it's difficult to move up," he explains. "We want to change that. We want Hispanic leaders to have the positions they deserve and to inspire others to keep reaching."
Read below for an insightful and no-holds-barred discussion about the challenges and opportunities for Latinos in the high-demand field of IT, from the unique perspectives of three HITEC members.
Q: Even as the demographics of the United States continue to shift and Latinos continue to be one of the largest, youngest, and fastest-growing minority groups in the country, Latinos are still underrepresented in the IT industry. What are some of the challenges that Latinos face when it comes to increasing their presence in STEM fields?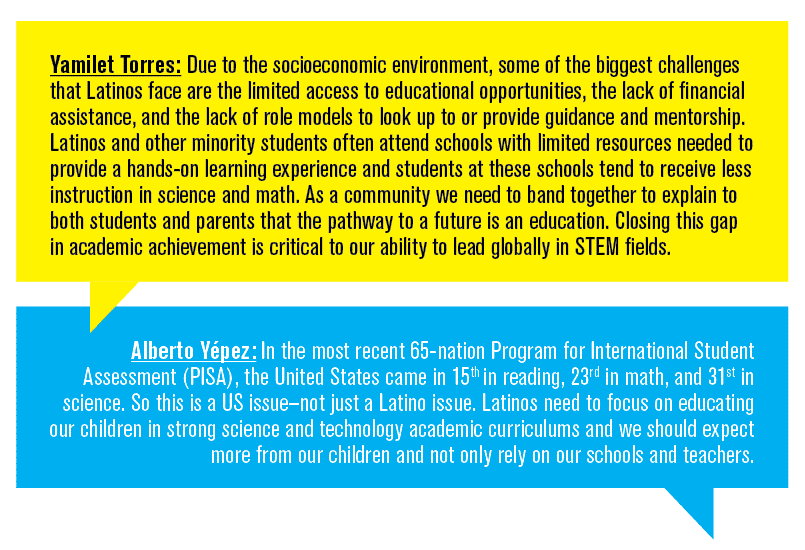 Q: A recent study found that 3.2 million STEM jobs go unfulfilled each year because there are no qualified applicants to fill them. How do we get Hispanic youth interested in these high-paying, readily available, yet unpopular jobs—especially when America's competitive edge depends on it?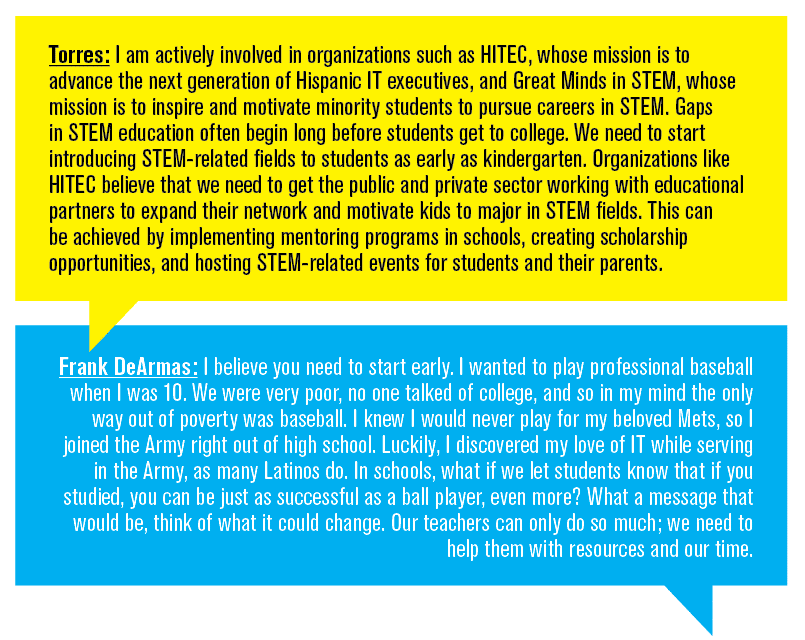 Q: During difficult financial climates, it's become a trend for IT managers to cut funding for strategic planning, choosing to devote the savings to more immediate operational needs. Many argue, however, that this is shortsighted. What are the fundamental components of an IT strategic plan and why should organizations continue to engage in strategic planning as priorities shift from growth to restraining costs?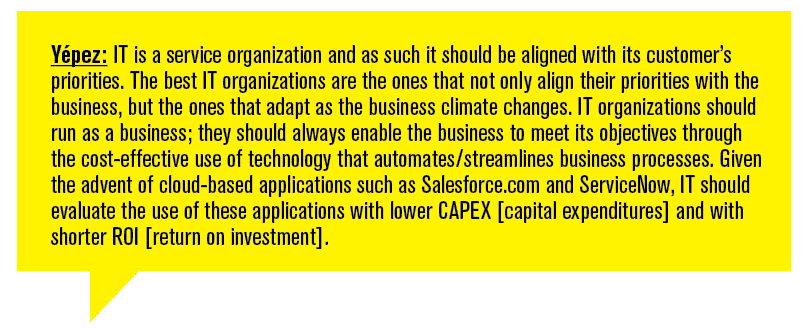 Q: New data from the Bureau of Labor Statistics, Current Population Survey revealed that women make up 47 percent of the US professional workforce, but only 28 percent fill core IT positions. This means that fewer women are pursing IT careers and that only 11 percent of firms are owned by women. Why do you think women still lag behind men in holding core IT positions and why are women leaving the industry altogether?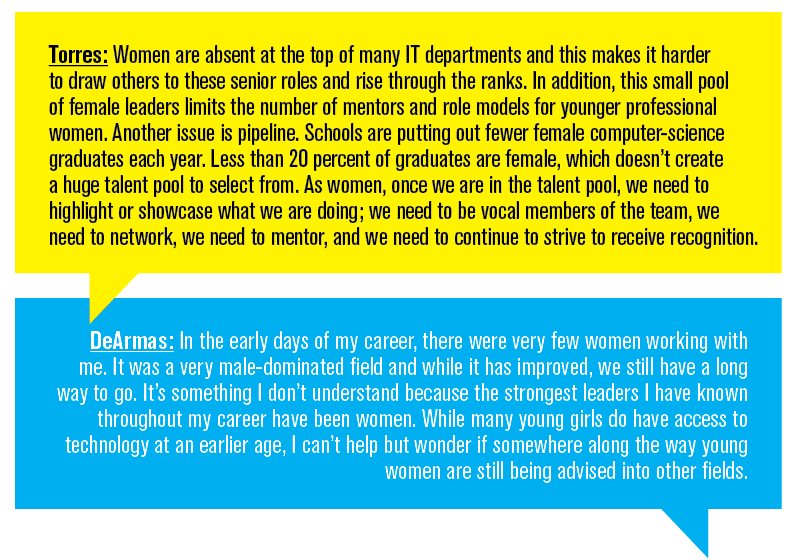 Q: We've all heard the business case for diversity: it promotes creativity, innovation, and product development, giving companies a competitive advantage. Yet, women and people of color have yet to reach the upper ranks in the IT industry. What does the IT industry have to gain from diversifying its ranks?