Down in south Texas, Efrén Garcia didn't spend his childhood summers like his friends. His father, who emigrated from Mexico with Garcia's mother in the sixties, owned and operated a construction business. While his friends were off at summer camp, Garcia would be at what he called "camp dad," digging ditches and laying foundations in the Texas heat.
"I enjoyed being with my dad, but it was backbreaking work," Garcia says. "Once I joked with him, telling him that I didn't want to go to school anymore. He said, 'That's OK, you'll just stay here with me under the hot sun.' I was like, 'Oh, hell no!'"
While neither of Garcia's parents graduated from high school, they prioritized the education of Garcia, his sister, and his four brothers above all else. "We all have college degrees, and our parents sacrificed a lot to give us that," he says. "Growing up, I hardly saw my dad because he was always working. A lot of the parenting fell on my mom—and she watched over us like a hawk, making sure we went to school." While he may not have been home much, Garcia's father set an example that influences Garcia's leadership style to this day.
The backbreaking construction work Garcia's father did to support his family was the kind people only took if they were in genuine need: many were immigrants, often undocumented. Garcia still remembers the day that the INS (Immigration and Naturalization Service), which now operates as ICE (Immigration and Customs Enforcement), arrived at his father's construction site, asked for everyone's identification, and left with three workers in the back of their green truck.
"I just looked at my dad like, 'What was that all about?' And he said, 'Sometimes life isn't fair, but it's important you understand that you've got to help your fellow man.' That always stuck with me," Garcia says. "You've got to take care of your community, regardless of their circumstances."
After earning his bachelor's degree in mechanical engineering from Rice University in Houston, Texas, Garcia worked as an engineer, then headed to New York to attend Columbia Law School. Knowing he wanted to leverage his technical and engineering background in IP, he joined the patent litigation practice at the firm Wilson Sonsini and later moved to Vinson & Elkins, where he continued litigating high-stakes patent cases.
"I was a natural fit because I enjoyed learning new technologies," Garcia says. He eventually left to join GTS, an IT solutions provider, where he served as general counsel and vice president of human resources.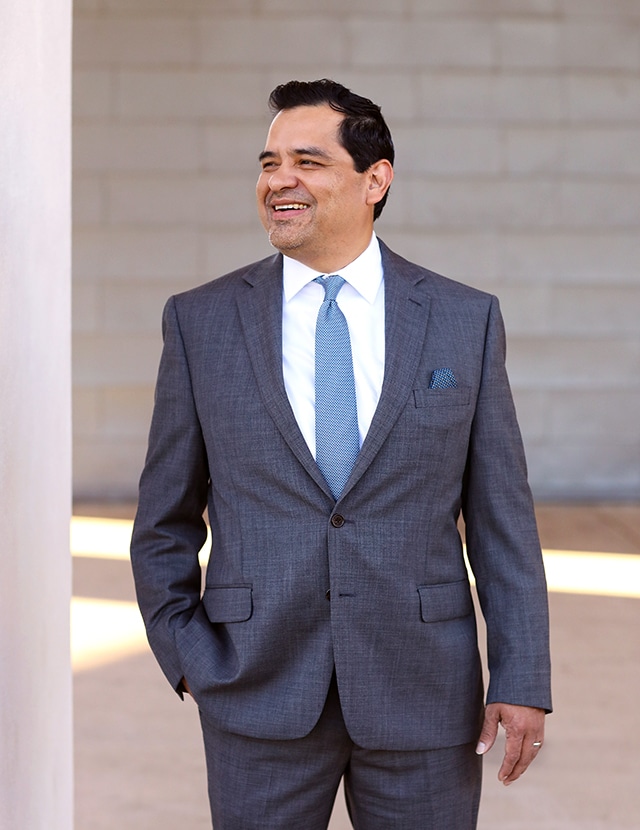 The transition to working in-house is something Garcia attributes to his growth mindset and a simple desire to learn. "I enjoyed GTS, but wanted to keep expanding my skills," he says, which led him to take the role of general counsel at Southwest Key. "I knew I'd face novel issues at Southwest Key and have the opportunity to solve problems that mattered to our community."
Southwest Key is not a tech company: it's the largest nonprofit organization of its kind, dedicated to protecting unaccompanied minors who have crossed the US-Mexico border. Not only did its mission align with his father's but it also presented an opportunity for Garcia to challenge himself.
"I jumped to a billion-dollar entity with ten thousand employees. I broadened my horizons as a lawyer and a business partner by working with board members to build a better governance process, strengthening our compliance programs, and helping steer the company in the right direction while also defending it," he says.
Given the mission, it was difficult for Garcia to leave. But when he came across an opportunity at Atlas Technology, it reinforced how much he values the tech space. "My heart was always in tech, and I realized that I could still do that kind of good work volunteering. In fact, I hope to be on the board [for Southwest Key] in the near future."
At Atlas, Garcia not only got back into the tech world that he loved but did so as general counsel in the leading-edge field of web3, the blockchain-based evolution of the World Wide Web. As with his prior roles, Garcia took the time to understand the industry, the business itself, and the stakeholders he'd be working with. "Those are the three elements that I take into account every day when I make a decision or give advice," he says.
At its core, Atlas provides the computer infrastructure that serves as the foundation for web3's growth. One criticism of technologies of this kind is the amount of power they require. But for Atlas, leading the charge for sustainable energy is key to its success.
"Right now, we're using 75 percent renewable energy, and the goal is to be 100 percent carbon-neutral by the year 2024," Garcia says. "We're at the forefront of using technology to remain accountable on that goal."
Atlas works with a third-party company that tracks its carbon footprint on the blockchain, a peer-to-peer network that acts as a record-keeping system. "You can't cheat the blockchain because it's immutable—there's no way to go back and change it. We have a lot of critics; the only way we can counter that narrative is by being completely transparent," he says.
In his role at Atlas, Garcia holds onto the leadership values he gained from watching his father. He also works with an executive coach, which he says is the best investment he's made in himself so far. Garcia encourages everyone to invest in themselves, whether that means taking a class, getting a certification, or just taking time to learn on your own. "It's hard to take the time to focus on your own growth," he says, "but in the end, that's what helps you tackle your job with confidence."