Have you ever struggled with confidence? I certainly have. For the first few years of my career, I could not understand where the lack of self-confidence stemmed from. Even more perplexing was my seeming inability to shake it off. It was not until I began to understand and unlearn assimilation that I realized my self-doubt was rooted in something deeper. As I documented my confidence journey publicly, I learned I was not alone: Many Latinxs struggle with their self-confidence.
Authentic Confidence
My confidence journey began about five years ago. I was just two years out of college, working as a consultant in New York City, and I was climbing the ladder quickly. Being a first-gen college graduate and professional, this path from college to career was exactly what I had been working towards since childhood. I knew I had to seize every opportunity because my parents worked so hard to give me and my brothers better chances for success and happiness.
I had accomplished all that I had been working towards for years, and despite the success, there was still an inner voice telling me I was an imposter. Admittedly, I was an imposter, but not in the way you might think. Imposter syndrome is associated with doubting one's skills or abilities. Instead, I doubted the power of my voice, ideas, and identity.
So, I decided to build my confidence by "leaning in" and acting like a jefa, but those were temporary and superficial fixes. I was an imposter because authentic confidence does not come from power poses and pant suits. Authentic confidence comes from embracing one's identity and rejecting any pressures to hide the parts that are not aligned with white America.
The Stereotype Threat & Assimilation
There is no doubt that Latinx are hard-working, competent, and fully capable of becoming the leaders and trailblazers we aspire to be. We have proven that time and time again, just look at the NextGen Collective 30 Under 30 list.
So, what is holding us back?
For one, it is important to understand the "stereotype threat." Numerous studies cite a phenomenon that links people being reminded of a negative stereotype about themselves based on factors like gender and race with negative impacts on their performance.
The other confidence-busting culprit? Assimilation. Assimilation has us believe that our rich and beautiful cultures, languages, and racial and ethnic diversity do not belong in white America, and that results from shedding our Latinidad.
However, when we hide and tone down our identities and voices, especially in our careers, we limit our full potential. In omitting such foundational parts of ourselves, we are pretending to be something we are not. This is the moment we become imposters.
Five Steps to Building Self-Confidence
Closing the confidence gap requires more than individual transformation. We must dismantle structural and societal barriers to advancement. That being said, here are five steps I have experimented with and which Latinxs can take as individuals.
1. Get to know yourself. When are you the most or least confident? In what situations are you so concerned with assimilating that you quiet your voice? Personally, public attention – be it speaking or writing – has always been one of my greatest fears. Add in the vulnerability of sharing my ideas and perspective as a Latina, and it is enough to make me want to mute my voice entirely. This is quite the dilemma since I want to become a public speaker, but I find that tackling the root of the issue always helps me begin to understand and overcome the problem.
2. Make a plan. I use S.M.A.R.T. goals to target exactly what I want to work on, like sharing my ideas on topics I am passionate about (specific), by writing and speaking about them via online platforms (measurable and attainable), to overcome my fear of public speaking and writing (relevant), by the end of 2022 (time-bound). That's right. As I write this, I too am building my confidence!
3. Find community. The more we connect through our shared experiences, the less alone we feel in this struggle. I have been very fortunate to meet and grow a community of fellow Latinx leaders through my life and journey. I attended Cornell University, lived in New York City, attended HACR's Latino Leadership Pipeline Program in 2017, was selected as an honoree for NextGen Collective's 30 Under 30 in 2021, and I currently serve on the board of the Denver chapter of the Association of Latino Professionals for America (ALPFA). Through all of these experiences, I have met and connected with so many Latinxs who have become friends and mentors and continuously help me on my journey to building confidence.
4. Self-affirm. What we believe about ourselves can influence our performance. Remind yourself que si se puede. This is a large part of my confidence-building journey. I even dedicate one social media post per week to sharing a different confidence-boosting mantra, which I usually share via my Instagram, Twitter, and blog.
5. Embrace your identity and story. Reject the calls for assimilation. I center my Latinidad because it is part of my identity. To deny that is to deny my story and my purpose. I am more confident today because I am no longer pretending to be a muted version of myself that is palatable to white America.
Ultimately, building confidence is about the journey. Today, my confidence status is that I'm confident on most days and in most situations. And when my confidence begins to fade, I know better than to let it get to me and affect my mental health. I just go back to these five steps, and before I know it, I'm able to build my confidence right back up again.
---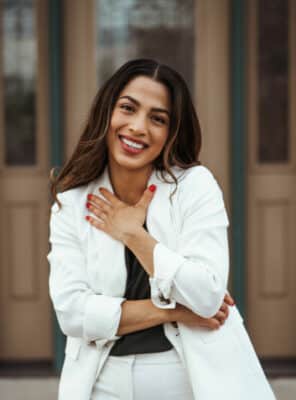 Tatiana Rivera is a senior absence management consultant at Brown & Brown, Strategic Non-Medical Solutions, a boutique consulting firm helping large employers attract and retain talent with custom non-medical programs. Her clients include large national organizations with whom she collaborates to design innovative and comprehensive employee leave policies, such as parental leave, family leave, sick leave, and vacation. Tatiana draws upon her career experience, personal lived experiences, and public data to ensure polices are culturally relevant and inclusive of all employees.
In addition to her career, she is a mentor to several young Latinas, including a teen she was matched with as part of a youth mentoring program in Denver. Tatiana also serves as a board member for the Denver Chapter of the Association of Latino Professionals for America and a committed volunteer in The Wooden Floors' Professional Alumni Network. When she is not working, volunteering, or mentoring, she enjoys spending time outside, appreciating a good cup of coffee, and blogging about the importance of living a confident and purpose-filled life on her blog, Confident-T. In 2021, she was named in Hispanic Executive and NextGen Collective's inaugural 30 Under 30. Tatiana holds a B.S. in Applied Economics and Management from Cornell University.